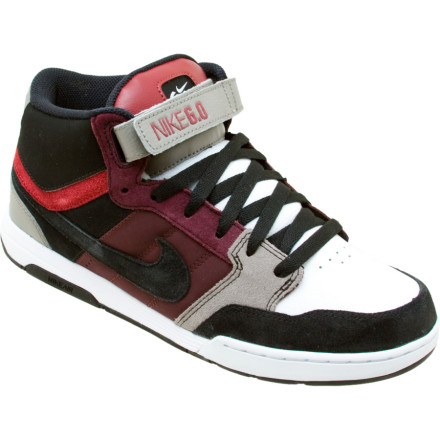 Detail Images

Community Images
Share your thoughts
What do you think of the
Nike
Air Mogan Mid Skate Shoe - Men's
? Share a...
these shoes are SICK super comfy and they look even SICKER i would recommend these to any one
Think you could get a picture of the deep...
Think you could get a picture of the deep burgandy/black-white? It'd be very helpfull
This shoe just arrived, as in just barely. I recommend waiting a day or two and the image should be up. If you really want you can try to search the color on the internet and come back to purchase from Dogfunk.com.
These shoes are so comfortable, and they look great too, I usually use them for bmx and mtb riding, they keep your feet dry on more muddy trails when I'm mountain biking and if I bang my foot while I'm riding they offer great protection. I love them
Sick shoes, but im wondering....

These shoes say they are recommended for BMX riding, skating, and street wear. I am wondering if they are very good for BMX riding or would the Nike 6.0 Zoom Oncore High Skate Shoe - (Men's) be better for BMX riding? I am also wondering if the fabric gets dirty quickly and how quick do the shoes ship to Canada?

Thanks!
nike 6.0 are the leaders in skate and mountain bike shoes. so whatever your sports these kicks are have good grip and are suprisingly light and a comfertable fit on your foot
Sick colors and light weight great to skate in.
anyone have other source where i can find...
anyone have other source where i can find the nike morgan black & white ??? thnks
google shopping tool is usualy what i use, but i rarley buy anywhere but here and cant really reccomend buying anywhere else
The problem with Nike is that it is hard to get older color shoes. There might not be just a Black & White Mogan shoe available. Keep checking back every month. Nike has new, crazy colors coming out and it is worth a look.
If you want a Black and White Nike shoe I recommend the Nike Mavrk or Mavrk Mid. That is a classic Nike in Black and White, affordable, and one that should be around for a while.
i still can't find the option of colours...
i still can't find the option of colours for the nike 6.0 air mogan mid for the black ...
by the way does it mean matte silver , midnight fog & black is all different colour ??
someone help me
Yo Jin. To see all the color options we have in stock, click the Select Options drop down menu located to the right of the main pic. We have one colorway in stock right now: "Matte Silver/Midnight Fog/Black" is the color.

The small "Detail View" pics show close-ups of the shoe and different angles of the shoe, but the Detail View pics do not represent colors we currently have in stock. I hope that clears up any questions you have.
Hi i wanted to order the Nike 6.0 Air Mogan...
Hi i wanted to order the Nike 6.0 Air Mogan Mid Shoe ( all black ) but can't seen any in the options...how to i place order for the all black one ? pls reply thanks
it does not look like they have that colorway in stock im sorry
Great shoes, fantastic service and convenient
My son loves these shoes. Kids in the neighborhood have been looking all over town for these to no avail.

We got 'em quick and easy.

Thanks Dog Funk!
The Nike 6.0 Mogan Mid is a nice alternative if you want something more than a low but nothing to high. Has nice ankle converage. The shoes is super comfortable and light weight. Super good colors too.
I put this kicks on and instantly I felt a strong love connection between my foot and the shoe. It fit really well and if it were summer I'd skate the sh!t out of them but since there is snow on the ground I'll wear 'em around and just pick up the ladies. "You can always tell how dirty someone is by how clean their kicks is"