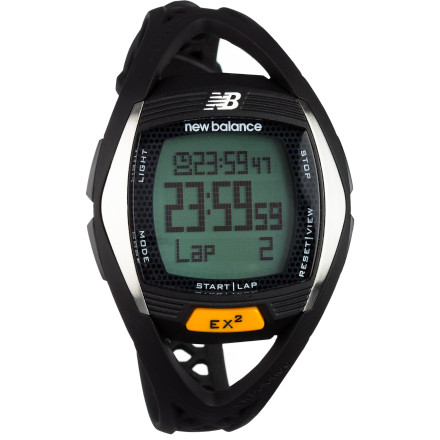 Fire your personal trainer and pick up the New Balance NX510 Watch. The NX510 keeps track of more metrics than your overpaid trainer ever could and it doesn't yell at you when you fall behind on your pace. Everything from current speed to pace to distance and even estimated-calories-burned can be displayed on the fully customizable, water-resistant display. This is no behemoth of a fitness watch either, both the face and strap are slim and shaped to fit comfortably on even the thinnest wrist. And should your find yourself out after dark, a quick push of the front button lights up the EL backlight so you can check the time and decide how much longer you want to chase shadows.
Customizable display preset in workout mode: current speed, average speed, current pace, average pace, total distance, total steps, estimated calories burned, average pace, total distance, average speed, total steps, odometer, lap number, lap time, total exercise time

alert

24 hour-range chronograph with resolution to 1/100th of a second

100 laps/splits

Memory stores up to 10 runs

Daily alarm, dual time zone in 12- or 24-hour format

Displays in metric or imperial units

EL backlight

Water-resistant to 50 meters

What do you think about this product?
Have questions about this product?
Unanswered Question
Can anyone give a review on the accuracy...
Can anyone give a review on the accuracy of the pace and distance tracking functions of this watch?