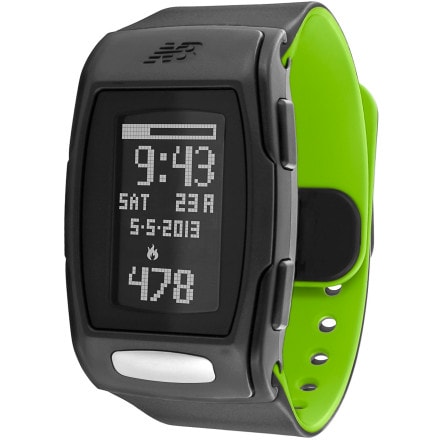 Colors
Description
More thump, less clunk.
Leave clunky heart rate monitors behind as you wear the minimalist New Balance LifeTRNr+ Heart Rate Monitor. This Bluetooth-equipped heart rate monitor/watch doesn't require a bulky chest strap to precisely measure heart rate, and it syncs with third party iPhone, iPod touch and iPad applications such as Argus by Azumio to track your daily activities and workouts.
On-demand heart rate readings can be obtained through placing a finger on the front button and pressing down. A calorie monitor uses an advanced 24-hour calorie burn algorithm based on basal, exercise, and heart rate; this formula automatically resets at midnight for a new calculation each day. A pedometer counts each step taken, total distance, and estimated calories burned, and the pedometer data can be saved and displayed as a seven-day graph for charting workout goals. The watch functionality features 12-hour time, day of the week, and date display, and it can toggle between metric and imperial units. The band itself is reversible for wearing on either the left or right wrist, and the watch can be fully submerged up to 165 feet for worry-free wear in the pool or shower.

Bluetooth 4.0 watch syncs with Azumio Argus app (iPhone, iPod touch, iPad)
Syncs with iPhone 4S +, iPod touch 5th Gen +, and iPad/iPad mini 3rd Gen +
Button at watch's front accurately measures heart rate without chest strap
Calorie monitor bases measurements off 24-hour algorithm
Pedometer measures steps, total distance, and estimated calories burned
Pedometer data can be saved and displayed as a seven-day graph
Reversible band and backlight
Watch displays 12-hour time, day, and date
Displays in metric or imperial units
Water-resistant to 165 feet (50m)