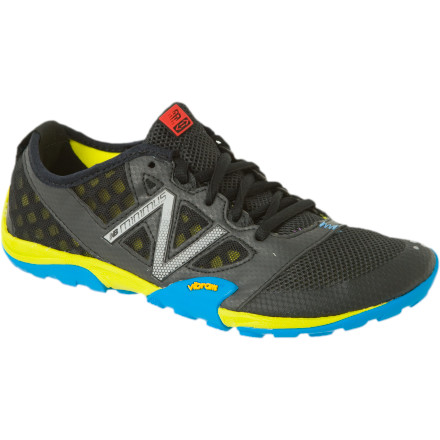 Detail Images
New Balance designed the sleek Women's MT20 Minimus Trail Running Shoe to deliver the benefits of going barefoot without the risk of injury from sharp objects. This model is an updated version of the MT10, offering an improved fit in the forefoot.
NL-1 last's minimal heel and toe drop and broad forefoot promote natural forefoot splay for runners with midfoot striking gaits
Acteva midsole provides tons of flexibility and light cushioning
Synthetic and mesh upper is soft, pliable, and highly breathable
Vibram outsole delivers underfoot sensitivity, low-bulk traction, and durability
Antimicrobial footbed neutralizes odor-causing bacteria
I own a pair of Merrill Lithe Glove Cross-Training Shoes and a pair of FiveFingers KSO Trek Multisport Shoes (leather). I love the KSO Treks but they are painful to wear on rocky terrain. The Merrill's were never quite right and got worse after they got wet (opening too loose, caused blisters). The NB WT20's are PERFECT! Sole is thick and tough enough for rocky trail running but they are super light and fit like a glove. I will say that they are quite narrow (except in the toe box) but I think that was the problem with the Merrill's (not narrow enough). Nice looking shoe too.

I went to the minimalist style of shoe due to severe pain on the balls of my feet in traditional trail running shoes (I get the same pain wearing high heels so maybe I just have a weird foot). All 3 pairs of my minimalist shoes solved that problem but now I'm happy to say that the NB WT20 has solved the other problems as well. Very happy with this shoe.
Firstly, let me say that I'm not knocking the Minimus line. I've had the 10 Trail shoes for awhile and they are by far the best running shoes I've ever owned. I bought these as backups off SAC and tried them for the first time last night. The fit is odd. The arch support (not that there's much) is more noticable and hits my foot in a strange place. There is also a noticable ridge on the outside line of the shoe, right where the Vibram logo is placed. I took them off and switched to my 10s after a tenth of a mile. I think they may just be narrower than the 10 Trail shoes. In short, if you're hooked on the 10 Trails, these might not work for you.
Unanswered Question
It looks like the white Minimus is mostly...
It looks like the white Minimus is mostly mesh while the others look less breathable? Is there a difference between all the colors or is it just a result of the photos?
Hi, What is the heel to forefoot differe...
Hi, What is the heel to forefoot difference?
Super comfortable shoes, they don't have a ton of padding in them, but more than I had expected for a shoe this light. They took some getting used to as my first minimus shoe, but I love them now. They are so light weight you hardly notice them and they will protect your feet well from rocks while on trails. I wear a 7 or 7.5 depending on the brand, usually a 7.5 in new balance but I went with a 7 in these since I will usually not be wearing socks and the closer fit is nice with these and they fit perfectly, not too loose not too tight and I can still wear some thinner ankle socks with out a problem
When will women's New Balance 20 Trail...
When will women's New Balance 20 Trail Running be availabe in stores in stores?
Hi Mellisa, the 20 is an On-Line only exclusive.