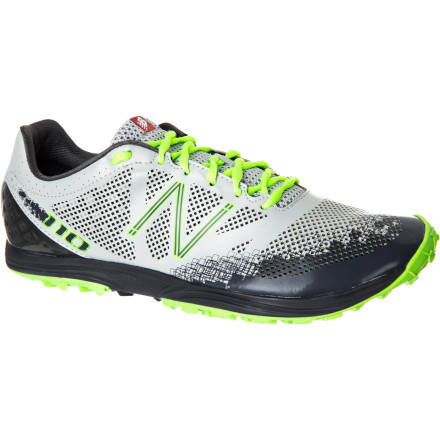 Detail Images

Videos

Community Images
Your wait for the ultimate minimalist off-road running shoe is over, thanks to the New Balance MT110 Trail Running Shoe. The MT110 was built on a low platform to deliver high performance, a barefoot feel, and uncanny flexibility. With the use of an internal shank and a heavily lugged outsole, the MT110 will provide enough support to propel you through training and all the way to race day.
Perforated synthetic upper drastically reduces the shoe's weight and helps to retain shape
ACTEVA highly engineered foam in the midsole reduces compression and is 12% lighter than standard foams
Sticky rubber outsole with pronounced lugs provides supreme traction
Rock Stop plate offers the underfoot protection crucial for barefoot running
Internal shank provides extra support
sticks and stones wont phase you
Familiarity:

I've used it several times

Fit:

Runs small
Wow, I got these three weeks ago. after a brief break in period these shoes are super comfortable and dont cause wear or blisters on my feet. I use them on some trails in and around Denali state park. Denali tested and approved! they do run a little tight i usually wear a 12.5-13 depending on maker i ordered 13's and they are snugg, no room for socks but man do they grip on the trails and absorb all the rocks and random roots you can throw at them.
light weight good shoe
Familiarity:

I've put it through the wringer

Fit:

True to size
I tore the uppers up pretty fast, but knew hiking/running in rough terrain would do that going into the purchase. Of course, they will only last six months or so as the soles are minimal along with everything else about this shoe.
The MT110 seems a bit confused. The lugged sole and shank in the fore foot provide a stable and comfortable ride even over rough trail. No more bruised feet after the run. The fit is similar to the traditional minimus trail shoe but with slightly more room in the toe-box. The garish uppers are the weakest part of the shoe. The toe of the shoe has two separate layers; the inner-most layer is a comfortable jersey feeling material, and the outer is a shiny plastic covering that provides substance to the upper. I like the inner layer but the plastic upper is going to crack where the shoe bends. I hope it does not wear out before the sole of the shoe. I would prefer a traditional running shoe upper, even if it adds weight.
Unanswered Question
I have heard the new colors are an updated...
I have heard the new colors are an updated version, and NB had fixed a slanted sole. Has anyone noticed a difference? Thanks in advance.
New Balance MT110 Trail Running Shoe
Great Minimal Trail Shoe
Gender:

Male

Familiarity:

I've put it through the wringer
I have had these shoes for six months and have logged hundreds of miles using them. I almost exclusively run trails in UT. Most of the trails are rocky and technical. I really like the rock plate in the forefoot, especially coming from the MT10. The shoe is very light weight. It breaths very well. I have been using them without socks. They shed water very well. I have crossed streams ankle deep and expected the shoe to feel soggy afterward, but it drained almost immediately after exiting the stream. The lugs on the outsole are outstanding. They provide good traction on dirt, road, and snow. The only place I found poor traction was on hard packed, nearly icy snow.



The only cons that I have experienced is that the sole started coming unglued at the heel after about 250 miles. I noticed it early and was able to repair it with shoe goo, and have had no further problems. Also since I run sockless I have had a problem with my shoes smelling terrible. Bad enough that my wife won't allow them in the house. A running buddy of mine also bought these shoes and uses socks and has had no odor problem.
Lightweight and technical..ouch.. Was that a rock??!
I have very long, narrow, and low volume feet and these have a narrow enough last that I am able to get these tight enough around the midfoot which is rare for me in a shoe. These shoes are great for cranking out fast mileage on smooth but technical trails. They do have a strange tilt inwards which isnt noticable when running but is very apparent when standing. Unless you are a very light and super efficient trail runner then I would wear these over 15 miles at a time as the minimal support and underfoot protection will start to take its toll. I also purchased the new salomon s lab sense ultra and use them for my longer runs and keep the 110s for the shorter and more verticle workouts.
I got a orbital sander with 80 grit and shaved the (lateral?) meaning outside of the foot, or the right side down.



For some reason the platform is'nt level, causing pain. So i made it flat and now they are more comfy and lighter.
Great shoes!
Gender:

Male

Familiarity:

I've used it several times
I've been using these shoes for a few weeks now. They've been used for some trail runs, treadmill and the gym. I'm very happy with the overall performance of these shoes!
New Balance MT110 Trail Running Shoe
Gender:

Male

Familiarity:

I've put it through the wringer
Been in these for a couple months, and really have nothing but good things to say except for some durability issues. They fit very true to size, I wear a 10 pretty much across the board in anything I wear and these fit the same, I would say with an average width as I am pretty narrow and used to very small/narrow ski boots and these have a little room side to side, especially in the toe, with a little extra height in the toebox as well, heel hold is great though. The weight is awesome, there's not really any cushioning or support but the rock plate through the sole works really well, it takes a good hard slam into something pointy to feel much, which was a major plus for me as I have been running on pretty rocky trails, talus and generally in the mountains with some bouldering included and such. I can't remember ever slipping once on these, the traction is pretty much unmatched. The only thing I noticed was certain parts of the sole wearing unevenly which could be a result of poor technique, also as mentioned above the perforated material on top of the toe tore away after a bit. Regardless, I got a couple hundred miles in these before that happened so I would highly recommend them.
Awesome
Gender:

Male

Familiarity:

I've put it through the wringer
This shoe is awesome. They are super comfortable, have awesome traction, and dry very fast. I have been running and hiking in them all summer. My only frustration is after 3+ months of use I have been destroying the plastic upper. I am not sure how much longer these shoes are going to keep kicking.
I must first say that I use these shoes not as running shoes, but as hiking shoes. I have also only used the shoes minimally so far, but I have used the mt110 forefather mt101's extensively and I am pleasantly surprised at the changes that they have made. The heel cup is a lot stiffer in the mt110 which seems like it will help a lot with side hilling as a I had some slippage and blister issues with the 101's. The upper also seems like it will be very durable compared to the 101's and the lugs on the bottom offer great traction without noticeably slowing you down.

The colors, however, are butt ugly. Which brings me to the other use. I have them in 'titanium' and I think I could use them as a signalling device!. Hopefully they will dull with use.
I recently tried out the MT110's from NB and I have to say at first I was a little nervous getting them on the trail. Going from a definitive drop to 0 drop, I was not sure how that was going to affect my fascia. I had run in the MT10s for several months before. Moving into the 110's NB offers a plate in the sole where the 10's do not have that added protection. When trying the shoes on I noticed the lateral sole of my foot was a little tighter against the bottom of the shoe having the 0 drop. Putting my reservations aside, I got on the trail and when warmed up the shoe molded to the articulation my foot. The inside of the shoe has a seamless design for no socks if you prefer. On my first run I ran for a 30 mile loop around the Drummond MTB cluster in Cable, WI. This stretch is diverse glacially moled terrain fixed with lava rock, sandstone and granite pushed from glacial strips from Canada. The trail is mostly single track and can be slick in a lot of spots where stagnant water mixes into muddy clay. The shoes traction I was very impressed with. The traction provided an aggressive grip in slick conditions. I was equally impressed with how the traction held up on wet rock as my feet felt glued to the surface. Normally I would not be able to say that about a trail shoe, because wet lichen makes the most sticky rubbers feel slick. The low profile ankles and heel are really nice because they do not grind into bony prominences of the fibula of the ankle. The material is next to none, as the shoes feel like you are pulling on a supple and soft fleece glove in the winter for your feet. Last but not least is the laces. When you thought there was nothing left to invent with laces NB taught me another lesson here. They have designed a shoe lace that I almost can guarantee will not come loose. The laces are ridged down the entire lace which holds them in place. I wear a 10.5 and these shoes are true to size.
For me, these are a great minimal trail shoe. I started running with minimal type shoes because of knee problems. I only noticed a small difference until these shoes - almost no problems now. These seem to be the best ones so far for me. I think they put a perfect balance of durability, support, and flexibility all in one - while keeping it light. They are a minimal type shoe, but I don't think NB went over the top with this feature like some shoes do. I have a fairly wide foot and it fit very comfortably. I don't run in socks and they fit perfectly to my size 10 foot. Love these shoes.
I would recommend this shoe if you are looking to run a half marathon or less on trails. The rock protection is too minimal for me. I am not impressed!
Can custom-made othotics be used in this...
Can custom-made othotics be used in this shoe.. or any minimalistic shoe for that matter?
Best Answer
Some people swear that minimal shoes can help alleviate the need for orthotics.

The problem you may have, however, is that minimal shoes are designed to flex with the foot, rather than support it. Shoving an orthotic in there will defeat the purpose of the shoe, leaving you with a stiff, minimally cushioned ride. No one wants that.
I used Superfeet insoles in my pair just to get some rock protection in the heel which is the only way I was able to justify even wearing this shoe. However, that compromised the room in the toe box and I ended up with major blisters on all of my toes. Great for short races. I would not recommend for marathon or longer.
I have been trying several trail running shoes this summer for Xterra racing. Ive tried the Hoka, Merrell trail glove and the MT110. The MT110 shoes are my favorite for racing, they provide enough protection for running fast downhill while being incredibly light and fast. I like the Hokas for running long distance and steep trails but they dont feel fast enough to race a 10k in, I like the minimal feel of the trail glove but when the trail is rocky or really steep I prefer a little more protection. The MT110 is the perfect combination of a low rise minimal shoe with the right amount of underfoot protection that is lightweight.

I did get some blisters the first time i ran 10k in these so there is a break in period.
2 stars for not recommended...for me! I know many runners love these shoes and I had to give them a try, but they are just not for or my feet. hey felt like ballet slippers and I would not make it through Hardrock 100 with these minimalist shoes. Also I found the support wasn't enough, I was pronating really bad...and I wear on the roads the Saucony Kinvaras, which are quite minimal, but seem to be more stable.
I'll stick with my higher heeled Montrails, which I ordered after returning these ;-)
Got this shoe for myself a few weeks ago and I love it (just got this pair for my bro's bday i liked it so much). I run trail only and typically put in 3-8 miles per run. These shoes are minimal in design and super lightweight, but not quite a full on barefoot shoe. As a forefoot striker, i love these shoes because there's just enough support for the rocky trails of the wasatch, but they are not overly supportive (causing all sorts of other issues and injuries, in my experience). The build is tough enough to handle rough terrain, but super low profile. Also, the heel is next to non-existent, so don't plan on heel striking too much. I definitely suggest them.