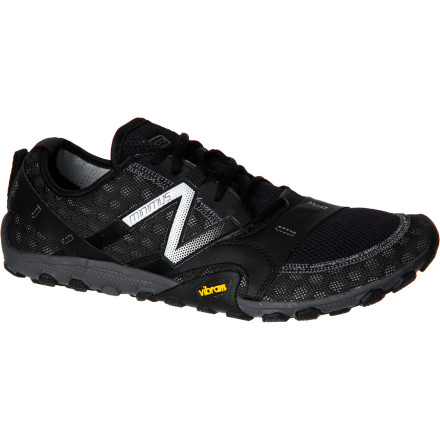 Detail Images

Community Images
New Balance built the Men's MT10v2 Minimus Trail Running Shoe around the its concept of
"Good Form Running," which features an upright posture and joint-friendly midfoot striking with a high cadence. It does this with a barefoot-friendly construction, light cushioning, and a thin but tough and trail-ready Vibram sole. And it somehow found a way to shave nearly an ounce off the weight of last year's model, so your feet can really take flight.

New Balance offers a variety of minimalist-oriented trail running shoes; the MT10v2 falls in the middle of the range, between the featherweight, zero-drop Minimus Zero Trail and the more burly, more protective, and slightly heavier MT1010.

Mesh upper with barefoot-friendly lining fits close to the foot and breathes easily to keep your feet cool and dry on hot runs
Flexible overlays optimally placed to offer lightweight support
Antimicrobial treatment keeps the shoe fresh run after run
4mm drop from heel to toe keeps your feet naturally low to the ground and at a third of the height of traditional trail runners
NL-1 last features a wide forefoot to accommodate midfoot strikers and a shallow toe box for a snug, supportive fit
Acteva midsole uses highly-flexible materials and cushions the foot without adding unnecessary weight or bulk
Minimal Vibram outsole provides traction, protection from trail hazards, and long-lasting construction
I love these shoes.
Familiarity:

I've put it through the wringer

Fit:

True to size
They are an amazingly durable minimalist shoe.

Great for the gym and running. Sometimes the little hexagons on the soles will start peeling off. I just glue them back in place.
Crazy Comfy for a True Minimalist Shoe
Familiarity:

I've put it through the wringer

Fit:

True to size
Check out my full, super detailed review of this shoe on Outdoorgearlab.com



http://www.outdoorgearlab.com/Barefoot-Shoe-Reviews/New-Balance-Minimus-10v2-Trail
Light footed running
Familiarity:

I've put it through the wringer
I've become a real fan of more minimal trail running shoes since trying on my first pair a bit over a year ago. It's true what they say about naturally resulting in more efficient stride and using body mechanics to more naturally propel you. Now for the review: this shoe is very comfortable - like a slipper, but still provides good foot protection and traction. I use it exclusively for trail running of distances of up to 15 miles. The side support overlay is pretty minimal but that hasn't been a problem. Breaths well. My one complaint is I would like a bit more support in the heal. The heal support overlay is a piece of synthetic material that wraps around the heal. It is tacked into place with just a few stitches. Not sure why NB didn't give it a more sturdy sewing job. It wouldn't have increased weight and may give a bit more support. I find the heal a bit loose when running down hill and off camber. Never gotten a blister but have had some hot spots from the heel sliding. I've run a couple of trail 1/2 marathons in these shoes and overall I'm very satisfied.
Good for 80% of life.
Familiarity:

I've put it through the wringer

Fit:

True to size
I have been wearing minimus shoes for about three years now. I run, row, lift, push, pull, jump, climb, squat, heave, and puke in these shoes and they are great. For heavy power lifting they are not stable enough laterally. For runs more than a mile I'll wear something else. They hold up really well to my prolonged abuse.
As a convert to the minimalist scene in 2008 I've had a fair share of shoes and I can say there is a reason I stocked up on the MT10V2. The sock-like feel and stretch work wonders after a long run. Protects the feet from pressure in the toe box and keeps all my toenails firmly in place. The mesh breaths well, and the liner wicks moisture in compression socks, wool socks, or bare foot. The only drawback is the resilience of the mesh in brush. I found it catches the goatheads and thistles like a pro shortstop and often leaves the threads hanging. A quick lighter to the surface after a run to burn off the hangers and the shoes are good to go again, but for a true back country shoe, I find this to limit their lifetime. The mesh wore out before I ran the sole thin.



The Vibram lugs under foot provide secure traction in most conditions. The drawback here would be in snowy or tacky mud they clump the top layer and you lose traction, but if you run on gravel, pavement, sand, or sandy mud, they shed the soil and leave your feet free and light to cruise the trails in comfort.



The 4mm drop comes in handy when lifting in the gym as it leaves a stable platform to row, Olympic lift and box jump on those cold and icy days. The leather strip on top has decent reinforcement that holds up against moderate rope climbing too. I won't knock the durability in the gym as the shoes are meant to soak up the great outdoors and clearly don't want to be confined in a sweaty room.



Overall, I would recommend to any runner who enjoys a minimalist feel with a smooth ride that often leaves this runner hoping that New Balance will continue to produce these bad boys.
love this shoe for backpacking - I took...
love this shoe for backpacking - I took it off-trail for about 25m out of the 100 hiked last month & am seeing some wear on the tread. Wondering if anyone knows how many miles these are projected to last? I understand many backpackers are getting approx 500 miles from other trail runners?
Best Answer
You are right, some backpacking shoes will get some major distance out of them, but these are minimalist shoes and by their nature will get a shorter life out of them. Two things you mentioned will drastically shorten the life out of your shoe, the 25 miles off-trail carrying extra weight. Typically with minimalist shoes I expect to retire them around the 200 mile mark with typical uses; backpacking would be considered excessive use.
I would have to agree with Wayne on this one, minimal shoes are not meant for backpacking, they are purely meant for running. They will have a significantly shorter half life depending on the surfaces your running on. Scree and hard composites eat them up quick.
Better than the original
Familiarity:

I've used it several times

Fit:

True to size
I bought these for my husband, who has been running in the original MT10s since they came out (he has a pretty large rotation of minimalist shoes which include VFFs, Merrells, and NBs). These shoes are even more comfortable than the original versions. He uses them mostly for trail running, and there is enough sole under his forefoot that he doesn't get any bruising, but still has great feel underfoot. They are also extremely light and the colors are much more vibrant than the old model.
Changed the way I look at running!
Familiarity:

I've used it several times
These shoes have changed my view on running. It is no longer something to endure, it is something to look forward to. I have a severe problem with supinating. These shoes have corrected that. It was painful at first, but my muscles have adjusted to this new, neutral gate. I use these shoes on the trail, on the road... everywhere. They do wear a little faster on the road, as is to be expected. I'll never go back to regular shoes. I'm hooked!
Gotta say I love 'em!

I've put many trail miles (and some road) on these shoes while training for my first ultra, and they haven't disappointed me yet. They are very durable, drain well, and feel like silky slippers when you break them in. They are indeed minimalist, no arch support, 4mm drop, and plenty of room in the forefoot.

I actually ran my first marathon in these (on roads, in Seattle WA.) and they were wonderful!

Bottom line, I highly recommend you check these out!