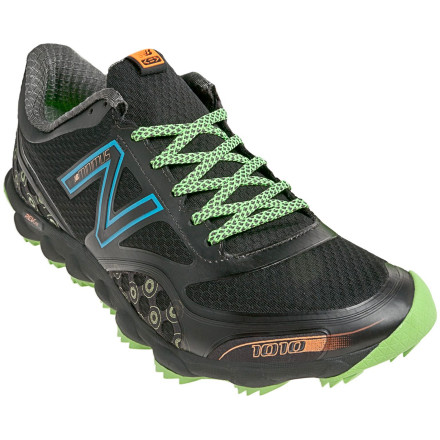 Detail Images
Lace up the New Balance Men's WT1010 Minimus Trail Running Shoe when you want to train with your foot closer to the trail, without going completely barefoot. Although it's minimalist by nature, this highly responsive shoe does provide a small amount of offset from heel to toe, and it features shock-absorbing Rev Lite foam cushioning for comfort. Just because you want to encourage natural biomechanics doesn't mean you should beat your foot up when you leave the pavement.
Synthetic and mesh upper is lightweight, well-ventilated, and comfortable against your foot
Debris-Free Construction keeps the uppers snug around your foot so dirt and debris won't enter your shoe and cause discomfort
RevLite foam provides a high level of springy rebound and cushioning underfoot at 30% less weight then competing foam compounds
4mm drop provides minimal height offset between the heel and toe which encourages the most natural biomechanical movement of your foot and toes
Rock Stop is a flexible layer between your foot and the shoe outsole that provides protection from rocks and impact
Vibram outsole material grips off-road surfaces and pavement with equal purchase and this material is highly durable
Poorly Made
Familiarity:

I've put it through the wringer

Fit:

True to size
I used these shoes for running exclusively on dirt in the pacific northwest. These shoes were extremely comfortable, really breathable, and dried out really quickly. Unfortunately they began to fall apart after maybe 100 miles. At this point the mesh totally began to separate from the sole, and parts of the outsole had fallen off (compromising traction). I don't know if all the shoes are like this, or if i just got a bad pair, but based on my experience I wouldn't recommend this shoe to anyone looking for any amount of durability.
Fantastic
Familiarity:

I've put it through the wringer

Fit:

True to size
They look great and are very comfortable on long runs. Grip better than my Brooks Cascadia on the wet stuff and are minimal enough to get the ground feel you want without the bruising.
Cant go wrong with NB
Familiarity:

I've put it through the wringer

Fit:

True to size
Ever since they came out with the minimus trail a few years ago I've been hooked. Solid yet light feel and relatively comfortable, last for years.
it's alright
Familiarity:

I've put it through the wringer

Fit:

True to size
i've ran in these all summer. not sure these are for me. Lots of ankle pain when I first started using them. got better after I ran about 70-80 miles in them. This could be from my horrible form and not any fault of the shoe. I took it on a few scrambles like south ridge of superior and pretty much demolished the sole. fixed with glue, but not that impressed with durability. Overall it was a nice summer shoe and I liked how light it was, but I think I might fair better with a slightly more supportive shoe. The padding was nice and I never felt any rocks poking through.
love and hate
Familiarity:

I've put it through the wringer

Fit:

True to size
The uppers have completely given out after moderate trail running ( 10-15 miles a week) I have not had the problem that others have had with the soles, maybe because I never have them on pavement.

Fit is in line with other New Balance shoes I own- large toe box and otherwise true to size.

I love the feel of the shoe- light weight with good protection and a rock plate that still allows for some trail feel.

I hate that they are falling apart already, even at a discount I can't justify buying them again- knowing they will be shortly destroyed.
Don't Hold Up (Even For minimalists)
Familiarity:

I've put it through the wringer

Fit:

True to size
Poor construction. They aren't that light, but still can't hold up.



Lateral movement in a sandlot (pick-up rugby in Afghanistan) destroyed these shoes. Within a couple of matches the treads came off the back of the sole. Mabye these would be okay for straightline running, but they did not hold up anywhere near as well other New Balance minimalists I've owened.
New favorite shoe
Familiarity:

I've put it through the wringer

Fit:

True to size
I love this shoe. I started trail running and hiking more but my old running shoes were just too bulky and didn't have a good tread for the terrain so I picked up a pair of these to try out and they're awesome. They're very comfortable, breathe well and fit great. I have had them for over 8 months and they're still in good shape, in fact I just ran a 4 mile mud run in them and afterwards it took about 10 minutes and they looked good as new, so they clean well which is a bonus.
I have a wider foot, high instep. This shoe fits perfect, snug around the toes, and laces up good. It looks awesome and feels amazing trekking about. Very light, the tread is good for scrambling around rocks. I love the green and hope the future minimus shoes keep this awesome design and color.
Good only for a certain foot type
Ordered these off S&C. I only got to try them on. I instantly found out that this shoe is ONLY designed for people whose second toe is shorter than their big toe. I have the opposite, (big toe is shorter - called Morton's Toe). I usually fit most shoes just fine, but this was the worst fitting shoe I've ever put on.



Aside from the toe issue, I noticed a bulbous feel under the ball of the foot. I wasn't sure if I like that or not. Definitely a different feel from my Merrill Road Runners (another bare foot shoe). It looks cool and has a very interesting tread pattern and materials.



I wish I could have kept the shoe and gave it a complete review but this much I can say is if you have a Morton's toe, do not waste your time.
Lightweight but not Durable.
Gender:

Male

Familiarity:

I've put it through the wringer
Let me start out by saying I love New Balance. The pair I had before this lasted me 6 years of hard trail running. I finally decided to upgrade and went with the 1010s. For the first 2 weeks I loved them. They fit perfect right out of the box, were extremely lightweight, didn't hold water, and provided plenty of cushioning. However after 3 weeks of hard trail running, they were destroyed. I generally run up mountains and back. They aren't long runs but they do have a lot of elevation gain. Around 3000 ft in 3 miles up. So basically 6 mile runs on rugged terrain featuring loose dirt, rocks, streams, and boulders. I think its the descent on these steep slopes that did these shoes in. After the 3rd week, the Vibram sole was falling apart with full panels peeling off of the shoe. Also the fabric that surrounds the outer toe area on both shoes was ripping, not at the seams but rather as a result of the harder material tearing the softer material. Again, these shoes were great out of the box and if you are running some less aggressive terrain, they would be amazing. However, for me they just didn't work. I believe I'm gonna try some Solomon's next which kinda sucks as I was a huge NB fan. However, I simply can't trust Vibram any more.
I have now been in this shoe for a few months and could not be happier with the performance and resilience. Before the MT1010, I had an earlier generation New Balance shoe not meant for off-road use, and I found myself avoiding terrain because of a lack of protection underfoot. Now in these beauties, aside from trail running, I have no trouble with short hikes, or packing them on longer hikes because of their weight. Additionally, the shoe drains incredibly well. I have soaked them over and over and found myself completely dried out in no time while maintaining the same performance.



On a closing note, I have suffered from pretty brutal shin splints since I was young, and the minimalist shoe design has certainly reduced the pain/stress resultant from shin splints substantially. Although I am not a doctor, there was a direct correlation between my use of minimalist design and longer, harder, and more frequent runs on both hard and soft surfaces.


This is the fourth model of New Balance trail shoes that I have owned and it ranks as my favorite. I have owned every generation of the minimus, from the 10, to the 110, and now the 1010. The 10 had no rock plate and while it was nice to have good sensitivity of what was underfoot, it could also be painful when what was underfoot was hard and pointy. The 110 introduced a rock plate under the forefoot which was a tremendous addition, but you could still get attacked by rocks at the insole. It also had much better traction than it's predecessor. The 1010 has a much better rock plate providing ample protection without sacrificing sensitivity. It also introduces a Vibram outsole which has proven to provide very good traction and durability. There have been a lot of complaints about poor durability. I have not experienced this. I run very rugged, technical trails. After four months of heavy use they show no signs of wear. I just ordered a second pair to have available at a midway aid station of an upcoming 50M ultra.
Before these came out and at the beginning of the Minimus craze, New Balance released the MT 101. Those shoes made it into the Backpacker Magazine gear guide that year, where I saw them and bought a pair. I've been hooked to this line ever since! The newer MT 1010's have only taken what I loved about the 101's and made it better. These are the dream Minimus trail running shoes. You'll never go back.
Upper not durable
Gender:

Male

Familiarity:

I've put it through the wringer
I bought this shoe not long after its release, and I really enjoyed it. With the Vibram sole and the rock plate, this minimalist shoe was in a league of it own. However, after three months the mesh on the upper began ripping near ball and big toe of my foot. Fortunately, the store allowed me to trade it in, but the second pair did the same thing after 3 months.

All that being said, I still really like this shoe! The minimal feel, the Vibram rubber, and the rock plate make it an excellent trail runner, but the mesh is weak. I hope this is something New Balance will correct if they make a second version.
Classic Minimus Fashion
Gender:

Male

Familiarity:

I've used it several times
I really like the minimus stuff and this follows suit. Though I can't tell you how many miles its will live for I will say this it is a great minimal option for those who can't stand vibram five fingers but love vibram. It offers a little more support or padding than someting like the VFF's. I have hand a few decent runs in them like an 11 miler and a few 7's. Great shoe, so comfortable I find myself wearing them all the time.