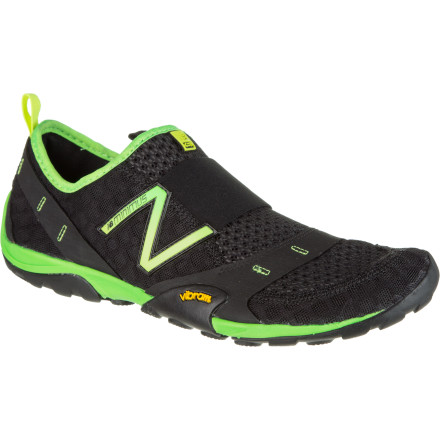 Detail Images

Community Images
Take a swift-footed and minimalist approach to tackling miles of trail when you lace up the New Balance Men's MT10 Minimus Trail Running Shoe. A lightweight, fitted upper provides a close fit with or without socks, and the thin, but supportive Vibram outsole brings you closer to a barefoot style of running. Trail addicts in the search for a neutral shoe (the Minimus drops only 4mm from heel to toe) will find the Minimus shoe simple, comfortable, and unspoiled by overly-techy features.
Synthetic and mesh upper fits close to the foot and breathes easily to keep your feet cool and dry on hot runs
Acteva midsole uses highly-flexible materials and cushions the foot without adding unnecessary weight or bulk
Minimal Vibram outsole provides traction, protection from trail hazards, and its long-lasting construction survives season-after-season
I like these shoes, and they have great performance and comfort on the trail. Quick drying and breathable. I also use them during some crossfit training sessions. My only knock on them is that the toe box is a little wide on me.
Uber Stoked on the New Balance MT10
Just got back from the Zion Ragnar Trail Relay race and I wanted to give some big props to these shoes. It was my first trail race on these bad boys and my feet felt fantastic. Grippy, comfy, and blister-free wear the whole time. Uber light and uber awesome shoes. Can't see myself going with another shoe.
Best trail running shoe I've ever had.
Gender:

Male

Familiarity:

I've put it through the wringer
Just like the title says, with many walking and running miles in them I can say confidently that these are the best minimalist shoes you can buy. The combination of ground feel and protection (on more technical and rocky trails make sure you adjust your form accordingly) gives this shoe a lightweight enough feel without losing your confidence in its ability to save you should you hit something a little sharp.



It fits like a glove. The outer framework of the shoe makes it stick to the form of your foot without much play, allowing you get a more true to size shoe. The toe box allows for plenty of room. Very easy to clean and incredibly comfortable sockless. The laces never come untied, and the small rand in the front will help some when you hit a nasty rock. I also own the winter run version of these which lacks the outer framing, but keeps your feet super warm so long as you keep moving. Even after postholing through over knee keep snow through parts of avalanched over trails, my feet dried fairly quickly and kept warm. I've never had a blister in either shoe.



The one con I can find is that the tread, although not completely disappearing, is losing more than I would like after this many miles. The main source of protection for your foot (other than your form) is the circular lugs. Once this loses its thickness, rocks can poke through the softer material between the lugs. Although I have not found this be a huge problem, I have had a few instances of pain because of it, only minor pains that go away within a few seconds. I have not had trouble with small rocks sticking in these portions like I have heard from a few others.



All in all, see the title of this review.
I bought these shoes just to kick around in and they're great for that....very comfortable (there's nothing to them) and seem like they'll hold up under the type of use I'm putting them through. I sized up one size and they fit great.
Extremely comfortable shoes. I've been running in them and they are great for balance. They even look good just for casual dress, highly recommended.
Actually I agree quite the opposite of sizing up. Yes they at first the band can feel quite tight around the forefoot but they will loosen slightly over time and fit your foot better. I normally wear a 10.5 or 11 in most shoes. I have tried 10's before and my toes were hitting the front of the shoes and I ran the risk of toenail damage. With these I tried them on in the store and I fit perfectly in a 10. That is including with and without socks. I choose thin socks, but socks none the less. My toes are right at the end of the toe box (right where they should be in this type of shoe) but not mashed up against it. I have not used these for very much trail running but I have done street running and some backpacking in them and I could not be more pleased. They are an excellent shoe and I would recommend them to anyone that is looking. I have tried 5 fingers and they gave me pretty significant blisters, and with the fabric between the toes, prevented my digits from splaying out properly because I had to fight the fabric. These are not that case. Tight around the fore-foot and a wide toe box create a very nice atmosphere for my feet. Definitely a 5 star shoe and I have plans to keep buying them each time that the old ones wear out.
Well worth it, but ease your feet in
I've been wearing these shoes for about 3 weeks and love them. Working on my feet for 8 hour shifts, 5 days a week, I need something that holds up to wear and tear... so far so good. The first week I alternated days between my old running shoes and these, and it seemed to minimize sole soreness. Don't get me wrong, these things will have your feet throbbing at first, but give them some time and they'll feel great.
Durability issues
Familiarity:

I've put it through the wringer
These were my first pair of "bare-foot" style running shoes. And my first impressions were all positive: incredibly light weight, snug and comfortable fit, quick drying and most importantly the lack of heel to toe drop which made changing my running stride easier.



However about 3 months after purchasing them and only using them for about 300km. I found that the upper on both shoes was basically shredded to the point that it no longer supported my foot properly.



I used them primarily for shorter training runs (under 15km), excerpt for one 55km outing on some mountain trails which left my feet bruised for days- personally I wouldn't recommend them for anything much longer than 20 km if the trail is going to be especially rough, or if you are expecting lengthy stretches of running over scree- you're feet will likely pay for it. For my longer runs I alternate between a pair of la sportiva vertical ks and some Adidas trail shoes (whoes name I've forgotten).



For anyone looking for a lightweight, minimalist trail shoe with a heel-toe drop of 4mm but with a much softer feel and more protection I would recommend the Vertical K.
Great Shoe Period.
Gender:

Male

Familiarity:

I gave it as a gift but have feedback to share
Great shoe period. While I do not use them as a trail running shoe, I use it mostly for going to the gym and playing field hockey indoors. Birthdayshoes.com has a great indepth review of this shoe. Coming off of the Nike Free Run shoe which has a 20mm sole, I wasnt sure how my feet would handle the 9mm sole of the Minimus. Feet feel great and shoe is very comfortable and breathable. So breathable infact i got wet socks just walking through a few inches of snow to my car from the gym. The multisport minimus model are more water resistant. The 'rubber band' over the top of the shoe and honey comb shoe structure really provides nice support without making the shoe feel floppy. After 3 months of use, the mimimus still look great and performing as good as the first day of use.
No Blisters!
Gender:

Male

Familiarity:

I've put it through the wringer
I've been super happy with these shoes. I've tried out a few pairs of minimalist shoes, and they all seem to give me blisters after six miles except these. These fit my feet really well.The band across the front is great, and helps the shoe stay put. I like it, and I hope New Balance keeps that around in future models.
I finally tried this shoe out a couple of months ago and have to say I really enjoyed the fit and feel of this shoe. I primarily used them on some single track that was hard packed with a mine field of roots and granite. I took it for a spin on the first run for a 22 miler and no aches and pains to note. The shoes obviously lack the durable nature of cushioned comfort, but the vibram sole is very tough and provides adequate traction on flater surfaces when it is dry out. If it is a bit wet I have noticed the non grip really doesn't bite, they are not aggresssive but that is not their design in the first place. The shoe material envelopes the foot and is non abrasive against human tissue which reduces hot spots and material burn. The uppers and sole are extremely maleable and flex in unison with the foot. I wear a size 10.5 and these fit me in a 10.5 so I will say they are very true to size. Keep in mind they are designed for no socks, but you can wear socks with them. If you wear socks this will change sizing considerably. The inside foot bed is designed with a seamless structure to reduce friction. The ankle provides a low profile, but the heel does rise a bit higher than I would have expected. Other than that I like the design of this shoe very much. The laces have had a problem staying tied from time to time, which as a runner can be very annoying, but other than that I think this is a solid product. Warning! if you need a lot of toe kick protection or to box protection this shoe is definitely not for you. To all of those out there who are looking for a very minimal shoe with good flex and sole protection, this shoe will do just fine.
When will you have 12s back in stock?
When will you have 12s back in stock?
You might want to use the "chat now" feature and speak with a CSR.
Light, nimble and breathable
I love these shoes. They are great for trail running. I love how light they feel and the mesh upper makes them breath very well. These are also my go to shoe for hiking. I use them as an approach shoe when I am rock climbing and they provide great traction while scrambling. They also provide reasonable support when carrying a heavy pack. I use these on day hikes while carrying my two year old daughter in a child carrier (plus water, etc. roughly 35+ lbs). Just be careful where you step as you can really feel the rocks through the sole. All in all great shoe, I highly recommend it!
, ☃bcs_badge_alumni_label☃
Great minimal trail shoes
These are great if you are used to running in a minimal shoe. Light and no heel to toe drop. Very comfortable even without socks.
This was my first trail running shoes I've ever purchased and NB was a good choice. I usually run on the road and track fields, but switched it up this year and started hittin' the trails. I was looking for a shoe suitable for the conditions, then after countless of reading reviews I finally settled on the New Balance Minimus Trail.

Upon delivery, I tried these babies on and my feet felt like they were wearing socks(I dont wear socks with these). They were very comfy and it's nice that you don't need to break them in or anything, just put them on and your on your way! I got the orange ones which looks great in the sun. Also, I recommend going up half or a full shoe size when buying these because they tend to run small. I wear a size 10.5 in my Nike Free Runs and a size 11 in these. Overall these shoes are great! The design, feel, and comfort were beyond my expectations. I'm very glad that my first NB shoe was one of the best out. I'll definitely purchase more their products in the future.
Made Me Into A Tentative Barefoot Convert
My birthday comes and I find in one of the packages the New Balance MT10 Minimus Trail Running Shoe - Men's and I was told that it only had a 4mm drop instead of the severe zero drop that a lot of the barefoot shoes had. I shrugged and gave it shot and found the lightest and most interesting iteration of barefoot running yet in these shoes. After the stride adjustment (faster cadence for lack of weight and being more forward knowing that heel strike = wrong) I made the discovery that I was getting faster in my 5k times with less recovery time.

A few points, try these on as I have found that it can run small with certain foot sizes. I sized up to an 11.5, but I'm in between an 11 and 11.5 on both feet so it makes sense. Also, if you have a narrower heel/achillies, prepare to get scientific with your shoe tightening as I got heel rub in socks and MASSIVE rub when running barefoot. Also, the sole/rock plate on this model can be used for light trail, but you'd want a heavier, more aggressive rock plate for any medium sized plus pointy rocks.

All that said, if you are looking to find your barefoot stride, this is a great option to start with and I have a feeling that this is only the beginning.....
Like these shoes a lot. Comfortable for trail running in dry conditions. Also look good for all round use in the summer. They do seem to run slightly snug, but happy wearing my normal size.
I have been barely able to walk with no feeling in my right fingers for almost a month and almost bed-ridden. Because of how severe this lack of mobility/pain has been i have been working from home 3 to 4 days out of the week. I have also been seeing a chiropractor 3 times a week for a couple weeks now and making very slow progress. I have been wearing my chaco sandals (which i love very much and also got from backcountry.com) because they are great for your posture and were recommended by all the Dr.'s i have seen. I picked these up on saturday and they have completely changed the way i have been able to walk. I have made more progress because of the natural fit of these shoes in the last 3 days then in the last 3 weeks (i see the chiropractor for the first time since buying these shoes today and cant wait to tell him/show him these). They fit like a glove and look great on to boot (i got the orange pair)! My only advice for the purchaser is go a half size up like everyone else says. I have got to say if you are thinking about these go ahead and get them! They will change the way you walk to!