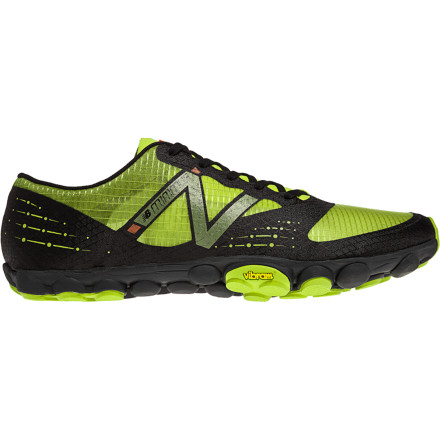 Videos

Community Images
The New Balance Men's MT00 Minimus Trail Running Shoes will have you feeling wickedly fast and light as you sprint up the trail, leaping over rocks and skirting around hikers as you go. With the MT00, you get the benefits of barefoot form with the comfort and protection of a lightweight trainer.
Lightweight, breathable, and close-fitting open mesh upper provides breathable comfort without adding extra weight
Welded construction further reduces weight and bulk, and prevents chafing
Antimicrobial treatment reduces odor
Zero-drop midsoles encourage a natural midfoot or forefoot strike
Compression-resistant Acteva EVA midsole offers a thin, lightweight layer of underfoot cushioning as you leap over trail debris
Strobel lasts with the upper stitched to full-length fabric give a comfortable underfoot feel
Lugged Vibram outsoles ensure multi-directional grip on sketchy terrain and slick roads
High-wear spots on the heel and forefoot are reinforced with Vibram rubber outsoles
Designed to be worn with or without socks
Sizing: Standard running-shoe length with a medium width forefoot
0.0
Familiarity:

I've used it several times
If you want a shoe that will disintegrate on your feet then buy these. I never ran in these and used them as bike shoe for my commuter. The insole lining started coming apart within a week. The liner is glued and not stitched. Not soon after, while riding my toe poked through the front of the shoe. The soles are not rubber but a foam composite. I could feel my pedals poking through the sole. I can't believe Vibram would make such a rubbish sole. I ended up switching to the New Balance MT20.



I will say they are the fastest drying and lightest shoe I've ever worn.
My favorite running shoes
Familiarity:

I've put it through the wringer

Fit:

True to size
These shoes are like wearing socks with soles. They have held up to a lot of hiking and running on rocky and rugged trails. Love the way they fit snug with no excess support - these truly are barefoot shoes. If you want a comfy shoe that lasts and protects your feet, these are it. Every once in a great while I'll get a rock catch me just right on the bottom, but they are still better than the Merrell trail gloves they replaced.
Good shoes
Familiarity:

I've put it through the wringer

Fit:

True to size
I've had about 3 or 4 pairs of these. Great shoes. Used them for running when at Bragg and crossfit/weightlifting. Only thing I disliked was the Vibram sole was so thin when running at o'dark hundred through trails I felt every single rock i stepped on and that gets old after 5 miles.
Good shoe, but runs big
Familiarity:

I've used it once or twice and have initial impressions

Fit:

Runs large
I bought the shoes during a sale and got my usual shoe size 12.5. After receiving them I put them on, and noticed how much extra room I had in the front of the shoe. When walking around in them I became that clumsy tall guy I was back in the 8th grade.

Ran with them once, and was amazed at how loud my stride was. Ran through a residential area and the sound of the shoes impacting the road echoed off the surrounding houses. The shoes felt pretty good on my feet, but was amazed at how big they ran and how loud they ran.

Returned them just now, and will be trying a smaller size in a road minimus.

P.S. I'm not a trail runner, but when I bought these shoes they were on sale for $38, could not pass that up.
Very flexible, soft and comfortable
Familiarity:

I've put it through the wringer

Fit:

Runs large
The shoes are very visually appealing to me. Even the bottom of the sole. I feel really close to the ground with these shoes. I've run a mile on pavement every day for the past 2 months straight. The fabric shows minimal wear but the sole looks like it is wearing out quickly. I haven't had any calf, Achilles or back pain with these shoes. I suffer from an L5/S1 herniated disc, but these shoes and running have helped me recover a get fit again. Laces seem to become easily untied is the only downside. I highly recommend these shoes. I would say it runs 1/2 a size big.
I'm not sure about the negative reviews, or what some of these folks where running on. I own two pairs of these shoes. I've run over 100 road miles on them, and have done 60+ miles worth of Tough Mudders in them. I always run with socks. My feet haven't been irritated, and the shoes haven't fallen apart. I can't find any flaws with this shoe, I picked them over the road version because they're lighter and "more minimalist." I haven't had any issues with this shoe. My 5K time dropped somewhat significantly my first time out on them. Having a few less ounces on your feet makes a big difference! Overall (assuming you're a barefoot style runner) I'd highly reccomend this shoe, it's been flawless for me.
New Balance MT00 Minimus Trail Run Shoe
new balance mt00
Gender:

Male

Familiarity:

I've used it several times
loved how light and agile they were, the thing that i didn't expect was how fast the mesh in the toe box fell apart.would like to of seen a little more stiffness around the arch. i highly rec. these shoes although i returned mine due to a tear, would totally buy another pair again.
Nice ones!
Gender:

Male

Familiarity:

I've used it once or twice and have initial impressions
Super light weight and confortables!!
Poorly made, over priced
Gender:

Male

Familiarity:

I've put it through the wringer
These shoes are the second iteration of this model I've owned and they do not stand up to the original, the fancy little spots fall off quickly and the seams fray a lot... I'm pretty disappointed actually
They're great for running, breathable enough, and perform well on the trail! They're scary light, but don't have any support, so be prepared for sore feet if you've not run barefoot (or nearly). Break yourself in easy, and you'll be good to go!
The only thing that makes these shoes good is how light they are thats it. new balance needs to have a one piece sole the individual pods throw my stride and foot placement out of wack if you where them without socks get ready for them to tear your feet apart. and even with socks they are no good.
I gave this shoe 1 star because I never had a chance to run in them. After wearing them around the house for a few hours the insole lining at the front of both shoes started to peel. This created an aggravating lump under my toe.
New Balance MT00 Minimus Trail Running Shoe
Sam tells you about the New Balance MT00 Minimus Trail Running Shoe.
These shoes are my main running and they are my favorite minimalist shoes I've purchased being super light to chase up the mountain and have just enough protection to destroy the downhill. The ball to toe roll in a stride are perfected with smooth footsteps in the shoes!
highly recommend!
Has anyone used these for backpacking or...
Has anyone used these for backpacking or hiking? Right now im rocking the Merrell Moab and im looking to drop some OZ's...
Never used these trail runners specificly but I've always used trail runners (Salomon, montrail, etc) for backpacking/hiking. They work great and you feel much lighter on your feet obviously. I highly recommend a trail runner for backpacking.
Best Answer
You would be dropping some serious OZ's going from the Moab to the MT00. While this may be what you are trying to accomplish, it will be a significantly different fit, feel and overall experience. I would highly recommend that you ease into it over the course of a couple weeks rather than making a hard switch.
- Bryan Gothie, New Balance Product Manager
Trail runners are great for hiking, but if I'm carrying very much weight they can hell on my ankles when backpacking.
If you want to get into barefoot running but want to keep glass out of your feet, then this is the shoe for you. I only gave it 4 stars because the material above the toe is kind of stiff and bends funny. I can't wear these without socks because that material gives some bad friction against the hair on the top of my feet. (no I'm not a hobbit)

The sole of the shoe has gaps, so if you run through a puddle you'll get the bottom of your foot wet.