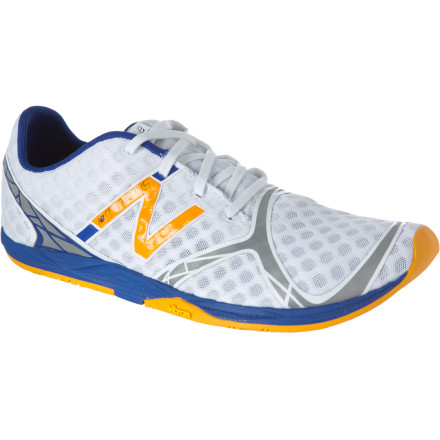 Detail Images
Featherlight and minimalist in design, the New Balance Men's MR00 Minimus Running Shoe delivers the benefits of barefoot running with the protection of an ultralight trainer. This shoe cuts out all the added junk you'll find in a more traditional running shoe. Instead of a thick, elevated heel and midsole, the MR00 keeps the heel low and the heel and forefoot heights level. Hefty cushioning is replaced by thin, lightweight foam and a flexible outsole. Soft, breathable mesh takes the place of the thick, stifling upper of yesteryear, and the liner is designed not those who prefer socks, but for runners who prefer to go barefoot inside their shoe--what a concept.

Barefoot-style running with a minimalist shoe like the MR00 has a few advantages, one of which is the strengthening of the muscles in your foot and ankle and another is the ability to transition more easily between foot strike styles. Without the thick cushioning and extensive support structure found in a more traditional running shoe, your body is forced to strengthen the muscles in your foot as your foot flexes with newly found freedom. And as your foot grows stronger and your technique improves, the MR00's zero-drop design allows you to choose the foot strike style that works best for you, from heel to midfoot to forefoot. Suddenly you're given the tools to reconnect with the terrain, practice your running form, and free your foot--all thanks to this minimalist, performance trainer.

Mesh upper is lightweight, breathable, and close-fitting so your foot stays cool on hot days and to help this shoe fit like a glove
Smooth synthetic lining is designed so you can wear socks or go barefoot inside this shoe
RevLite foam offers lightweight, responsive cushioning for short-to-mid distance road running
Footbed features an antimicrobial treatment that resists the bacteria that causes funky odors
Zero drop (heel-forefoot offset) means that your heel and forefoot are aligned at the same height from the back of the shoe to the front
Zero drop design (heel-forefoot offset) delivers the benefit of barefoot running with the protection of a lightweight trainer
Lugged Vibram outsoles ensure multi-directional grip on slick roads and slippery, variable surfaces
High-wear spots on the heel and forefoot are reinforced with Vibram rubber outsoles
Sizing: Standard running shoe last with a standard heel width, a wide forefoot, and a low toe-box height
Share your thoughts
What do you think of the
New Balance
MR00 Minimus Running Shoe - Men's
? Share a...
Great shoes for training
Familiarity:

I've used it several times

Fit:

Runs large
I bought these shoes to train in...lifting, short high speed runs, biking, jump roping, and some other high intensity workouts that are similar to crossfit. And so far I have not been disappointed. I was doing all of this stuff in my old asics (which i loved), but the biggest problem with those is that they were heavy and bulky and just not good for the type of training I was doing.

So far these minimalist shoes have been awesome. They are incredibly light, have great traction, and are all around really comfortable. They are great for me for running too, as I heel strike pretty bad, so these keep me on the balls of my feet taking a lot of stress out of my knees.

Thee color in the picture is pretty exact. They fit me a little big but not huge.

Overall, I love them!
Great for Crossfit
Familiarity:

I've put it through the wringer

Fit:

True to size
I bought these shoes for my ultralight trainer and they have held up superbly, I use them for crossfit and the zero drop provides a perfect platform for added stabilization on those deep squats. I normally buy a size 13 when it comes to athletic shoes but am happy I bought these true to size they fit wonderful with or without sock. the sole is a perfect complement to the shoes construction, the mesh top provides a wonderfully breathable shoe, I couldn't be more happy with this product as I use it 4-5 times a week and is still as good as new.
Perfect Minimalist Shoe
Familiarity:

I've put it through the wringer

Fit:

True to size
These are great minimalist shoes, fit true to size, have a zero heel to toe drop and minimal cushioning. The vibram rubber soles are awesome. A big upside is that they look great, unlike the stupid looking vibram five-finger shoes.

They are pretty comfy w/o socks, but you'll want to have socks on with any runs that are 5-6mi and up (my feet started to blister a little after that). Also, beware that these shoes take awhile to adjust to if you aren't running in minimalist shoes already. I've been in the adjustment phase for 3-4 months now, and still occasionally feel calf tightness/achiles and posterior tibialis tendon aches.

If you are just starting to transition to minimalist shoes, I'd say if you go for these then rotate them into your running routine once or twice a week for short runs to start, and then build up. Other minimalist shoes that have a little more cushioning or a slightly heel-toe drop may work well also.
Comfort
Familiarity:

I've put it through the wringer

Fit:

True to size
Great comfort in a minimalist running shoe. I wore them down in Moab, and got sand in the shoe though, don't make the same mistake, cause they rubbed my feet raw. Traction is pretty good but could be better.
I don't run road all that often, maybe once a week for a speed workout, or an occasional 5k race. Normally I stay to the trails. I wanted to find a road shoe that was light and minimal. I got exactly what I was looking for with this shoe. I have run using minimal trail shoes (NB 110/1010) for about a year and I didn't require any extra time adjusting to this shoe. My feet feel extremely light and fast with this shoe. I highly recommend it!
Overall very great. I think they are a little on the small side for being "true to size" overall, nothing to complain about. They seem to stretch out well.
The front kind of has an odd design, its as if the shoe material that covers your toes is a bit short, so when you press your toes to the floor it kind of makes the material fold in weird. Overall feels fine, just cosmetically looks a little odd.
Excellent shoes
Gender:

Male

Familiarity:

I've used it several times
Ive been into forefoot running for 5 mtgs and bought these 3 mths ago. Im using the Fivefingers KSO, the NB Minimus Trail and these, which is now my favorite shoe. Very lightweight, excellent fit (have 11.5, normally use 11.0, so went up 0.5). Im an old sprinter and these shoes fit the feet like a sprint shoe, without the spikes. You really want to run fast with them. Are using them on the treadmill
for intervals (15-60 mins). They put quite a strain on the calves, so prepare for sore legs. I find them more comfortable and lightweight than the FF KSO`s.
I tried three different pairs before I found someone that didn't have an issue with the stitching under the toes. (Maybe I have very sensible feet...)

Conclusion: Super comfy, lightweight and fast. Will order my second pair soon :-D
Best Barefoot shoe
Gender:

Male

Familiarity:

I've put it through the wringer
I embraced the minimalist theory after reading "Born to Run" and have tried many of the resulting shoes. It seems that I'm always "looking for something more," as the Sara Evans song says. ... So I have a pair of Vibram Five Finger Treks in brown kangeroo, a set of Trek Sports in mesh, a set of Five Five finger Bikilas, and a pair of Merrell Trail Sports. I didn't realize it until now, but that's about $500.00 worth of shoes. I stopped running in all of them when I got my MR00s. I am able to run farther, faster, and more frequently with these MR00s that with those other shoes. I am a big guy, 6'3"215 lbs. and these MR00s are a lot easier on my feet that the Vibrams, but still allowing the road feel. They are more comfortable than the Merrells, but if you like the Merells, you'll really like these. They are very similar. I've got about 100 miles on the MR00 now and they are holding up well. I don't use socks and haven't developed blisters. I did get blisters when I did a 10 K in the Merrells without socks.
Love the MR00 Minimus Shoe
These are my first minimalist shoes and I think I'm hooked – on both these NB shoes and minimalist running. I've been on about 7-8 runs so far with these bad boys. They seem to have a great combination of durability and being very light weight. They fit great and no blisters yet! My calves are definitely still getting used to the zero-drop, but I feel like a stronger / more efficient runner already. I highly recommend the MR00 Minimus for both running and lounging. New Balance has never done me wrong.
I bought a pair of the Minimus Zero Trail Runners and those really felt like a "zero" shoe that was totally natural and was hard to tell it was there. I had to get these for road running because the MT00's soles will get eaten by the road. I've been on 2 runs so far and I had to stop around 6 miles because I can feel a blister starting to form.
Some people will love this shoe
I tried these out 2 months ago and I like them but they are not for me. For some reason the 0 drop in this shoe does not work as well as the MT110 for me. What I like about it is the low profile especially around the heel. I like the uppers they breath incredibly well. What does not work for me is the 0 drop. As mentioned before in other Newby shoes it works for me but in this shoe I find too much pressure on the lateral sole of my foot which several times translated into a nice sized blister. Other than that though I think it is a really light weight shoe and the uppers fit like a glove. The soft tongue material feels incredible. I purchased this in a 10.5 and I usually wear a 10.5 so I think it is on par with true to size fitting.
These shoes are extremely light. Nothing really has any weight other than the rubber sole, which is a good thing.

These were my first pair of minimalist shoes, not to mention zero-rise, and they felt great from the first run. Since I hadn't quite gone so lightweight before, I had a bit of a transition period with some initial break-in foot soreness, and a little tendinitis in the achilles, but after all working into them, I was able to run a half marathon and a 10k in the same week quite comfortably.

NB has always been a preferred brand for me, and these shoes were no different. Size ran true--I'm a usual 9 and the 9 has worked well minus a blister here and there.
Very comfortable and light. Color options aren't the best, I went with the green and it's quite flashy. Sizing runs a little small. I wear an 11 in most non-minimalist shoes. I wear a 12 in the minimus life and a 11.5 in the merrell trail gloves. I ordered a 12 in the MR00 and it's slightly big but definitely tolerable. I ran a total of 3 short runs before doing a 10 mile race. The shoes were very breathable and comfortable for the most part but I ended up with a couple blisters and my left achilles was a little torn up. Most of the sole of the MR00 is made of a squishy eva foam so it's nice for long runs on the asphalt but not the best for maximal ground feel. Overall I would definitely recommend this moderately minimalist road shoe.
anyone have any pics of the green/black?...
anyone have any pics of the green/black? Wondering how bright/ bold that green is. Thanks.
Yeah, thanks. Not sure what I would like... More color options please
I was a little nervous that these would be too wide. I've got a medium to narrow foot, but I found them perfect. They're my first pair of minimalist running shoes, and so far I've found them super comfortable. First run was one mile. Second run was three miles, and I feel less beat up than running in my old cushioned shoes. Super light and definitely remind you not to land on your heals.
amazingly comfortable. first two runs, 5.5 mile and half marathon in them right out of the box.