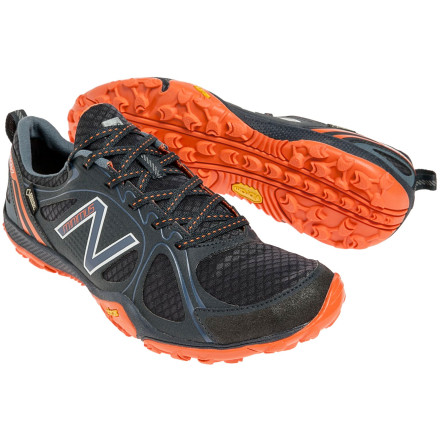 Detail Images
New Balance's line of Minimus shoes has long held its ground in the barefoot or close-to-barefoot category. With the Men's MO80 Minimus Running Shoe, the Minimus lineup gains a shoe with the same flexible feel but some added protection. Lightweight with a low heel drop, this shoe puts your foot in a natural position and eliminates the bulky feeling caused by a traditional, heavily cushioned hiker or trail running shoe. No-sew construction eliminates hot spots caused by sewn seams, and it means that you can wear either a thin pair of socks or go barefoot inside this shoe for a truly close-to-earth feeling. Wear the MO80 for trail running, travel, or when you want to feel a little lighter on your feet when you're out on a fast hike.
Minimalist-style upper is built with lightweight materials that are durable enough to protect your foot from trail hazards while still remaining flexible enough so your foot can move naturally underneath
No-sew construction eliminates the seams caused by sewn-together upper materials so this shoe is more flexible and free of hot spots that can cause chafing
Midsole platform is firm enough to provide support and just enough stability to keep you balanced and agile on the trail when the surface is unpredictable
Vibram outsole is grippy enough for slick, hard surfaces like rock or loose surfaces like sandy trails
Low 4mm heel offset more closely aligns the height of your heel and forefoot to encourage you to land on your midfoot or forefoot during foot strike
Low heel offset also positions your foot in a more natural position so you can roll off your toes faster as you come to the end of your stride
Vibram rubber is one of the most durable outsole materials offered in the trail shoe marketplace
Heel loop makes it easier to grab onto the back of this shoe when you're pulling your foot past the heel pocket and underneath the close-fitting upper
Unanswered Question
Could these be considered the most rugged minimus or are the soles of the M80v2's more beefy? I'm looking for something minimal but with a stiffer sole for very rocky and rugged terrain, and I prefer to stick with New Balance if possible. Wondering if anyone has advice. Thanks!
Love the minimalist!
Familiarity:

I've used it several times

Fit:

True to size
I absolutely have to wear minimalist zero drop shoes ever since I started wearing them a few years back. The New Balance minimalist do not disappoint in the slightest. I am super happy with mine already.



I got the ones with a gore-tex outer so I can use them this winter in the snow and I'm kinda lookin forward to breaking them in on a good snowy run.



For fit, I would go with the smaller of your shoe size (everyone's got two go to sizes right?).


How do the MO80 compare to the MT1010? Do...
How do the MO80 compare to the MT1010? Do they have similar soles?
I have owned both and on my second pair of m080. I would say the fit is similar but the m080 are slightly heavier which is to be expected with the solid vibram sole where the mt1010 only have patches of vibram sole and the rest is exposed foam. The solid sole also makes them slightly stiffer than the mt1010 for the first few times they are worn but break in nicely after that. I put maybe 30 miles on the mt1010 bufore I started noticing wear and maybe 50 miles before I was re-gluing tread on a regular basis. I have had my first pair of m080 for two years and have put 3-4 hundred miles on them in all sorts of conditions. They are still in working condition (see image) and have just recently replaced them with the m080 v2 which have addressed all of the areas of wear I had on the v1.


Great minimalist shoe
Familiarity:

I've used it several times

Fit:

Runs large
I've used these shoes for a few weeks now, and even though I don't think minimalist shoes are right for me, they have several benefits that I like. First, they have a stiff sole that extends my toes upward slightly to allow my feet to roll forward naturally when walking. Second, the tread is knobby, so they do not slip on slippery surfaces easily. Third, they are very light and I hardly feel like I have shoes on my feet when I walk around.



I'm not sure if you are supposed to do this with minimalist shoes, but when I put a footbed inside the shoe, it made my foot so cramped that I had to take out the footbed. Without the footbed, however, the shoe feels longer and wider than other shoes of that size. Overall I recommend the New Balance MO80 Minimus shoe to those who have slightly wider feet and who like the minimalist style shoe.
Overall a good shoe
Gender:

Male

Familiarity:

I've used it several times

Fit:

Runs small
I have worn this shoe for 3 runs, and a 10km race, so far.



Edit Jan 19, 2014: I have run at least 60km in these shoes. For the reasons I mention below, I do not use these shoes for running anymore, but they became my daily shoes, and I love it.



The Vibram sole is great, but I would like more midsole support, not well suited to hard rocky trails. Also, compare it with other NB shoes the toebox is slightly narrower, so I would recommend go up a half-size.



Overall a good shoe, but I wish it had a little more midsole in the forefoot and a little bit more room in the toebox.
Great cross training/dead lift shoe
Gender:

Male

Familiarity:

I've put it through the wringer

Fit:

True to size
I use these in the gym. Flat soles without big heels pushing center of gravity forward are awesome for dead lifts and squats. A couple of the trainers in my gym use them too.
Having run these shoes on trails for the last few months I am very happy with them. I avoid especially rocky trails as they don't afford as much protection as I might like, and a plastic forefoot shank might have been nice to take away some of the sharper impacts. Also these seem have a slightly narrower fit than some other NB shoes I've been running with, including my 730 road shoes. I prefer a little bit more room in the toebox, but this hasn't caused any problems for me on my runs. Besides those minor concerns I have really enjoyed running in these.
Loved running in all of the new balance minimus shoes that I have owned but destroyed them. I had to re-glue large amounts of tread on my MT1010 several times. I have been waiting for a minimalist shoe with a good quality sole with good traction and finally it has arrived. Favorite running shoe I have owned so far. Especially recommended for serious trail runners who run aggressive trails with minimalist shoes.
Low profile shoe with a durable solid Vibram soul, unless you are a wimp and need squishy shoes, these are the best shoes for trail running available.
The MT10's tougher cousin
Familiarity:

I've used it once or twice and have initial impressions
The fit of the last (foot shape) is identical to the MT10. The upper has a bit of room in the toes but is a stiffer mesh that has less give than the mesh of the MT10, designed to keep out dust/sand and protect from puddles. It tends to fold and bunch up a little around the flex point for me but it will probably soften with use. The tongue is not gusseted and I found it easily twisted and folded when putting the foot in.



Length is true to size barefoot or with a thin sock. However, I found the toe-room a bit lacking compared to the MT10 due to the stiffer upper, and even a wide (2EE) in my size allowed my 4th and 5th toes rubbed the end. In the end I needed to go up a half size to the 11D in the MO80 to accomodate my wide toe splay, even though the shoe was a tad long for me.



The MO80 has good forefoot flex but is definitely much stiffer then the MT10 (particularly in the mid-foot and heel), though not as stiff as the MT110. The midsole is a beefed up MT10 with amazing toothy tread. It is a bit less cushioned than the MT110, especially in the forefoot. The vibram outsole is soft and will probably wear fast on rock and asphalt but is great for trails. The lugs will probably make it uncomfortable on paved roads anyway.



Lastly - there is a pronounced arch support in these compared to the MT10. That might be a good or bad thing depending on your needs. True minimalists will probably find it far too much, while bad over-pronators like myself transitioning to minimalist running will appreciate the support. I couldn't keep the MT110s due to lack of any arch support and the raised lateral edge increasing my over-pronation.



Overall a good shoe, but I wish it had a little more midsole in the forefoot. The level of midsole support is a bit light for people transitioning or logging a lot of hard miles on technical terrain, and the stiffer heel/midfoot and arch support might encourage a heel strike in those still learning proper barefoot form.
I got the M80 as a trail shoe. I have worn this shoe for 3 runs so far. I would recommend folks with wide feet to order the wide shoe. The Vibram sole is great. Sor far, a great shoe.