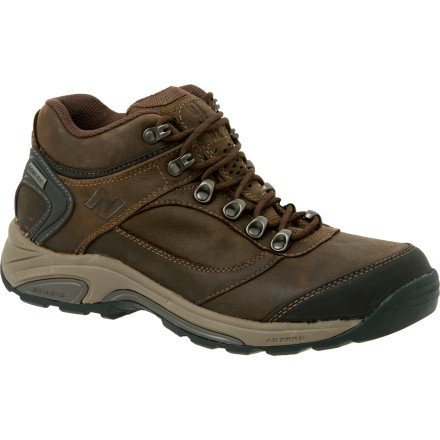 Detail Images

Videos
New Balance designed the Men's 978 Hiking Shoe for rugged on-trail strolls (and full-on long, up-and-down hikes). Tough nubuck leather with a waterproof breathable Gore-Tex membrane fends off the elements and still lets perspiration escape. Sturdy N-Durance rubber outsoles offer excellent footing, while Azorb cushioning inside provides shock absorption. And New Balance even built its Rollbar technology into the shoe, which means you get extra lateral support and stability. For boosted comfort, a dual-density collar cushions the foot in the boot's interior.
New Balance 978 Hiking Boot - Men's
I want to know if New Balance sizes are...
I want to know if New Balance sizes are consistent, I currently wear an 11 D New balance walking/ jogging shoe. I live in an area that is difficult to get to a sotore and try anything on. but need a Good hiking shoe as I am up and downd a variety of trails all day,
I have always found NB sizes to be right on
Rob - I think you will find the sizing consistent between your walking shoes and this model. This shoe has more material in the upper between the leather and the Gore-Tex lining which might snug it up a little.

Bryan Gothie - New Balance Product Manager
I bought these shoes in Maastricht The Netherlans, these shoes are like slippers, when you normaly try on new shoes your feet hurt, but with this shoes NO PAIN!!!! When I go out with my dog I always wear these fantastic shoes, I don't wanna mis them, and if they are worn out I will buy them again and again and again. I am very satified with these shoes, my best buy of the year.

Ghislaine,
Holland
How is the arch support in this shoe??
How is the arch support in this shoe??
The New Balance 978 provides moderate arch support. There is no traditional medial post but there are several other features which combine to provide both stability and support. There is a TPU plate called Rockstop whihc runs from the forefoot to the midooft that provides the majority of stability. In addition, the Rollbar in the heel includes bilateral pieces of TPU that rest on a piece of graphite. The combination of these three pieces provide plenty of support for your heel.

So will there is nothing in the shoe that is directly acting on your arch, the overall platform of the shoe has been built to provide stability and support.

-Bryan Gothie, NB Product Manager
Best Answer
Hello Pat,
Normally I have specially added arch supports for my shoes. But here I don't need them, my feet don't hurt even if I wear these shoes all day long. Fantastic.
Ghislaine