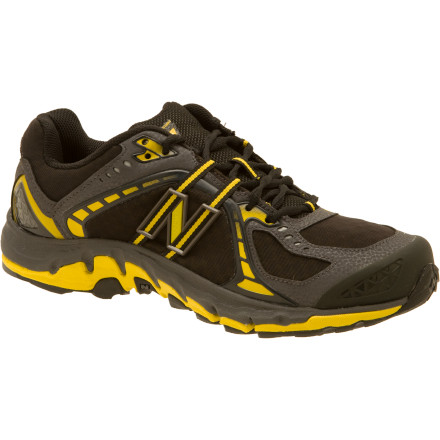 Detail Images
I really like these shoes. i run about 3-5 mi a day with these shoes. I run from trail to cement and they have lots of support. The only problem is one tongue is shorter than the other so it can get uncomfortable.
I can't stand this shoe (no pun intended). My feet run very hot in these shoes, leading to a ton of sweating. The water-resestant uppers seem to hold in heat and moisture. The first race I ran with these shoes had several creek crossings, and after 18ish miles, my feet were in awful shape. I bought these because they were the updated version of the 906 and I could not get another pair of those (maybe the best shoe I've ever had). Why did New Balance have to mess up a great thing?
how do they transition on the road/treadmill?...
how do they transition on the road/treadmill? are they strictly a trail shoe or can they be worn as a street trainer?
NB 909 can handle a little pavement even some treadmill running but I wouldn't take it as far as a street trainer plus the pavement will wear the treads down much faster.
I find these shoes get very uncomfortable after more than a mile or two on the road. The sole does not provide much cushion.
I think these shoes can handle anything from trails, to street, to treadmill.
It can always be challenging to order gear online. However, to mitigate this risk I recommend you at least have some basic knowledge of New Balance shoes.

I have been very familiar with their shoes and felt confident ordering this particular model online.

Now, to the specifics of the shoe.

I do have a wider foot, and New Balances typically facilitate wider feet runners, in my opinion.

This shoe seemed very light weight for trail running. I do appreciate the mesh, just be sure to wear socks that will "wisk" away the moisture.

My only complaint, in the beginning of the season, my legs are too white and the black shoes magnify my pasty white legs! ;)
which are the previous model. So far the best hiking shoe I have worn. I wear 4E width so a company that carries wide shoes has my business. What amazed me off the bat was that just walking I could feel air venting through the top front of these shoes. The toe bumper is fairly rigid and does provide protection. I have done 20 mile days in wet feet in these and felt great and blister free.
, ☃bcs_badge_alumni_label☃
Best Answer
Nope. Made in China.
This shoe's predecessors were pretty great but with this one New Balance took it up another notch. Obviously make sure they're a good biomechanic fit for you before you buy them, but they breathe really well, keeping your feet dry, and the soles are bulletproof. The toe bumpers are amazing too if you run on rocky trails. The fit is pretty average I think, you probably won't need to size up or down. I use these for all of my running and they work great.