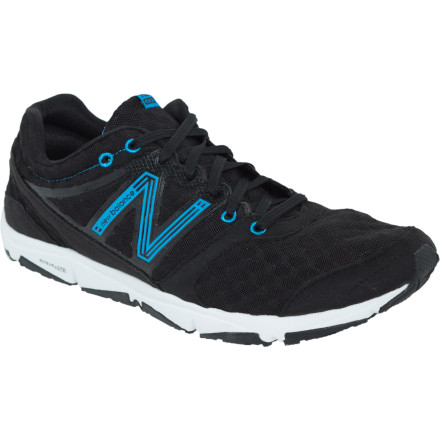 Detail Images

Community Images
With the wind in your face and your heart pounding in your chest you might not even notice the lightweight New Balance 730 Running Shoe cushioning your steps over a few miles of road or sidewalk. Maybe that's what makes this lightweight mesh running shoe so great, because its breathable upper and cushioned midsole let you get lost in the miles while you jam out to your tunes.
Synthetic mesh upper features large perforations along the whole shoe so your foot can expel any sweat vapor and prevent blistering
Dual-density EVA midsole and Abzorb technology in the heel provide excellent cushioning, support, and transitions during road running
Contoured footbed provides additional cushioning and accommodates mid-weight runners with healthy strides
Rubber outsole provides just enough tread to keep you gripping the wet road without weighing down every step
Based on all of the articles I have read I have been very cautious making a full transition to minimalist shoes. I put in between 50-100 miles per week depending on the season, and I cannot afford injuries. I like these for longer distance pounding workouts when I begin reverting back to my heel striking ways. For shorter, faster workouts I use a full minimalist shoe and try to concentrate on my midfoot strike.



These shoes are a bit wider than other NB shoes I have used, but as my feet swell the fit improves.
While I typically trail run I like having a pair of shoes that are versatile enough to give me support on the trail and comfort on the pavement. These shoes worked perfectly.

I run on all sorts of terrain with these. I've taken them up and down Bishop peak trail but they didn't budge and begged for more. I ran them a couple hundred miles in pavement over the past six months and still have no complaints.

I've really only discovered two shortcomings.

One, over a pointed or sharp rock the foam outer soles are notable to keep the pressure from hitting your foot like a hard plastic sole of a trail running shoe would.

Two, the laces will effective, struggle to stay tied durring long runs.

Overall I am very pleased with these shoes and might buy them again.
Great for Wide Feet
Gender:

Male

Familiarity:

I've put it through the wringer
The 730 was my first minimalist shoe. The 4mm drop and the wide toe box were the key factors for me in purchasing this shoe. The upper mesh and the rubber sole are very durable. With wet conditions, I would not recommend wearing this shoe if you are running on steep terrains. This is a great road running minimalist shoe. If you do not have a wide foot, this shoe may not be best for you.
light and very breathable
Great shoe. Looks great. I have had them for about a month and the tread is wearing pretty fast. I use them at my warehouse job and for running so they are taking a worse beating then they should. I will probably get another pair when they are beat. I would go for it!
I usually run in a NB Minumus Trail MT10 so the 4mm drop was perfect and wasn't what bothered me. The upper is just really flimsy. It feels like the shoe doesn't fit the foot that well and the sole seems really wide almost as if walking on a pair of stability shoes. I wouldn't recommend these to anyone who wants a shoe that keeps your foot locked in with enough room in the tow box. They just feel cheap to me. As for running in them don't expect to run on wet ground to well the sole is slick. On dry pavement they work ok. Like I said they are just unrefined, loose fitting,(not size, but upper) and have to wide of a sole.
Bought these to wear around at work, and they seem to be doing the job. I do not usually complain of a narrow width construction on normal width shoes, but these feel tighter throughout (may be due to the "minimilist design". They are light as a feather, and breath sufficiently. I usually go without socks, and haven't had any major rub spots on my feet. The colors are also a big sell. I picked up the icy whites/green pair. Bright.
I love how these shoes look. Are they a...
I love how these shoes look. Are they a 0 Drop Shoe? 4mm drop maybe?
I don't know the exact specs, but I would guess they're about a 4 mm drop. NB definitely says they're a minimal running shoe. Hope this helps!
Runblogger.com has a review - he measured it at 3mm. Cheers!
According to NB catalog, this shoe is a 4mm drop
According to NB catalog, this shoe is a 4mm drop