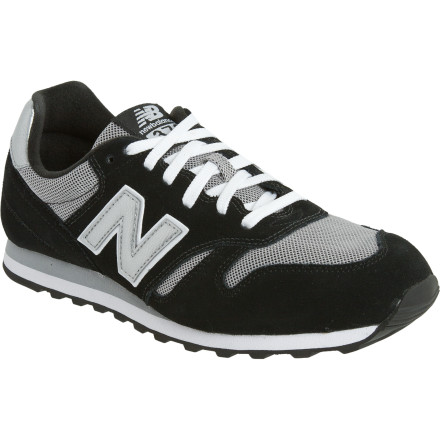 Detail Images
Don't call it a comeback—the New Balance M373 Shoe boasts a timeless style that's not only lived but thrived through countless trends in running footwear. Perfect for wearing around town and capable at running, the M373 is as versatile as it is nostalgic.
Overall I love my 373's. Over the years I have owned a ton of 373 and 574's. They just have that classic feel and look to them that never dissipates with time. These shoes are super cush and are pretty much the ultimate casual shoe for the classic look and design. Now this post is for our friend Austin below. If you are buying these for a running shoe and complaining about it, you better read a little better. One, these are not a running shoe, they are a casual shoe designed for a classic casual feel. Just as Backcountry.com has classified them they are by no means a modern running shoe. Two, just because they don't have enough support for you does not mean they are a bad shoe, it is just the wrong shoe for you. Sure there are plenty of shoes out there that have not worked for me, but that does not mean they are not great for other people. If you have a problem with arch support, go to a local running shoe store and get properly fit to a brand that provides the support you need. And last but not least, there happens to be a new running movement out there called bare foot running where 0 drop is becoming a standard, so 0 drop and 0 arch support very much do have a place in the modern running world for those who subscribe to it. OK! So, now that is out of my system, I usually wear a 10.5 in most shoes and I definitely wear a 10.5 in these, but if I were to attempt to run in this shoe (which I won't) I would probably give myself an extra .5 for some toe box room. Other than that this is a great casual shoe which is true to size unless you may be an in betweener.
Everyday use
Gender:

Male

Familiarity:

I've used it several times
Always been a fan of this style of New Balance, but its been a few years since I've worn a pair. After purchasing these shoes, I almost forgot how comfortable they were and great for general usage.
Great for daily casual usage
I expected more out of a pair of running shoes. These shoes have almost no arch support, and they have a thin toe box. I did however like that they cradle the heal nicely.