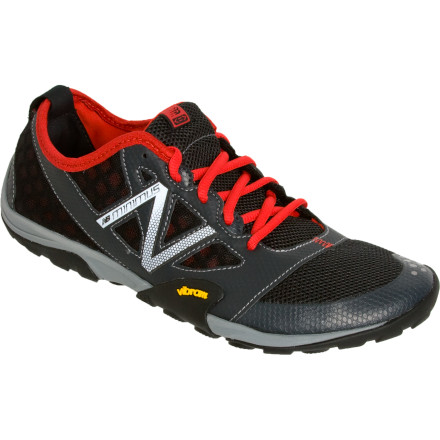 Detail Images

Community Images
The New Balance MT20 Minimus Trail Running Shoe brings you the benefits of barefoot running without exposing your feet to sharp rocks, glass, or deer raisins. New Balance used its NL-1 last with minimal heel and toe drop and a broad forefoot to promote natural forefoot splay for runners with midfoot-striking gaits.
Acteva midsole provides tons of flexibility and light cushioning
Synthetic and mesh upper is soft, pliable, and highly breathable
Vibram outsole delivers underfoot sensitivity, low-bulk traction, and durability
Antimicrobial footbed neutralizes odor-causing bacteria
Minimalist shoe in a mud run
Just picked these up. I run 3-4 times A week 5-8 miles. Been running in Brooks Puregrit and love then couldnt find anything else til these. Ran 6 miles up Rattlesnake to Church and back. So comfortable and midfoot strike feels good. Sole is strong enough for trail, but watch sharp rocks. My calfs are super sore 3 days later but psyched to run in them again today.
This is my first foray into the world of minimalist running shoes and as a novice I have really liked these shoes. It makes a huge difference in practicing barefoot running and walking technique, compared to traditional running shoes. I haven't had them long enough to speak to durability, but they are comfortable. I should have gone up a size though. I usually wear 9.5's and these are pretty snug. I can walk around a cement floored warehouse in them all day and they feel great. I just don't feel like my foot can spread out inside the shoe as I run. All in all and excellent shoe.
NB MT 20- not crossfit tough
For running it's a pretty good shoe, offers more protection from sharp rocks than five finger buy leaves you looking for a little more on long rocky trails. Great for sprints or short runs. They will dominate your calves like all minimalist shoes.

Works great for Olympic lifting and plyometrics but don't hold up to well when used for rope climbing. They tore up on my first workout with a rope climb in it.
got and tried a pair today at the gym and really like them so far. they deffenity workout the cafs more and they really feel beter on the knees. excited to see how they work on the road.
I'm a soldier and I run on variety of surfaces. Great arch support and a really natural feel while I run. I saw my 2 mile run time drop 20 seconds just from these shoes. Great product, and definitely something I would recommend.
I run both barefoot and in running shoes. I found these to be a great shoe for transitioning from normal running shoes to barefoot or near minimalist. I did go up a half size after reading many reviews and talking with the backcountry experts. These have been the best shoes so far and plan on buying some more in the near future. If you are not ready for the complete jump to barefoot running, I recommend these shoes. I also use them for cross training and gym work. Great shoes!!
I do a mixture of running between tracks, street and trail running. I have worn several different styles of shoes to allow me effectively run on the different terrain. In the New Balance Minimus I am able to run comfortably on each of these different terrains. I also am flat footed and was surprised to find the support I receive with these shoes.

If you do must of your running on a treadmill I would not suggest these shoes.

Overall I am more than satisfied with these shoes and I will be buying more pairs.
I've been barefoot now for almost two years. These are well made, capable and comfortable...with one caveat. If you have EE-EEEE I would recommend avoiding them. The fifth metatarsal bone may get very sore. This is due to the reinforcement strap at that area. I still say they are comfortable because I'm pretty sure if I had a narrow foot they would be. I continue to wear them but I no longer run in them. I should have returned them right away so it's on me and I'm to stubborn (and cheap) to throw them away.

These are not super minimalist. If you're new to barefoot some shoes can be worn with socks. These can not. I also find the quality superior to the Merrells. I've worn them all. Barefoot running and working has literally eliminated a lifelong lower back problem. An important caveat if you haven't tried this. Nothing compares to Vibram Fivefingers for true foot stability. For me it makes a huge difference to have separate toes. As a chubby old Martial artist with small feet I am acutely aware of my stances. For me all closed toes are a compromise albeit a welcome one over traditional shoes.
I love these shoes. I run on pavement and trails. No complaints whatsoever. I have had these since they first came out in Aug 2011.
I had the MT10 but had to return them because the band across the top of the foot hurt. These MT20's are, IMO, an improvement over the MT10's I, too, can't wait until the Zero's come out in March 2012!
Very Smooth , form fitting and sturdy. Great for the park runs and also for the gym. For a wider foot like mine, it took a day to break in and I was off!
Great shoe and would buy them again.
What's the difference in these and the...
What's the difference in these and the MT10's? I had some of those and they were snug across top of foot above toes, as other reviewers had stated. These look a little different. Wondering what the differences are, thanks. Merrell reps?
Best Answer
The difference between the MT10 and the MT20 is the material that you mentioned in the upper that creates the snug feeling across the top of the metatarsal region of the forefoot. The MT10 has a pliable elastic that will provide more of a glove fit if you like to minimize the movement of the bare foot inside the shoe. The MT20 material is a less pliable synthetic that will not hug the metatarsals like the MT10. It will still have a minimalist fit, but may provide a little more play in the toe box. Hope this helps.
Great (but not super minimalist) shoes, run small
First things first, these are sized for use without socks. If you want to wear socks with them (really not necessary), go up a half size.

I've been looking for a replacement for the VFFs I ran through (in well over 1000 miles) that would give me the same feel without the toes, and these are pretty close. I was enjoying the Merrell Trail Gloves until I wore through the rubber in about 200 miles. These aren't super-minimal (mostly because of the 4mm drop - everything else is pretty legit) so if that's what you're after, look elsewhere.

The MT20s have a "softer" feel than the Merrells - not sure how to explain it really, it's not a cushy feeling, just less harsh. I've got several runs in these now and I'm pretty happy. They're great for running without socks. I've seen complains about the lack of a rock plate and getting stabbed through the gap in the tread, but my runs in these have been predominantly on paved surfaces. Rubber durability seems good so far, I'll revise this if that changes. I'm looking forward to the Minimus Zero, but will happily train in these until then.
I normally wear a 9.5 to 10. I ordered the ten. These are very snug. I think they would get very uncomfortable after a few miles. I will probably go up to at least a 10.5 - maybe even an 11 before trying to run. They look like a fun shoe though. I can't wait to get out in them...
Does anyone know if these are fitting true...
Does anyone know if these are fitting true to size? I typically where a 10 in most shoes, but when I bought the New Balance MT100's I had to go up to an 11? Wondering if I should order the 11 in this shoe as well?
Thanks for any advice.
Best Answer
Most likely you'll need the 11. Most companies are keep their shoe sizing pretty consistent across product lines.
Mine ran one half size small. I normally wear an 11. Had to go to an 11.5 with these.