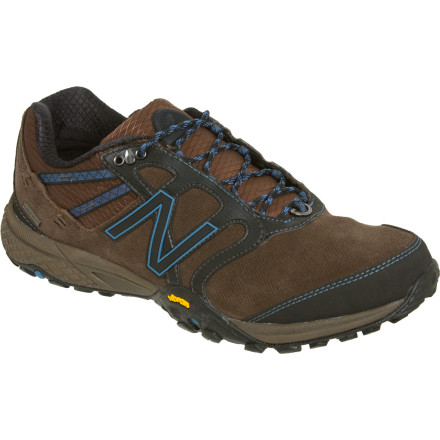 Detail Images
There might be 3500 feet between you and the peak, but you have the New Balance 1521 GTX Hiking Shoe to give you lightweight protection and quick-gripping performance during every step. That's good, because there might be a few thousand of them as you plant this shoe's flexible Vibram rubber outsole on the trail, scree, and bare rock. Part hiking shoe and part trail runner, the 1521 features a Gore-Tex membrane for moisture protection as well as a suede and mesh upper that flexes with your fast, numerous strides.
The Gore-Tex waterproof breathable membrane keeps puddles and rain from seeping in while expelling sweat vapor for comfort and blister prevention
A Rock Stop protective layer in the forefoot prevents unwanted bruising as you cruise along the rocky trail
C-Cap compression-molded EVA and Abzorb midsole foam provide additional cushioning during long hikes and trail runs
Mesh and perforated suede aid in breathability for hot summer alpine scrambles
Hardware on the shoe provides attachment for compatible gaiters (sold separately)
Hey there, I typically hike in trail...
Hey there, I typically hike in trail runners, and have even backpacked in them, but I'm thinking about getting something a little more durable and supportive for backpacking and bigger hikes, but that isnt heavy and clunky. You think this has sufficient comfort and support for treking through the Sierras for a week with ~40 lb pack?
Best Answer
Having just recently come off the PCT, and additionally, having hiked the whole thing in trail running shoes, I think you wouldn't need to worry about using these. However, if I may be so bold as to make a recommendation:

I would look into Brooks Cascadia 7s (or 8s) as that was what I was using and could not have been more satisfied with the outcome. I notice that these are a GTX-lined variant of shoe, which personally, I would avoid. If you intend on going through the Sierras for a WEEK, those puppies are going to get wet at some point, it's inevitable. When they do, you won't have dry feet the rest of the time, and you will be walking in bathtubs the rest of the way. GTX in shoes is something that seems good in theory, but is not so good in practice. Anyhow, back to the point: I don't know how these would perform, but I will give a 100% satisfaction rating to Brooks Cascadias, in terms of good shoes to backpack in. I don't think BC carries them, but you should be able to find them somewhere on the web for a better deal (i.e. cheaper than these).
I love these shoes, but they definitely run small. I normally wear a 10 and ended up needing an 11. (Even the 10.5 was too small for me.)
All around great shoe! Ruff and rugged, built to last. Is a little stiff around the fore foot on the top side at first but breaks in. I would go with a half size larger. Only one word for this shoe...TANK! Nuff said...