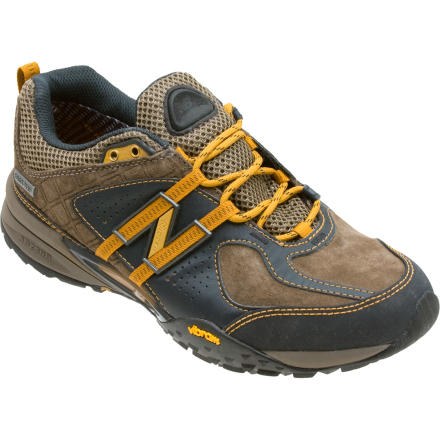 Detail Images
The New Balance 1520 GT looks like a cross between a trail runner and a hiking shoe. That's because it is. A fast-moving multi-sport outdoor cross-trainer with Gore-Tex waterproofing for year-round use. From winter trail runs to Wednesday games of Ultimate in a summer downpour, the 1520 GT's multi-directional Vibram sole and burly upper take a licking and keep on sticking you to the ground when it counts. Molded C-Cap midsole supports your foot in lateral motion, and stiff Stability Web arch support prevents buckling on uneven terrain.
Poor fit and waterproofing
I'm a big New Balance fan, but like the earlier reviewer said, this shoe leaked the first time it rained - the leather is waterproof, but the sole connection to the upper is not sealed. Also, these are the first NB I've owned that are sized a half size small (needed to go up 1/2 a size, but the fit isn't quite right). Also, and I know this is a little intensen, but I don't think the last is correct - if you place the show on a table it wobbles from side to side - a big deal if you do a lot of walking or have foot issues. I do really like the look, so do wear them casually!
Unanswered Question
1320 vs 1520. What do you know about them?...
1320 vs 1520. What do you know about them? Both have similar attributes. Is one superior?
Gear Girl finds a win in NB 1520
Ok, I know it's a men's shoe. I know I'm not a man. I also know that to find any women's trail runners in the middle of no where Arkansas is difficult, especially if you happen to need, lets say, a size 10 in women's runners to avoid black toe. That being said...
I teach and outdoor physical education class at a local private school, work at a gear shop, and avidly hike, climb, backpack the local Boston Mts.
The 1520s have really been great. I've had no problems with the gore-tex liner leaking. My feet stay dry as long as the water doesn't come up past the webbing of the tongue. I have a very low volume foot with a high arch, so i put a pair of superfeet in my 1520s and it fixed the dead space.
I'd like them to be a little lighter, but the durability is worth the few ounces.
Also, can you say gaiter compatible? Boo ya!
I only wish the shoe wasn't as stiff on the extreme portion of the upper. Also, in having a gore-tex membrane you give up some breathability and for that I'm rating a 4, but it's really something like a 4.5. I'd never wear these without a wool sock, something smartwool or comparable.
This shoe is great insofar as fit, comfort, & durability are concerned; unfortunately, they are NOT WATERPROOF!. I've had two pairs, the second a replacement for the first pair, and both pairs leaked!
Where the NB 1520 was made? I mean country....
Where the NB 1520 was made? I mean country. Thanks in advance.
The New Balance 1520 was made in China.