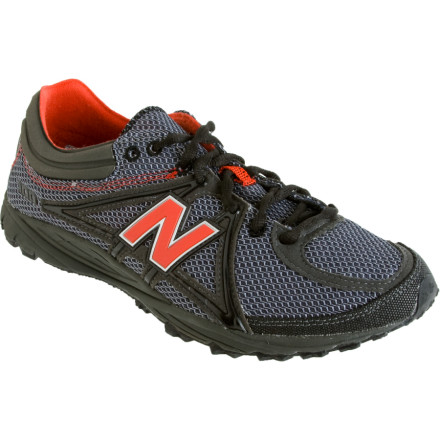 Detail Images
great lightweight trail shoe
this shoe is great if you like a light weight show for moving fast on the trails. I have tried other light weight shoes, and what I really like about the MT100 is that the forefoot is protected from sharp objects you often step on - rocks, etc. i have run trail marathons, ultras, etc, all in these shoes with no issues. i notice a bunch of folks have complained about the ankle/heel pocket - I havent had any issues, but see where you could.
great lightweight trail shoe
this shoe is great if you like a light weight show for moving fast on the trails. I have tried other light weight shoes, and what I really like about the MT100 is that the forefoot is protected from sharp objects you often step on - rocks, etc. i have run trail marathons, ultras, etc, all in these shoes with no issues.
Agree with Ben's assessment - a great option for a minimalist Trail Runner. Sole will last, shoes are comfortable. Only complaint is the tongue - very thin, difficult to keep from wrinkling as well as aligned. And if you strap 'em snug, the laces may dig on you. Otherwise, I'm very pleased.
Casual/Recreational Runner
I really want to like these shoes as they're super light, provides good traction on trails, and enough protection from sharp rocks.However, as much as I want to like them, my feet are crying in protest. As stated by other (more experienced) reviewers, the plastic support digs into my heels. I was hoping that break-in would either loosen up the part that digs in or I could develop a callus which would manage the pain, but neither happened.In addition, my toes feel really cramped in the shoes and often leave my feet sore after a few miles.I've decided the sacrifice trail traction for running comfort and bought a pair of Nike Free 5.0.
Great shoe for disciplined, lightweight runners
These shoes are an excellent way to force yourself into proper running form. They are designed to provide thin underfoot protection for runners who strike the ground in the mid- or forefoot range, without altering the natural mechanics of a runners foot, the way some "motion control" shoes are. Often, when I find myself "in the zone" on a long run, I space out, my stride elongates and I start to pound my feet a little harder. In these circumstances I pronate slightly, but over time, this leads to tight shins and calves, sore arches, and knee pain. With these shoes, I've learned to keep my strides shorter and to maintain a consistent midfoot strike. Although they hardly seem to have enough cushion for pavement running, I've found that, with extra attention to good form, I can enjoy running on asphalt more than I do with traditional road shoes, which some people suggest contribute to elements of bad running form such as a heavy heel strike.

Unfortunately, at 160 lbs, and with a propensity to find "the zone" for a period on most runs where my conscious efforts at good form start to deteriorate, I find that I'm on the upper end of the weight range for shoes this light. Perhaps someday I'll be disciplined enough to run in them all the time, but until then I'll use shoes with slightly more cushion most of the time.

Also, why no widths, New Balance? These things are much wider than most superlight shoes, which is tough for a guy with B width feet...on that note, it is absolutely critical that shoes as minimal as these fit perfectly. Whereas in cushier shoes there is more padding in the upper to take up little bits of space around the heel and forefoot, if there's extra room in these shoes of any kind, your feet will be swimming.
Lightweight, Minimalist running shoes
I decided to go with these shoes as a switch from the "traditionalist" running shoe. Since switching to them, the pain in my feet after running has gone away, and I have greatly reduced heel striking in my run. They run true to size in my experience.
These are a great pair of shoes. Nice and wide in the toe box, and super lightweight. They're perfect for my trail runs when I decide to not wear my Vibrams.

My only complaint is that the rock stopper makes the front sole of the shoe pretty stiff. Not a major issue, it just makes it a little rougher on the balls of my feet.

Overall great shoe though. I plan on using these for my first Ultra in the Fall.
a superb, but flawed, option for minimalist runners
I've been a big proponent of minimalist footwear and natural running technique for a while now, but my three fallback options of choice - barefoot, Nike Frees, and Vibram Fivefingers - simply weren't cutting it on the razor-sharp gravel roads surrounding my family's cabin. I've spent the better part of 6 months looking for a trail running shoe that could offer some trauma protection without getting in the way of my foot's natural mechanics.

So far the New Balance 100 is the best thing I've found. They're extremely lightweight (lighter than my Frees) and basically function like a more protective racing flat. The upper is basically a thin mesh with a few "strapping" features, and the sole is very flat and very low-profile. Despite the rock stop in the forefoot area, I haven't found forefoot flexibility to be compromised. The rock stop is only in the area where your forefoot actually makes contact with the ground, and thus the parts of the sole that need to flex still can. The heel rise is negligible, and my heel rarely ever makes full contact with the ground so it doesn't seem to matter anyway.

Of course, the shoe isn't exactly perfect. The plastic support around the heel is poorly designed and tends to dig into your skin, and might cause blisters if you don't protect yourself with a band-aid or give the shoes a sufficient break-in time. This problem is so universal among users that it's one of the reasons they are discontinuing the 100 this fall and releasing an updated 101. Additionally, the rubber outsole smells to high heaven. I'm not talking foot stink... I'm talking industrial-strength chemical smell. Don't make the mistake of leaving a brand-new pair in your closed-up room like I did the other day. It took a full day of airing my room out for the smell to disappear. Hopefully that goes away in time.

If you're looking for big, clunky, cushioned shoes to swaddle and pamper your feet, look elsewhere. If you're a mechanically efficient forefoot- or midfoot-striker looking for a decent trail runner to grip the ground and protect from sharp intrusions, the New Balance 100 might be the shoe for you. I've been shopping around for low-profile trail runners for quite some time and this is the closest I've found to my ideal trail runner.
When it says barefoot like running, do...
When it says barefoot like running, do they mean these are similar to the Nike Free's and designed to offer minimal support?
Cool. I look forward to hearing back on that. Thanks!
Best Answer
All right, Steve... after having them for just a day, here are my initial observations: First of all, the NB 100 is a VERY light shoe. Even lighter than the Nike Free. The fit and feel of these is basically like a racing flat. The forefoot isn't particularly flexible, but the sole has got enough overall flex that it's easy to run with a midfoot or forefoot strike. One of the big differences between these shoes and the Nike Frees is cushioning. The Nike Frees are very flexible, but they've also got a bit of squishiness going on between your foot and the ground. Not so with the NBs. The sole is very flat, very thin, and somewhat hard. In a way, this probably makes them less forgiving of your running technique than the Frees. The sizing is quite similar to the Frees, in that they run slightly small, though I think the forefoot especially is slightly narrower than in the Free.

Two things about the NB stand out as not so good... the first is that the plastic support thing on the back is not well-designed and will probably cause blisters on your Achilles area. That's something that may require some patience in terms of breaking the shoe in, or developing a sufficient callus. The other odd thing is the smell. The material on the soles has a VERY pungent, chemical smell. It's strong enough that it actually stank up my room while I was away at work today. Very strange. Hopefully that will go away over time.

So, in sum, these are definitely a huge leap forward (or... backward?) in minimalism from most trail runners, from what I can tell, though different from the Frees in that they are slightly less flexible, and slightly less cushioned. A solid, but flawed, shoe. In the course of my internet searches, however, I've found that they are discontinuing the 100 as of this September and introducing the 101 which addresses some of the flaws of this shoe (notably the heel-biting, and making the sole slightly more flexible). You can see a preview video of the 101 here: http://www.runningwarehouse.com/sneakpeek.html?ccode=NBFALL10&video=SNEAK234

Also, if BC has run out of your size (and it looks like they're about to sell out completely), runningwarehouse.com still has pretty full selection of sizes (albeit in a different color) here: http://www.runningwarehouse.com/descpageMRS-NB100MG.html
nuun & Patagonia UltraRunner Ty Draney Reviews NB 100
I got Ty Draney to stop long enough during a trail run to tell me all about his New Balance MT 100 shoes.