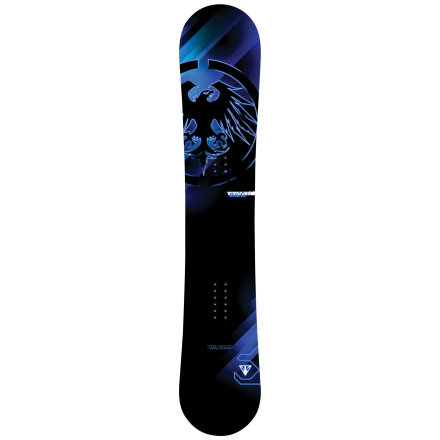 Community Images
I've been riding strictly NS boards for the last 8 years or so. Been riding going on 16 years. NS boards are the way to go. Built like tanks, awesome 3 years warrranty, and ride like a dream. I've been riding NS Legacy 174's for my last 4 boards. I'm 6'7" ~215 lbs. I wanted something a little shorter and much more agile for those resort riding days. I ended up purchasing a 169 Titan TX w/o rocker and camber. Plenty wide for my size 14 boots. Once you get up to speed in powder, this board handles like nothing else I have ever ridden. So solid and stable, cutting through the snow like a knife through warm butta. Immediately got comments from friends about how hard I was charging that day. All that being said, I went over the front of the board countless times. Not sure if it is just me being used to the extra 5 cm of my other boards or what. On groomers it does not have as much pop as my legacy 174 (to be expected from a board more geared towards big mtn riding). Bottom line, on semi-powder days (fresh 6 inches or so) this is my board of choice. On straight up powder days, or days riding some deep in the backcountry, I will stick with my Legacy. If I were purchasing it over, I would end up buying the Legacy 174 w rocker and camber. I hear that the rocker and camber boards ride a little shorter then those without. If you can get by with a 169 or shorter board, and do a lot of big mountain riding, no question, buy this board.
I am 6'2", size 12 shoe, and 265pds. of HARD LARD BABY!
This is my choice of boards for several reasons:
Toe overhang is minimal if any for large feet.
The board floats me well and is stiffer than most which makes it fast in the steeps and way responsive in the trees.
The price is reasonable for the quality and craftsmanship you get.
Your not getting a clone Burton Board.
The top laminate sheet is less prone to tree and rock damage than most boards I've seen. The board is solid and the camber and tip to tail snap is perfect for my riding requirements.
Look for me dropping the Cirques at Snowbird. I'm the FAT GUY that will School you little frail NANCYS on your JIB boards!
Kids today, all they talk about is big air. I say, stay in the terrain park, that's where the action is. If you want big air, pull my finger.
do any bindings match with the never summer...
do any bindings match with the never summer titan or are the specifics???
To match it up with a pair of bindings would be at your own taste. There are a lot of bindings that will match with the colour of the board, its just your personal preference. If you're talking about a binding that was made for this deck, then no there is not. But theres a lot of bindings that will go with this deck. Burton has a lot of black bindings, but I would tell you to go for a pair of Unions because they are the sickest binding company out as of now. You can check either the Forces, Datas, or the Contacts. All of them are sick bindings and will last you a longggg time
I'm 6"1, 200# and picked up the Titan TX 165. Been riding a number of years and like the fast groomers, back bowls and trees riding them hard and fast(I don't ride the park). As far as stability and control at high speeds, you can't beat it. The only thing I wish is that I got a shorter one for the tree runs. I teamed mine up with some Burton Cartel bindings and its one solid setup.

I rode mine at Breck, Keystone, Vail and Copper in both deep pow and corduroy and it smoked them all. The warranty and the fact it was made locally in Denver just made it a no brainer. Forget those stamped out in mass in China and keep it local. If your wanting a solid, free ride, big mountain board for smokin down the mountain, I would go ahead and bite the bullet and get one, you won't regret it.
Bad-Ass board, but buy according to skill and riding style
I am 6'2" 215#. I ride hard, fast, and agressively. I like trees, steeps, pow, etc. I have been riding for 19 years and this is my first Never Summer deck. I bought the Titan TX 169.

Heavy deck, but I guess that's what you get for a quality made product backed by a 3 year warranty (suck on it, Burton!). FAST base! Incredible stability and excellent edge hold, including on ice. Great pop off the tail as well. Very well constructed, including a full-wrap edge.

Two issues: 1) Nose is MUCH softer flex than tail, making pow great, but tight turns in the trees can see you buckle over and crash out. 2) lower tail rise makes negotiating trees switch-stance very hard, but also ridign switch in pow nearly impossible.

I have ridden plenty of equipment, but this board is a machine. I needed to learn to ride it for the way it was built (the flex pattern, tri-sidecut, and directional shape shold be a clue). Once you do ride it as intended, this is a beast....lightning fast, pops off bumps/cliffs/etc like nothing, lands softly and smoothly, rails turns at any speed, and has taken a hell of a beating in the short time I owned it and never anything it can't spring back from.

Tested in various conditions at Afton Alps (MN), Breck, Keystone, Vail, Beaver Creek, Copper, Moonlight Basin, and Grand Targhee. It rides it all...end of story.
, ☃bcs_badge_alumni_label☃
Not the Titan, but still a great Neversummer board
...Hiking toward Pioneer peak. Cottonwood range, UT
My friend owns this board.
He loves it!!! Great all around board that can do the park and the glades.
I am a big time wide board user. Blessed...
I am a big time wide board user. Blessed with size 13 feet I've been forced to work with the Fat Bob for the last 6 years. I am looking to upgrade and I am weary about buying a regular board with my issues involving toe hang. Any info regarding the specs would be helpful!
lol my friend is still riding a Fat Bob that he picked up when he was living in Denver 6 years ago...

I've been riding a Legacy for a few years, they used to make it in "wide" and regular, but now they only make one Legacy-R designated as "mid-wide". I wear a smaller boot than you but I ride 0/0 stance. On either of these boards, the Titan or the Legacy-R you should be OK if you ride a more conventional stance (18/-15 etc.).

Actually the Legacy-R is slightly wider at the waist than the Titan TX. Might want to look into it, it's a pretty solid board all around.

here's full specs at Never Summer
http://neversummer.com/snow/legacy.html

and my review...

http://www.agnarchy.com/never-summer-legacy-snowboard-product-review/
Thanks man. I'll look into it. I was going back and forth between the Legacy and the Titan for a while. I don't hit parks alot and just like a sweet ride down the runs.
I just took my '09/'10 Never Summer Titan TX to Keystone today and couldn't be more impressed. It cut through the hardpack like a knife, had insane stability at high speed, and carved like a dream. I got the 165 - I'm 6', 195 lbs, size 12/13 boots - and couldn't believe how responsive it was. It even handled a few moguls with ease! Now it just needs to dump so I can take it out for a powder day!
I don't know if it's kosher to post a review for the 08/09 model in the 09/10 product description, but I have to put my recommendation out there for any fellow riders scoping this board. I don't think there's a significant difference this year over last anyway.

This board has literally changed my riding life. I used to just cruise and make wide sweeping turns and have tons of trouble keeping my speed in powder. After a few rides on the NS Titan I felt my skill level and my speed going up. I have no fear of just pointing this dagger down the hill and letting it be one with snow and gravity. The best comparison I can think of is the difference in going from a hardtail mountain bike to a 5 inch travel full suspension...it's just easier to go FAST!!! When it comes time to turn, the edges grab and board springs into the carve...it took me a full day to get used to this sensation. Riding powder is a dream and it's easy to keep your speed up and float. Powder turns require minimal effort, in fact it's easy to overdo it and take too much snow. USA made in Colorado with an unheard of 3 year warranty (used to be 5, but hey). Un-effing-believable stick. If you've read this far, I hope you'll give this sucker a ride. I don't work for NS, I just whole-heartedly believe in their product.