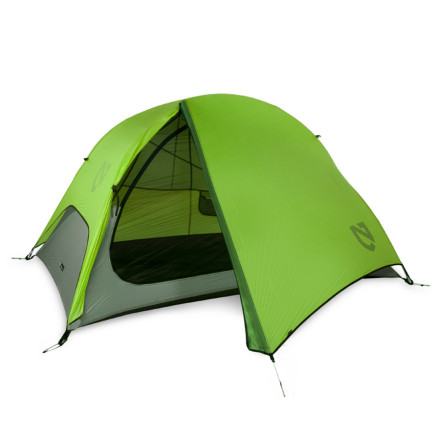 Detail Images

Videos

Community Images
Ample floor space, weatherproofing, and a strong, reliable design make the NEMO Obi 2 Person 3 Season Tent one seriously versatile trail shelter. Like a martial artist, this tent brings everything to the table and wastes nothing. Because the Obi weighs just three pounds means you won't even have to split the components with a partner when you're backpacking.
Waterproof tent fabric fends off the elements without leaving you feeling stifled by condensation inside
Bathtub-style floor provides extra side coverage and allows for cutouts in the fly to reduce weight
Mesh canopy vents well and provides panoramic views when the weather's clear
Two large side-entry doors make exits and entrances easier, and the additional vestibule coverage provides your gear with protection from the rain
DAC Featherlite poles stand up to abuse and keep weight to a minimum
Pole hubs at the front and rear of the tent eliminate the number of necessary poles, thus lowering weight without affecting structural stability
Dry-bag style stuff sack, lightweight inner storage pocket, stakes, and repair kit are all included
Footprint available separately
Size and paw print save this tent.
Familiarity:

I've used it several times
This tent packs really really small. This is a great tent if you have a dog. But calling it a two person tent is definitely a stretch, try a one person one border collie tent. But I will say, I'm 6'0" and I fit perfect lengthwise. If you're taller you'll have to lay diagonal.



The "paw print" really sold me, I was hoping that it makes cleanup easier, and it far exceeded that expectation. The tent itself has snap buttons in the corners for this. It really is the greatest tent technology ever. #bordercollieproblems



Now my complaints: you'll need an extra stake to guy out the fly that is on the end where your head will be. The fly doesn't go all the way to the floor on this side, but the tent wall itself is waterproof here. The only problem is that it's single wall at this point, so on a recent trip where it rained the whole week, the single wall part would build condensation like crazy from the cold rain water hitting it.



Also, the screen material is ridiculously thin. I mean it's great because it keeps the tent extremely light. Just keep pointy objects and dog claws away from it. The first tent I ordered already had a hole big enough for a tree frog to get in. I didn't notice till the frog landed on my face waking me up on the first night using the tent. Also, you'll notice little spots that basically look like pantyhose runs. Luckily, backcountry's stellar customer service got me a replacement right away. This one has no holes, but I do feel like I have to be extra careful.



Overall it's a great tent because it saves space/weight, and the paw print is a must for any dog camper. Otherwise it is definitely pricey.
These were perfect little tents for a multi sport adventure. We traversed a portion of the Uintas' north slope on mountain bikes, connecting segments of trail with trout streams. The Nemo Obi tents were light enough, but gave us all the protection we needed from the unrelenting thunderstorms.
NEMO Obi tent - 2 person
Familiarity:

I've put it through the wringer
My brother and I used this tent for a 4 day mountain bike trip. I like the packable size, and splitting it up between two people makes it a super light setup. Its definitely tight in there with two guys over 6ft, so I wouldn't want to share this tent with someone I didn't like. Each person gets a door and a vestibule which helps a lot in such tight quarters. The tent held up well to the pouring rain which we encountered every day. I'd recommend it if you want a light, minimalist, functional setup. If you are concerned with space, check out the three man version.
I bought this with the hopes of using it with my girlfriend. We were debating between this and the Big Agnes Copper Spur 2. I decided to go with this as from what I understood it stuffed down smaller and I like Nemo products. It also looked really good. Here's what I found...



The fabric is really thin, and really light. Definitely want a footprint with this. It's pretty easy to set up, the vestibule space is nice. I do not like the jakes foot system or whatever it's called for attaching the poles and clipping on the fly. It was a bit annoying. I could live with the pole system but clipping on the fly was just a pain in the butt. I'd prefer the standard clips over that.



My biggest gripe is that the thing is so small and cramped. That review that says perfect solo +dog tent is spot on. I'm 5'10" and skinny and my girlfriend is 5'7" and with just us and no pads or sleeping bags it felt tight. Very little room inside. That was the dealbreaker for us so I sent it back and I'm grabbing the Big Agnes instead.



Positives for this tent:

Very light, looks good, packs super small (has a stuff sack and the poles clip to it), great breathability, pretty easy to set up.



Cons:

small, weird clip system, pricey
Totally Ninja
Gender:

Male

Familiarity:

I've used it several times
First off, this wasn't a cheap tent. It took me a while before I bit the bullet and swallowed my pride to plunk down some serious coin on this thing. It came down to this tent and the BA Fly Creek for a ultra-light shelter for me and my 65-70lb German Shepherd. We're planning a Colorado Trail Thru-Hike and this shelter ended up being just what I was looking for in a super lightweight 3 season shelter. The dual vestibules make the otherwise rather cramped interior volume that much more usable. The twin entry/exit keep the dirt my pooch brings in off my expensive down sleeping bag and fragile NeoAir matress.



In use, the thing stands up to constant downpore rather well. On a training hike we had two days of sustained raining and not a single drop made it's way into the tent. The dual vents in the fly do well at venting the moisture put out by my huffin' and puffin' dog. In more moderate conditions open up the fly and this thing breathes! A nice flow of air comes from the fly design near the head of the tent and out through the vestibule opening(s).



Another feature I liked was the optional accessories avail. for this tent. Nemo specificly makes a footprint, speciality dog liner for the interior, and a gear loft. Very customizeable.



And best of all, the weight and packability of this thing!! It's NUTS! I've never seen a two person shelter pack down to the size not much larger than a Nalgene (minus poles). Even the poles are shorter than other tents in my quiver. Trail weight is about as light as you're going to find as well.



Flawless Victory!
Love the design of the tent! Very breathable, and super comfortable. The tent itself is a little small for 2 people for me, as I'm 6'5", but it's not terrible. Love the vestibules, very roomy and able to stuff a lot of gear under them! Tent tensions very nicely, and pitches TIGHT. Nemo makes awesome tents, and their attention to detail is impeccable. The stuff sacks they come with are awesome, and allow you to just simply stuff the tent and go. It functions as a drybag, so you'll have a dry tent, either way!