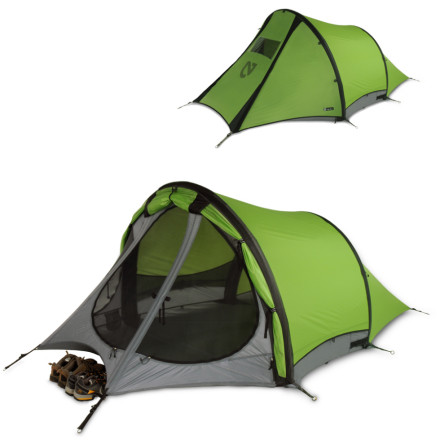 Detail Images

Community Images
The days of broken tent poles are over when you pump up the Airbeam support structure of the NEMO Equipment Inc. Morpho 2P Tent. This fullyseam-taped and waterproof tent's airbeams fill with air in less than 90 seconds with the included Nemoid foot pump. The ExoFly mesh doors provide a cool breeze and interior space for storing gear, but can be retracted to create a temporary exterior vestibule.
The quick pitch, wind-resistant AirSupported Technology features Airbeams that are built like bicycle tires with a rough exterior and inner, repairable air bladder
Airbeams are built into the tent so all you have to do is stake the tent and pump it up, it even pumps up from the inside if you need to get out of the rain
Poleless design lets you stuff it in the bottom of your pack, in a bike pannier, or in the hull of a kayak
Light pocket uses a light diffusing fabric to evenly spread the light of your headlamp like a lamp shade
Clear, non-yellowing UVX window is positioned in the front of the tent so you can keep a watchful eye on the weather
Tent, stakes, flattened foot pump, and repair kit all fit inside the watertight stuff sack
Fell apart
Gender:

Male

Familiarity:

I've put it through the wringer
I loved this tent, however, it fell apart after about two years of moderate use. The water proof/breathable material that they use, dried up and flaked off the side wall. Now when it rains water just blast right through the tent. Also, the air tubes are attached to the side wall by glue as opposed to stitching. These also fell off, so now the air tube just slide around. (attached is a pic that show where the water proof/breathable material flaked off)



3 Years after I bought this tent Nemo sent me a new one because of this issues. The new tent is awesome.
i bought this tent to replace an older one that had some mouseholes in the bottom and the fly finally completely gave out.



pros:

-really roomy inside, height and overall interior space

-incredibly durable and windproof

-included stakes are awesome and not those stupid flimsy ones

-can be set up from inside the tent

-way cooler than your friend's tent



cons:

-heavy

-not much of a vestibule

-not free-standing



not sure i'd want to take this on any extended hike of more than a few days. for everything else it's simply bomber and badass to boot!
I just started using this tent, tried a buddies out on a trip liked it and got one myself. It is a little heavy and being a one piece tent you can't break it down much, but besides the weight and that this tent is dynamite. The 2" air beams are strong as hell and the the tent construction is is top notch with some quality materials. I wish there was a bit more ventilation, but it is made up for with the storage bins and light holders. I can get this standing and staked within 4 minutes so I know if I have too I can get it up fast. Bottom line, much recommended for the backcountry enthusiast.
I have had a gogo for a few years and I love it. I wanted to get a bigger tent so I could bring my dog inside when inclimate weather approaches. I have used this one before, I have a buddy that has one and thought I would get one myself. I am not upset with my purchase. I was able to get this thing up in 4 minutes, which I think is pretty fast. This tent feels pretty solid with 2" airbeams. I have had it out in the spring, but it was pretty warm so I am not sure what degree I can get it down too, but I will update this when I do. What I like about it is the airbeams are solid and incredibly easy to pump up. The tent goes up fast. There is a lot of headroom in this tent which I like because if the weather is shiiite I don't like laying down all of the time. I like to sit up stretch and move around. My dog is a BIG dog, 120lbs, so he takes up some serious space. With myself and him in the tent, there is plenty of room for another body all together. Other than that, no problems with seams, and the tent is watertight. I would not have expected anything less from Nemo.
never look back...unless looking for ultra light...
With the exception of ultra light options this is your bomb shelter. first of all, check out Nemo as an organization. impressive. second, this is a bomb shelter. Condensation can be a bit excessive at times, depending on the ambient air temp and whether or not you're a hot sleeper. I have used for a total of about 30 nights and will be resealing seams before the next use, but only for preventative puposes since i'm starting to see some cracking on the factory seams. The zippers can't be broken. The tubes are made for armageddon. One super legit gripe I have is that the foot pump requires intense labor to operate effectively above about 8k feet. Above that point you are forced to blow air in the foot pump (orally ;D) and the problem with that is moisture in the tubes...bad. I use footprint and pawprint with these 2 you WILL NOT have any pad popping comfort issues. Also helps with insulation. However, this combo SIGNIFICANTLY adds to weight. Plenty of room for 2 dudes and some gear. Stakes are invincible. guylines included are solid. Bought on sale and would do it again. However, next time I go on a 1 week plus and am at altitude I'll be getting an ultralight 1 person.
I am trying to purchase a couple of items...
I am trying to purchase a couple of items for my Nemo Morpho 2 Person tent. I need one short air bladder for a Morpho 2P and I need one long air bladder for a Morpho 2P. Can you help me with these two items?
Thanks, Jim Hall
Hop on the Live Chat feature...they should be able to help you out a little faster and more accurately.
http://www.nemoequipment.com/morpho2p2012-footprint

Look on the right hand size under "Accessories" everything NEMO makes for this tent will be available.
I absolutely love this tent. It's bombproof in all the storms I've been in with it. Being a single skin tent, you do get some condensation in the tent when it's humid. Ventilates well though, and super roomy. I use it for myself and my gear, and I have plenty of room for everything! The tent is a little on the heavy side for backpacking to me, but for anything else, it's awesome.
Ample room, no moisture gets/soaks in, a breeze to put up, cake to fit back into the bag, & light weight. The only draw back that I can possibly think of is you cannot pitch this tent indoors, on concrete, rock, or whatever solid substance without using rope and such, without the stakes in the front and back for tension the air poles will just fall over
Perfect 2 man tent for minimal
Took this tent to Mt. Shasta over Memorial Weekend 2009 and it worked great. Just around 4pm it begins to pour rain every day so when the weather changed we were able to pop this thing up in less than 2 minutes while everyone else got soaked. It was a sight to see everyone scrambling to find their poles while we whipped up some food in the dry comfort of our Morpho. I would recommend this tent to any party looking for minimal weight, etc.