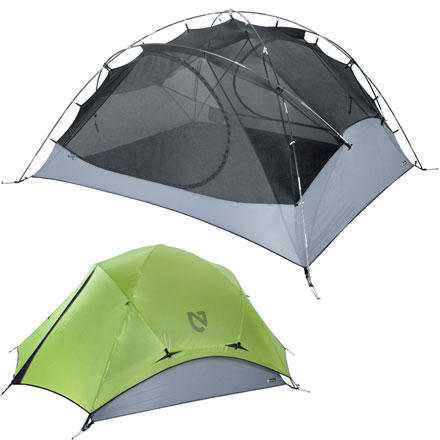 Community Images
The NEMO Losi 3P Tent gives three campers a lot of space in which to spread out without weighing down anyone's backpack unnecessarily. A unique pole system gives it nearly vertical walls so you can sit up inside and play cards at night. Two doors with vestibules mean you don't wind up crawling over everyone's gear and sleeping bags every time you enter or exit.
PU-coated rainfly and floor feature taped seams to prevent rain, snow, or dripping water from sneaking into your shelter
Mesh canopy lets you stargaze without having to cope with bugs, and it also helps circulate air on muggy nights
Four DAC Featherlite poles stand up to abuse and keep weight to a minimum
Unique pole configuration improves stability and creates near-vertical walls for extra room
Two doors and two vestibules eliminate jostling for position and gear storage
Optional footprint and gear loft available separately
I generally buy a three person tent to use as a two person tent to avoid being cramped. This one, at 50 square feet, is very spacious. It actually would hold three or two adults and a dog. I love the high ceilings-at 48 inches. The seems look very solid. The 3P pole configuration is super strong and provides near vertical walls without sacrificing stability in the wind. It takes about 5 minutes to stand without reading instructions. The ventilation is great since about 85% of fabric is netting. This tent also comes with a fantastic vestibule that will keep gear dry even during a serious downpour. Overall, the best tent I have ever owned.
Probably The Greatest Value
Familiarity:

I've used it several times
This tent is worth every penny, honestly me and my climbing partner always prefer this tent over any of the other tents we have! It his the greatest tent ever, so easy to set up and it sets up perfectly nice every time, its super light, its extremely spacious which is incredible! It fits 3 people perfectly and 2 comfortably awesomely! Don't Hesitate! Just get it!
What can I say. Nemo has elevated the tent game. I tested this champ on a 5 night backpacking trip in the U.P. in June.

Conditions: High 80, Low 45

Three days HEAVY rain. 2 people plus gear.

We bought the 3P for just us two because we like the extra room you get for very little weight gain. Even with three people, you're only at 2 pounds per person. Thats good stuff. Rolled up the tent packed great. I attached it to the rear exterior of my pack. The first day of our trip truly provided the perfect test for this tent. We were half way across a fairly large lake via canoe and were forced to race to our area of camp because of a HUGE approaching storm. Thankfully the wind helped our speed but honestly, once we reached the shore, I started to feel the first few large drops of rain. I immediately ripped the tent from my pack and told my girlfriend "I'll pitch it while you take a few sprints from the shore up the hill to the camp site with the gear packs". I raced up unrolled the wonderfully organized burrito containing a separate compartment of tent/fly, poles, and stakes. It literally took me under 5 minutes to have this tent up. By the time I was making final tension adjustments on the fly, my girlfriend had all the gear and herself in the tent. With ourselves inside and our boots and packs tucked under the HUGE twin vestibules, I could already tell I was going to fall in love with this tent. Over the next hour of torrential downpour, we installed our Nemo Pawprint and organized our gear. All the while I could not keep my hands off all the water tight rain seems throughout the tent. Amazing. ZERO % penetration. This was for the entire trip. It rained so damn hard that we had over an inch of standing water beneath the tent (no footprint) almost creating a waterbed. With the rising humidity, the breathability and ventilation of the tent + fly was outstanding. All in all the best tent I have owned. I'm sold on Nemo and will be buying a 1P for ultralight trips as well.
Awesome
Gender:

Male

Familiarity:

I've used it several times
The bad news is that this tent is a rain magnet. I think it has rained every time I have used this tent. The good news: I've never once gotten wet inside. This tent is light, spacious, and packs smaller than many 2P tents I have used. I would definitely buy another.
More room than you'll need
This tent is huge, especially for a three person tent. I got it for car camping and backpacking for my wife and I and our dog. There's plenty of room for all three and we could certainly fit a third person in there.

The two vestibules are nice as well as the double doors. Tent is light for being as big as it is. One of the reasons I picked this tent over some of the others is the ease of use of NEMO tents. The rainfly and footprint (sold seperately) easily snap into the corners and remain secure. I also appreciate the ability to leave the tent behind and use the footprint, rainfly and poles to make a nice shelter.

It's certainly not the most lightweight 3 person tent you'll find, but you get your bang for your buck on this one. Also, can I say that the tent bag that everything roles up into is one of my favorite features. It's so easy and organized, it's fantastic.

Haven't used it in a storm yet but did pour water across the areas that I thought might prove to be an issue in the rain and saw no leakage.
With 2 regular length therm-a-rests, you'll have about 6-8" of head or foot room if the tent was staked out and you were sleeping long-wise (how Nemo "suggests"). These are two 70lb dogs pictured, and fit mega comfy with 2 campers. It would be snug, but completely do-able with 3 adults even.
This thing is HUGE inside! You could fit 4 people inside in an emergency, but it would be close. Weighs so little for the square footage. The roll bag is great for storage too. I do wish it came with an extra stake, just in case I lose one.



The tent feels solid once its all staked down and dialed in. I really like the "light diffusing" headlamp pocket.



NEMO has made a fan for life out of my wife and I. Go NEMO!
Impressive 3 person tent; almost great 4 person
I am in the market for a 4 person tent, and while this is listed as a 3 person tent the advertised 50 sq ft footprint puts it pretty close to the realm of other 4 person tents. I narrowed down my search to the Losi 3P and the Big Agnes Copper Spur UL4, and I ordered both for a side-by-side comparison.

Impression: the Losi 3P is a really impressive tent. The pole configuration provides excellent height throughout the tent, and the sidewalls on the lower part of the tent are pretty much vertical - all of the footprint is very usable space. Assembly of the tent is simple - I was able to put it together without looking at the instructions. If you are familiar with how the Jakes feet work, everything about the setup is self-evident. When setting up the fly, NEMO was very clever in using a setup that allows the vestibule-part of the fly to be tensioned against the stake without any additional parts - very nice! In fact, I was really impressed that a very taut setup can be achieved with just 8 stakes. My wife and I both really like the color of the fly (be honest - this really does matter!), and I also really like the gear caddy that is included with the tent. The gear caddy includes two pockets with light dissipators which enable the tent to be lit up with headlamps. Really, the entire time I was setting up this tent, I was impressed with the design and engineering that went into the Losi 3P.

There were a couple things that I personally think could be improved upon. First, the body of the tent is definitely on the dark side. My wife liked this, while I didn't - obviously its a matter of preference. Second, the vestibules seem to be on the small side. This coupled with the fact that the fly sits several inches off the ground (third issue) make it hard to put our two backpacks in a single vestibule without blocking a lot of the door. Finally, I'm not entirely sure why the fly leaves so much of the sides of the tent exposed. I understand that all of the mesh is covered so the tent is technically waterproof, but all it will take is something inside touching a part of the tent that is not covered by the fly and water is going to wick through. I'm assuming that this aspect of the fly design has to do with either keeping weight down or improving breathability (there are no vents on the Losi 3P), but it does concern me a little bit. The final problem, and probably the biggest for me, is that there is no way that the floor dimensions are 79x91 inches as advertised. When I put four sleeping pads in the tent, there is almost no room left. Since the sleeping pads are only 72 inches long, I would have expected approximately 6 inches at the end of the sleeping pads for things like shoes - however, there is absolutely no room to spare. Also, the sleeping pads pretty much have to touch to get all 4 in. And with these being 20" wide each. there should have been nearly a foot of extra room - it just isn't there.

Comparison to Copper Spur UL4:
1) More durable materials; more solid feel
2) IMHO more interesting engineering and design
3) Walls are more vertical
4) Darker inside
5) Definitely a little heavier (I didn't actually weigh this), but the Losi 3P also packs down to a smaller size
6) Noticeably smaller footprint. Based on advertised specs, the difference is 7 sq ft, but it seemed like more than that in reality.

Final decision: I'll be keeping the Copper Spur UL4 and returning the Losi 3P. The decision is pretty much exclusively because I need to be able to sleep 4 people in the tent whenever we use it. The vestibules don't seem quite big enough for 4 packs, and I fear that we would always have issues with water seeping through the sides of the tent because of how tight the fit is. It's really not fair to criticize a 3 person tent for not being able to be used as a dedicated 4 person tent - I get it. The Losi 3P gets a 5 star review because it is a fantastic 3 person tent. My wife isn't really happy with this decision, and despite the limitations I've listed for my needs, I'm still pretty disappointed that I'm sending this tent back - that's how much I like it.
Room for 4?
Familiarity:

I've used it several times
When your buddy brings a 3 ROOM tent along, but forgets the tent poles.. and the make shift shelter using his rain fly, rope, and tree branches can't hold up against a downpour.. and everyone has to pile into your Losi 3P.. Well, it happened. The four of us managed to squeeze in there for a night, sleeping the opposite direction as 3 normally would. There was enough room, and after a long night of rain, we all woke up dry as a bone.