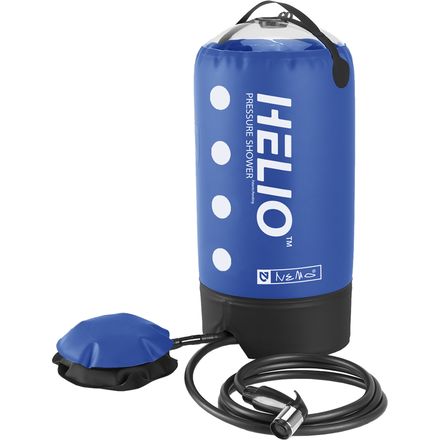 Colors

Detail Images

Community Images
Description
Showers keep you smelling nice, but also keep you healthy during extended stays in the wild.
Extended stays in the woods doesn't necessarily give you a piney scent. So if you're serious about living a life in the wild, using the Nemo Equipment Inc. Helio Pressure Shower once in a while can keep you fresh and despite your dirty lifestyle. Lightweight and small when packed, this pump-pressured shower uses sunlight to warm its dark-colored, 2.9-gallon reservoir before you wash off the sand, dirt, or dirty dishes at your off-the-grid basecamp.
Provides a 5-7 minute steady shower
Tough PU-coated polyester reservoir stands up to lots of camping abuse but remains lightweight
Seven-foot neoprene hose includes a spray nozzle for proper cleaning and rinsing
Foot pump maintains the pressure while you shower without needing a place to hang it from (like gravity-feed showers)
Inflatable design stands 16-inches tall, but packs down to a 5.5in x 8.5in package so you can easily store it in your expedition pack or car's trunk
Quick-connect valves makes setting up and packing up easy
clean up a bit
Familiarity:

I've used it several times
if you live in a place where there isnt a ton of water and you like to play hard you might find yourself wanting one of these after a long day. does everything from cleaning the gear you use to cleaning you, and it does it with some pressure behind the nozzle. set it up in the morning put it in the sun let the water heat up and by the evening you are taking a warm shower, nothing feels better than a warm outdoor shower
LOVE it
Familiarity:

I've put it through the wringer
This has made almost all of my adventures even better. It's well-made, easy to use, and best of all you don't have to hang it. I use it to wash off, clean dishes, and spray my husband when he's not looking.



If I were nitpicky, I would just want it to be a little easier to clean and dry out. The hose and sprayer is a little flimsy, but hasn't failed me yet and is easy to replace.
Much better than a gravity fed shower
Familiarity:

I've used it several times
The bladder is great, good size, stands up to abuse, and heats quickly. You can leave this out in the sun and have a rather warm to hot shower at the end of the day.

I used this in Zions for a large group. Probably 10 people used it once or twice over four days. The shower has enough water for 15 minutes of bathing. The lines can kink easily, which is its biggest detractor, I do worry a little bit about their long term use.

Great pressure from the billows pump, equivalent to a sink sprayer.

Four out of five stars, one star subtracted because of the hose kinking issues.
Pressure that makes it versatile
This video describes the different uses. One of the few packable showers that actually has the pressure to be multi-use.
THis is a perfect shower that is incredibly east to bring along with any camping trip. Water was plenty warm and the pressure was great. Would reccommened this to anyone who is looking for a camp shower. Just pump it up and let'r go! Got all showered up with that view. How can you beat that? Roll Tide!
Portable and Easy to Use
Familiarity:

I've used it once or twice and have initial impressions
This shower is sweet! Very easy to use and compact enough to take anywhere. The seven foot hose will make this really convenient to use in camp for doing dishes, hosing off bikes and of course taking a shower. The foot pump on this is awesome as you can keep a fairly steady stream of water by regulating the pressure with the pump.

I am looking forward to warmer weather to take this shower on some pack trips and really trying it out.
Everything I was hoping for...
Familiarity:

I've used it several times
I've used it on several car camping trips. It performed perfectly and was a great help to everyone at the campsite. With 2 liters of water 2 people could easily take refreshing showers and get clean with water left for dishes. In short, after taking multiple showers and doing many sets of dishes I can say it makes things way easier and less daunting Lol. Those folks over at nemo got all sidetracked and it really payed off!
Helio Pressure Shower rocks!
Familiarity:

I've put it through the wringer
Hey all, The Helio pressure shower is an awesome tool for all your outdoor water needs. I use it for washing the dishes, taking a quick shower, and cleaning off my fishing waders! Mostly I use it to clean of my bike! No more hose to hook up and turn on and off constantly. The Helio is super portable too so I take it on trips and its always full in the back of the car for any water needs I may have. Change your life, get a Helio Shower.
What's the second cap for on the foot...
What's the second cap for on the foot pump?
I haven't used this but I assume it would be something of an intake valve so the pump will re-inflate after you press on it. Much like the hand or foot operated pumps for air beds.
Correctamundo Pat. it is the Intake/refill Air valve, the reason for the cap is so you can compress the pump to less than half the "open" height, for space saving benefits while it is packed for transit.
Best Answer
There are actually two valves on the Helio pump. The one on the top of the pump is the one-way air intake valve. Like Pat said, it allows the pump to re-inflate after you step on it. You actually don't need to close it when you put it back in the stuff sack. Since the bottom of Helio is domed, is fits pretty nicely tucked into the bottom, but the valve can be used to reduce the pump packed size if needed too.



There is a second valve on the bottom of the pump (which happens to use the same component as the top side valve). This bottom valve is only for water drainage. And you need to keep it closed if you're using Helio, otherwise you can't pressurize the reservoir.



I tend to keep the bottom valve closed all the time, unless I get really wild with water spray everywhere. Because I'm lazy, I don't ever bother closing the top valve because it doesn't influence the pack size.