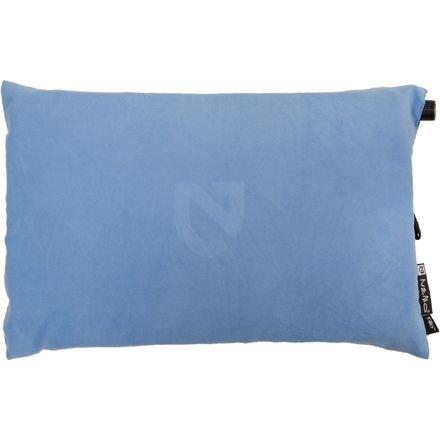 Colors
Description
Way better than the pebbles under your tent.
Nemo Equipment's lightweight Fillo Pillow is comfy for camping and compact for backpacking. Stuffed with foam and filled with air, the Fillo feels softer than your own pillow at home. Washable polyester microsuede gives a great feel against your face. Nemo integrated a stuff sack the size of a soda can for small storage in your backpack.

Washable polyester microsuede
Air with memory foam
Integrated stuff sack
Wow, I never had a sleeping bag made with a pillow pocket. I bought this pillow and it was awesome for the most part!!!!!!!
My big ol' dome
Familiarity:

I've used it several times
Great pillow that folds up real small. It's perfect for backpacking in to your camp ground. This this is a great little addition to make your sleep over a good one. Two big puffs is all it takes to inflate the pillow. The only gripes I have with this is the valve is a little confusing to open and close, and when I got this in the mail it had a funky smell to it. Give it a little bit of time to off-gas before you use it. Other than that, best camping pillow I have used.
Best backpacking pillow
Familiarity:

I've used it once or twice and have initial impressions
It's light, it's small and it combines the support you get with an inflatable but it's soft like a filled pillow and quiet when you move on it.
I don't see the weight listed anywhere. Can you let me know what is it? Thanks!


Best Answer
Hey Cri,



This pillow weighs about 9 ounces. Let me know if there's anything else I can help you with.



Ben

brabinowitz@backcountry.com

801-746-7564
AWESOME
Familiarity:

I've used it several times
I've never backpacked with a pillow before I bought this, but after a weekend in Glacier, I will never go back. It packs down small, has a removable washable cover and holds air extremely well. Highly recommend.
Light, compact, comfy
Familiarity:

I've put it through the wringer
So this pillow is clutch! Packs down and after a trip it's so easy to clean the outer cover, keeping it fresh for your next one. I would highly recommend!
Worth the space
Familiarity:

I've used it several times
I did a lot of research before I made a purchase. I loved my choice.

This pillow does take up more space than a stuff sack pillow (which I had previously), but 100% worth the extra space and extra pound. I didn't try very hard to compress it after I rolled it up, but circumference wise, it's about the size of a 32oz nalgene, and about 2 inches shorter. Blown up it fits in the hood of a mummy bag perfectly.
There is a memory foam topper on top of the inflatable bag, with bungee cords underneath. The covering of the pillow is an extremely soft microfiber, yet gets dirty somewhat fast. It is amazingly comfortable, especially after a long day. The bungee cords are great if you need to add a bit of leverage to the pillow, especially for side sleepers.
It is completely worth the little extra space it takes up in your pack, you'll be thanking yourself on the trail you got it. Sleeping like a rock doesn't have to feel like it.

ONLY bummer, my dog just chewed off the locking portion of the inflation portion. Anyone know if they make replacments? Or will i just have to replace the entire thing? Cruddy, because I'm leaving tomorrow for South America and need it......
Do you still have the standard 2014 Fillo Pillow in stock that have the bungee cord on the back (as in your description)? The new ones don't have the cord anymore. I'd really like the older version. THanks
I"m sorry our site specs are off on this pillow and they don't come with the bungee straps.
Matt, I just purchased one of these pillows (1 week ago) and although the pillow itself did not have the bungees, the packaging it came in indicated it should have them. Can you confirm if I received the new 2015 version in old packaging? Thanks!