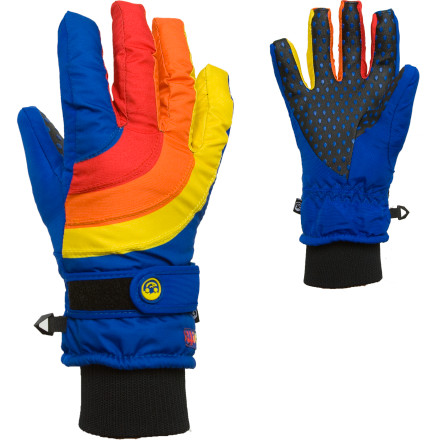 Detail Images
The Neff Women's Rainbow Gloves are one part retro and one part super happy fun time!!!! These insulated, waterproof gloves are the antidote for cold temps, wet snow, mean people, and boring meetings. When you wear them on the slopes, your hands will feel like they're groping a bowl of cuddly bunnies. When you use them to punch mean people in the face, candy will explode out of the mean people's ears. And when you wear the Rainbow Gloves to boring meetings, everyone will suddenly turn into clowns and cartoon characters.
Unanswered Question
Are they completely waterproof? and i...
Are they completely waterproof?
and i noticed that it's shorter and the wrist is that stretchy fabric material. Will that get annoyingly wet...especially if you're not the professional snowboarder? AND is it flexible? Some gloves i ordered online were so stiff, could not even pick up something comfortably..thanks!