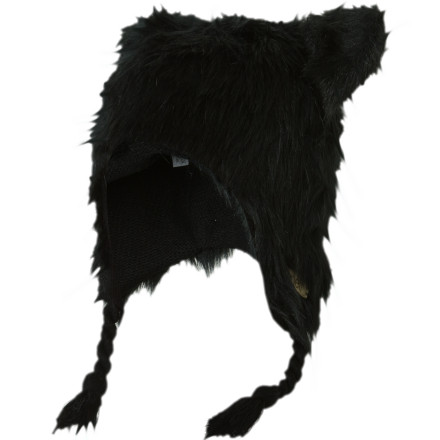 Detail Images

Community Images
The Neff Little Fur Beanie loves to watch you sleep.
What do you think about this product?
Have questions about this product?
This hat is super comfy, stays in place during impromptu dance fights, and has animal ears. It is functional regarding warmth factor; the flaps cover your ears and keep them snug away from the wind (and don't hang down so far as to be annoying), and it is functional regarding AWESOME factor.



It's perfect for those chilly nights when you have to (groan) hit the grocery store, and make the executive decision to have as much fun as possible, even if that means climbing on the kiddy cars, 'testing' bikes, and having pillow fights. It's a hat made for fun, so you wouldn't want to rely on it for an epic journey across the arctic tundra. If you use it for casual chilly weather wear, you won't be disappointed.



I feel like this hat pretty much comes with its own supply of STOKE, because you put it on and are immediately more stoked about everything in life than you were before. I might have to buy the white one, too.
Got the white, it looks sweet.
Keeps my head very warm too.
May even get the black one.