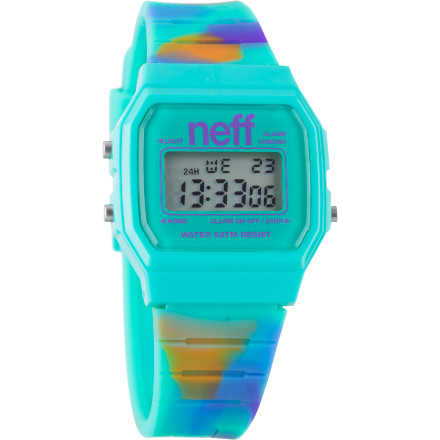 Detail Images

Community Images
To look like a boss, you won't need to rock a crazy top hat, wear an oversized clock as necklace, or even host a show where floozies compete for your affection. All you really need is the Neff Flava Watch and the ability to administer a firm high-five.
Functional and stylish
Familiarity:

I've put it through the wringer

Fit:

True to size
I had low expectations when ordering this watch, just wanting a cheap and simple replacement for a pricier and more complex watch. I was pleasantly surprised by the Neff's materials and finish, which aren't top-shelf, but aren't chintzty either. All the grooves and edges on the body and strap are even and cleanly separated from their molds, and all the function buttons work properly to set time, date, alarms, and light.

I have worn this watch daily for over a month, in heavy rain, chlorinated pools, and hot sun. I've also taken a few spills on the trail, and the watch has survived indirect hits with no troubles afterward.

Lastly, I find this watch's slim, unobtrusive profile very comfortable. I have smallish wrists for a guy, and get irritated with watches that feel heavy and take up a lot of space on my forearm. While the retro-dork design might polarize some, I think it looks neat in all the available color ways.
Pretty Good.
Familiarity:

I've put it through the wringer
Best watch that I have ever purchased for my son. Great price and everything my son wants, e.g., stopwatch, water proof, and alarms. The plastic on the wrists band is really comfortable. It's soft, but still durable. It fits his 12 year old wrists without a lot of extra hanging off the end. It fits my adult wrist as well. He thinks the setting adjustments would be easier if it had a fourth button, instead of using the light button, but it's not a big deal.
what can I say...best $10 watch I've ever bought. Has an alarm and a light and is pretty easy to use and doesn't mind going swimming with me. Who really needs all the bells and whistles?



Plus it's super light and low profile.
good watch.
Familiarity:

I've used it several times

Fit:

True to size
worked like a little black charm until I stepped on it.

I have baby wrists and I still looked cool.

I would recommend this watch.

I would not recommend stepping on this watch.

I am buying this watch again.




Really good
Familiarity:

I've put it through the wringer
I use this watch to skate with and its hella durable i had it for three years now and its still kickin 5 stars all the way
Love this watch
Familiarity:

I've put it through the wringer

Fit:

True to size
I love this watch. Its super casual and to be honest really durable. I don't wear it every day its more of my "active" watch. I wear it so I can have something reliable (which is not my very cracked iPhone screen) to tell the time. **its easy to lose track of time when you are outside having fun!
Awesome watch
Familiarity:

I've used it several times
This watch is awesome! I bought the Pink/Cyan and the color combo is super funky and pretty. It is lightweight, which I like and I also love the face shape. Although it is plastic, it is a good quality watch. Because I don't want the band to darken, I take make sure to take it off if I'm just around the house.
It evens has indiglow!
Familiarity:

I've put it through the wringer
Yeah the same things that excited me as a child of the 80s are still exciting me now. This watch brings me back to my childhood. Yes it's cheap and plastic but it's only $20 and it has indiglow! I have a few to coordinate the color with my mood. They all still look new after a few months. I like that the face isn't big on my wrist and it's flat so I don't bump it on everything. I wear this watch everyday.
80's Fantastic!!!
Familiarity:

I've used it once or twice and have initial impressions
My dad got this for me as a mother's day present (claiming it was from my one month old haha) I got the green variation, the color is neon freaking amazing!! love the color and the overall look, it does look a little big if you have smaller wrists and the plastic wristband makes it a no-no if you're out on a summer day (ouch), wearing to an 80's party since it will fit in there, all around really good with a few weaknesses
Love the watch!
Familiarity:

I've used it several times

Fit:

True to size
I'm a fan of bright colors so I really couldn't go wrong with this watch. The size of the face makes it fit nicely (flat on the back of your wrist). Perfect for casual wear, but I've worn it for bike rides and short runs as well because of the timer feature.
Does this watch have a timer?
Does this watch have a timer?
Yes. I use the timer a lot.
love this watch. i enjoy the obnoxiously bright colors and the easy timer function. i wear it 24/7, including in the shower, when i jumped in the polar plunge, doing field work, etc. the watch face is not huge so it doesn't look too bulky if you have dainty wrists and there are plenty of holes for tightening/loosening the band.
Big wrist, cheap plastic feel.
The watch looks great, don't get me wrong. My thing is that I have big wrists, so the watch really only fits on the last hole. Also the plastic jelly type band has a really cheap feel.
Freakin Sweet
Gender:

Female

Familiarity:

I've used it several times
This watch is simple yet satisfying. The color selection is perfect and it does everything I need. Get yourself one.
I bought the green/yellow/black color, and got tons and tons of compliments on how cute it was!
However, after about 4-5 months of wearing, the edges of the yellow band and the green little piece that holds down excess strap, have turned brown!
At first I thought it was just dirty and tried to clean it but no, the plastic is actually discolored :(
The watch wasn't very expensive so I'm not too mad, I would totally get it in more colors.
I had pretty low expectations for this watch when i bought it. I just needed an alarm for the summer and I wanted the cheapest watch that I could take on the river. I expected it to last about three months.



Almost a year later and flava is still going strong. This is by no means a high quality watch; it looks as cheap as it is and I have also noticed the color getting dingy. However it's all that I could have asked for in a basic watch. The alarm is loud enough to wake me up, even on early mornings. I have fully submerged the watch in water for extended periods of time and it's still fine. The band shows no signs of breaking, the light still works, it has a functioning timer and the settings are very easy to figure out. It's perfect if all you want is a simple watch.
This is a really simple watch! I've a bought a few to give out as gifts and everyone has like them so far. I bought the green one a few months ago, and my only complaint is the color is starting to fade a little and it looks kind of dirty.
Unanswered Question
Can we then change batteries and still...
Can we then change batteries and still have it functioning with water resistent quality? (I mean use it for surfing)