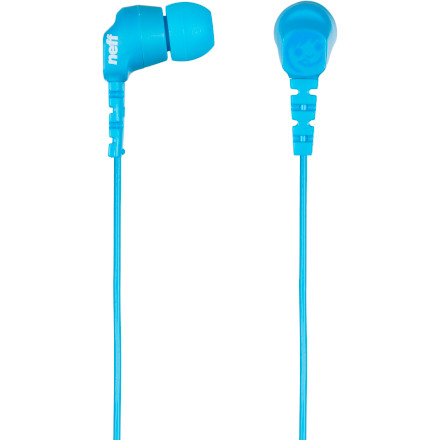 Neff Daily Bud Headphones look good, sound good, and smell great. 10.5mm drivers deliver bass to your earholes in bucket-loads, and Neff's Superior Noise Isolation eliminates stupid questions like 'what's a good run?' and 'when do the deer turn into elk?'
10.5m drivers for solid bass sound
Superior Noise Isolation allows you to ignore chairlift tourists more efficiently
3 sizes of ear piecesfor a custom fit in your funky ears
Optimized for iPod and MP3 players for tight sound quality
Angled input for a natural-feeling fit
Agree w/ great for price
Familiarity:

I've used it several times
Headphones for 10$ aint bad. Haven't broke em yet and the sound is fairly reasonable throughout different ranges. No hesitation in buying again
I bought these off another site, but I do have them. They block out noise pretty good, and you don't have to turn your volume up very loud to hear the music clearly, also the rubber parts don't fall off like some of the others. Pretty good earbuds, in my opinion.
Good - get what you pay for.
I seem to go through a lot of headphones/ear-buds. They get caught on twigs, trees and ripped out of my ear and ultimately damaged. So I was looking for some inexpensive earbuds with OK sound. These fit that bill just fine. Nothing great, but good value. I'm sure there are plenty others out there, but I'm a big fan of Neff and I got what I expected. They deserve 3 stars in that they are adequate for the job. But I bump them up to a 4th star because they are a good value for what you pay.
really what you would expect from earbuds this price