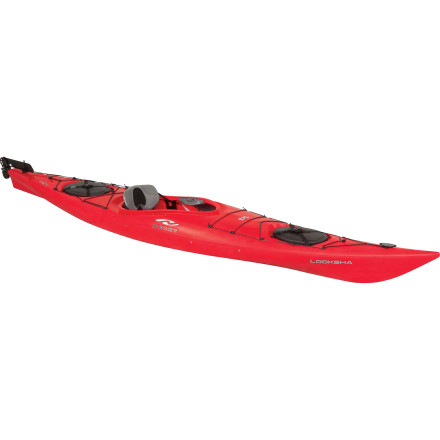 Detail Images
Slide inside the spacious cockpit of the Necky Kayaks Looksha 14 Kayak with Rudder and spend a weekend exploring coastal waters. Sleek lines allow this streamlined boat to quickly glide on the water and offer a smooth transition from primary to secondary stability so you can maneuver easily and feel confident in choppy conditions. Bow and stern hatches provide storage space, pedals inside the cockpit control the rudder system for steering, and comfortable seating means you'll enjoy every minute with your paddle in hand.
Streamlined hull glides and tracks for long days out on the water
ACS seating system features an easy-to-use and easy-to-see adjustability system for maximum comfort
Adjust backrest height, thigh support, lumber support, and backrest angle to achieve the perfect fit
Seat material feels soft, drains water quickly, and uses a channeled texture that improves airflow between the seat and your butt and back
Cockpit Support Track footbrace system uses padded pedals (great for bare feet), and the pedals can be adjusted along a track to accommodate a wide range of leg lengths
Rudder system is operated by foot pedals mounted inside the cockpit so you can steer your boat without relying entirely on your paddling technique
Rudder is made of durable aluminum and can be dropped down or raised up from the cockpit, so you don't have to leave the boat to engage the system
Quick Seal hatch cover has a unique gasket that forms a tight seal so your stern storage area stays dry
Cross Lock Buckle system uses a single, quick-release buckle to tension four straps that keep the hatch cover securely in place
Bungee-cord paddle keepers give you secure storage for your paddle so you can go hands-free when you need to
Bow and stern carry handles make it easy to unload this boat from a vehicle and load it into the water
What do you think about this product?
Have questions about this product?
Guide boat
Familiarity:

I've put it through the wringer
While my favorite boat is Necky's Chatham, the Looksha was always a favorite of the other guides i worked with. The Looksha is super stable with its wider platform. The hatches are much easier to access than the chatham, or just about any other boat in a similar size range. The rudder is awesome, it adds to stability and really helps to make a tight turn. It also helps to keep you straight, especially in waves or swell. The seat is one of the most comfortable back rest type seats i've ever sat in (the other option is a back band type seat). The back is adjustable both forward and backward and up and down. The pedals are easy to adjust for proper rudder movement even while sitting in the kayak. great boat.
My guide boat of choice
Familiarity:

I've put it through the wringer
I guided in several boats from Necky over the course of several years. I really like how the seats have become more comfortable. The "cushioning"has gone from hard plastic to something similar to Croc shoes. The thigh braces are made of the same material as the seat. It is nice!



This boat is well equipped for overnight or multi day adventures. The dry hatches are pretty nice sized. Sometimes you have to be crafty in how you pack the boats. There are several nice bungie cords on the top of the boat that allow for on top storage. The boat has a lip around the cockpit for use of a spray skirt.



I found this boat is pretty easy to right. I am a fan of the length. At 14 feet, the slender design worked well in small swell. The boats rudder does a great job at keeping you in the right direction.



The plastic holds up well to abuse. I worked around oyster beds and they have the potential to do some damage.



I am 6'0" and 155 and I really liked how the pedals that work the rudder could be adjusted. There is plenty of room in this boat for me to sit comfortable and I could even fit stuff between my legs inside the boat.