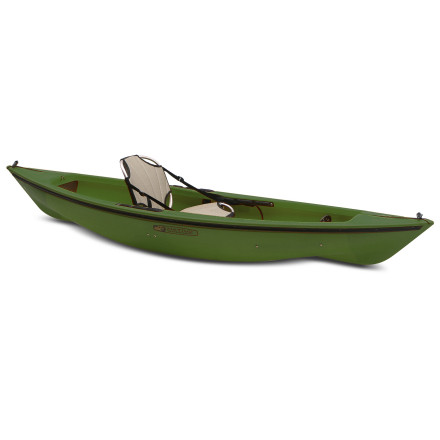 Community Images
Jump in the Native Watercraft Ultimate 9.5 Kayak when you head out for a solo day on the water. Native Watercraft gave this kayak the First Class Seat which keeps you comfortable while you're out for long periods, and it removes to lighten the kayak for loading and unloading. With its short length this kayak suits kids, small adults and kayakers who frequent small ponds or remote locations. The tunnel hull gives you a boat-wide platform from which to scout, pole, or fish with confidence. Adjust the footpads to reduce the back and leg effort required to maintain control while you paddle out.
Female guides explain Fishing from a kayak
Guides enjoying a day of fishing in the Native Watercraft Ultimate
Unanswered Question
I am thinking about adding a rudder kit...
I am thinking about adding a rudder kit to the Ultimate 9.5. Does the Ultimate 9.5 need a rudder kit? If so, what model will fit the 9.5?
Available Options and specs....
http://www.nativewatercraft.com/news/catalog.cfm
Im going scuba diving with a floating...
Im going scuba diving with a floating hookah. But instead of floating the hookah. I want to put the hookah in this boat. This will keep it dryer,plus i can paddle to a island. The hookah, weights gear and myself weight a total of 250 lbs at most. Hookah 55lbs weights 35 lbs myself 150 lbs. My questions .How much sea can this take. Like a two foot sea if loaded right. Plus can i get into this boat from in the water,after a dive? Like swiming in 20feet of water and i lose my air. Can i get into this boat? Im thinking of a small wooden pram or this boat or a floating kayak. I want it light weight. [Bad back] Easy to tow. Ive pulled a small pram b4. Nice to put lobsters in,and extra gear. Or should i get the next size up on one off these boats? Do you sell a bigger one of these? If so same questions. Im getting something. Size of hooka is like 14x24x 14 high. Plus it has a innertube around it. I think a bigger boat would be better,if they make one.Im very intrested in next size up if
The Manta Ray 12 is a workhorse, can handle the weight and seas you are describing, but do check out the 14 foot version, longer, a tad narrower with more glide to make time in the bluewater.
Im thinking about buying an ultimate kayak...
Im thinking about buying an ultimate kayak 12 ,i have a 4 yr old son who will be fishing with me Is this a suitable kayak for my boy and myselfThanks David
Add the kids seat for the 4 year old. I have that set up and brace the kids seat between the foot-pegs with his backrest tethered to the bow thwart. Works great because we can talk. I keep tackle gear in the bow compartment and a cooler behind me, (gear needed, and keeps him in one place where I can see him and this way he does not interfere with my paddle strokes.)
Ultimate Kids Fishing Kayak
Would welcome recommendations on choosing...
Would welcome recommendations on choosing kayaks for introducing children age 8-16 to kayaking.
C,
I hate to guide you away from any particular product, but want to suggest maybe looking at another boat that backcountry offers. http://www.backcountry.com/outdoorgear/Dagger-Approach-100-Kayak/DAG0031M.html Assuming that you are looking for one boat to satisfy the above conditions, I think this fits nicely. The price point of the boat is reasonable in case your children grow tired of paddling, or your 16yo really enjoys it and wants to upgrade to something more. The 10' length will allow your youngest to control the boat with ease, and the drop skeg option will keep the boat tracking straight on open water. In fact, another reason I suggest the Approach is because of it's versatility. With a shorter hybrid boat your children can experiment on lakes, rivers, or maybe even a little whitewater with the addition of a sprayskirt. Again, I feel a little guilty directing your attention away from the product on this page, but my intentions are just to be sure your children get the most bang for YOUR buck. Good Luck!
For most kids under 14, you ll want to stay in the 10 foot and under boats for length and as close to 40 lbs or less. The 15 years and up can handle small adult boats, but the smaller kids will enjoy the smallest and lightest kayaks like the Ultimate 9.5, Heritage Featherlight 9.5. Also, the younger kids will need a boat no more than 28 inches wide. Their short arms need to reach the water to make effective strokes. Wider adult boats are too wide for young kids.
Native Watercraft's Ultimate 9.5 is the boat to take kids kayaking and kayak fishing. It has the tunnel hull that make it easy to stand up and still be very stable up to paddler wieght of 120 lbs or so. Our son is 75-80 lbs. Its light, its stable, and easy for him to paddle!
the 9.5 is actually 39 lbs not 49
the native watercraft site lists the weight...
the native watercraft site lists the weight of this boat at 39--your page says 49. survey says.....?



If you remove the seat then that will change the weight of the kayak.
What is the maximum weight capacity for...
What is the maximum weight capacity for the Native Watercraft Ultimate 9.5 Kayak? Thank you!
Best Answer
Lisa, I checked the NativeWatercraft.com site. No weight capacity is shown for the Ultimate 9.5. However, I checked out the specs for the Marvel, which is one of their smaller boats. The Marvel 12 holds 300 lbs and the Marvel 10 holds 250 lbs. Based on that, I would guess that the Ultimate 9.5 would be somewhere between 200 and 250 lbs. This is ONLY a guess. Great looking little boat.
Depends on the amount of water displaced by the individual, what I am trying to say is if you eat to much and just hang about the house watching the time go by then you might sink this bad devil. If it does not stay on top of the water when you get in you might be a bit on the heavy side. Hope this helps
The Ultimate 9.5 is a KIDS KAYAK!

It is designed for paddlers in the 70-110 pound range.
Max Capacity of the Ultimate 9.5 is 175 lbs. This is a kids kayak or extra small to small paddlers kayak. I would recommend paddler weight not to exceed 120 lbs leaving about 50 lbs for gear and extra stablity. If paddling on slow moving water,,,rivers, then max paddler weight of 110.
I recently bought a second hand Ultimate 9.5, I like it a lot.
It will not be for any big water, but it is great for traveling between lakes in the forest when there are no trails...
until now I had been using my Pongo 100 for fishing, it is a superb kayak to fish from and better for big waters and the skirt is great for cold and rainy days.
the ultimate 9.5 seems to be discontinued, it does not appear on the company's website. The 175lbs weight is for a standing up person, if you sit it is different. I can tell you that @ 190 lbs +, I feel good in it, not the most stable because it is a compact version of the 14ft. BUT: It is so nimble, it's like a little sport car on water. I like the design, it is a compromise between a canoe and a kayak. the seat is nice as well. I love this little hybrid boat. it is lighter than my Pongo 100 by at least 10 lbs. it will come in handy when I go to my honey holes in the back country for monster speckle trout.

Great boat but stay within smaller and calmer body of water waters.