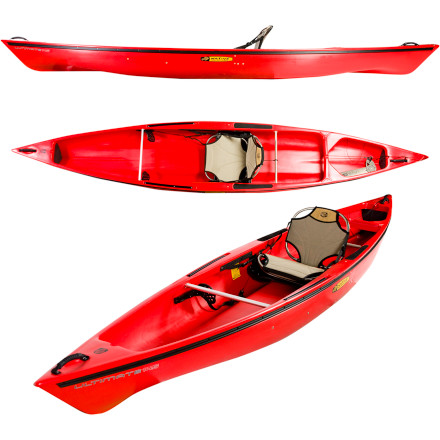 Detail Images
As part of Native Watercraft's Hybrid line, the Ultimate 14.5 Solo opens up plenty of possibilities—not to mention extra space. The Solo's open-cockpit design leaves room for larger paddlers or extra gear and still provides top-notch features like the super-comfortable and removable First Class Seat. When nap time is over and you want to head back to the cabin, adjust the Easy Foot braces and bid the lake or ocean bay goodbye.
Vinyl ester resin creates a tough, resilient hull and minimal use of gel coat eliminates unnecessary weight
Tunnel Hull system provides stable platform that minimizes rocking and allows you to stand for long periods for scouting, poling or sight fishing
Included rudder makes tracking a cinch
The seat cushions are made from HiFlow 3-D Mesh, which is 100% recyclable and requires zero ozone-depleting cfc's in its production
Seat made with Textilene solar screen fabric, which is designed to withstand seven years of constant sun exposure
The light-colored seat fabric stays much cooler than traditional black seats or compression-molded seats
Adapt-a-Track outfitting features recessed channels around the boat that accept accessories tailored with a matching edging
The Easy Foot System adjusts easily and employs large footpads to reduce effort while paddling
Female Guides Explain Kayak Fishing in the Native Ultimate Kayak
Native Ultimates for Kayak fishing
Native Watercraft 14.5 Explained
Unanswered Question
Wha's the differance between the ultimate...
Wha's the differance between the ultimate 14.5 angler and the ultimate solo?I'm 265 lbs.--would a 12.5 be big enough for me?
Best all-around paddle boat, but,
The Native Watercraft 14.5 Ultimate is the best boat for general purpose paddling. The extremely specialized shape allows it to work like a canoe... that doesn't flip over the minute you lean, while at the same time being low-cut enough to catch less windage and let you use a double-bladed paddle. As the other review said, virtually everyone can stand in these for a long time. I use mine for downriver paddling, which is much more trying on balance than inshore/lake paddling, and have never had trouble standing up. The seat is as good as it gets for paddle boating, and I recommend spending the "boatload" on some of the accessories like the headrest and lumbar pad. A good fiberglass blade standup paddle goes great with this boat for the times you're not sitting down. One note of importance is the seat in the 14.5 Solo - the clips for the seat are set in the middle of the boat, so if you're like me (6' tall plus) and prefer to slide the seat all the way back against that metal bar for 6-8" more legroom (can be very important on long trips), you'll definitely do better using the 14.5 Tandem with the front seat removed (the back seat is length adjustable). This can be just as important for short people, since my wife is 5'3" and has to slide her rear Tandem seat forward farther than the Solo version's clips will allow in order to paddle a 14.5 on her own. The 14.5 is a much better boat than the 12' version due to the width/length ratio - the 14.5 is quicker and tracks better, but is still easy to turn (the 14.5 will be most responsive if you slightly weight the bow/stern according to your center weight). The new-for-2011 overmolded handles on this boat aren't as useful as the original unique bungeed handles, but they should hold up longer, especially if the handles are used with tiedowns for car-topping. After a little practice, it's easy for the fit critters out there to exit and reenter this boat in deep water without flipping or flooding it. Don't try that last part in cold weather - just raise your paddle and love your stable-yet-nimble, cave-paddling boat!
I have a 14.5 Native that is about 3 years old and I love it! You can actually stand up in the kayak and use it like a paddle board. I have never flipped it over in 3 years! It is by far one of the best items I have ever bought. I use it to fish all around Charleston Sc and to explore the marshes. I can stand in it and use a cast net at the same time. 5 stars!