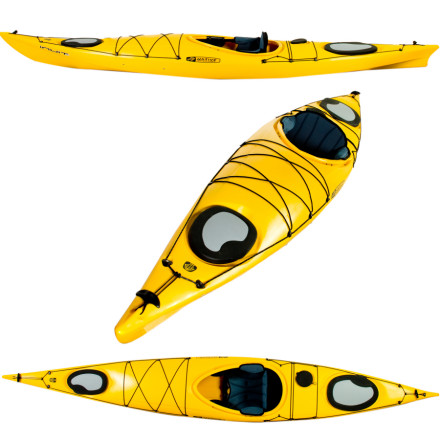 Detail Images

Community Images
Why would you choose the Native Watercraft Inuit 13.5 Kayak over any other open-water boat? At nearly 14 feet, this boat shares its shape from those created by the native peoples of the earth's arctic regions, but also utilizes modern design techniques to enhance stability, control, and comfort. The new Tru Track hull design and 5 Star seat added to this classic ocean-kayak design create an extremely versatile and user-friendly boat to give you the best possible experience on the water.
Tru Track hull design offers paddlers of all levels enhanced stability, near effortless tracking, and easier turning with its layered construction technique (or hard-chine) and slightly wider stern
5 Star Outfitting seat system cradles your lower body with extra soft cushion and breathable 3-D mesh material over the adjustable seat back, hip pads, and thigh pads (which can be fitted with additional padding)
Easy Foot system utilizes an easy-to-reach adjustment rod to quickly move the oversized foot pads along rails for ideal foot placement
Large stern hatch with bulkhead is ideal for bigger, heavier items and stern hatch accommodates smaller items as well as provides balance when the boat is packed full of gear on long tours
Deck rigging (bungees) has reflective safety line, paddle holders, and accommodates maps, life jacket, or anything else you need to keep handy
Bow and stern carry handles are connected to the deck rigging which secures the handles to eliminate chattering during transport and when paddling
Share your thoughts
What do you think of the
Native Watercraft
Inuit 13.5 Kayak
? Share a...
how would you compare it to the wilderness...
how would you compare it to the wilderness system tsunamia 14` as a day touring / recreational kayak
Warren, they are both quality kayaks that would work great as day touring. You honestly couldn't go wrong with either one. If I remember correctly the Tsunami has a little larger cockpit.
My family is looking to purchase a couple...
My family is looking to purchase a couple of 12' kayaks for rec/touring on lakes & rivers. I have read tons of reviews, narrowing our choices to Wilderness Systems Pungo & Native Watercraft's Inuit. Can anyone help me decide which one of these brands to buy. We don't really want one of each. We are leaning more towards the Inuit, because the cockpit isn't so large, compared to the Pungo...help :)
Best Answer
Personally I feel the Inuit is one of the best kayak's on the market today. The dry hatches/storage are easy to open by hand, but remain closed all other times. The cockpit/seating is one of the best I have ever sat in, reminds me of sitting in a sports car comfortable seats. Relieves a lot of pain in the lower back and numbness from those really long paddles. Turning is comparable to those of smaller kayaks, just remember to lean while turning. The foot pegs help relieve pain from sitting with feet at a 90 degree angle, because the foot pegs are angled for comfort. Over all I would rate the Inuit the highest on the market. Native Watercraft really knew what they were doing when they made that kayak
For Specs and Catalog info
http://www.nativewatercraft.com/news/catalog.cfm
Mike on the upper right it says the cockpit...
Mike on the upper right it says the cockpit is 33.5, that has to be wrong (re-read my previous post) as I just put a deposit on a 12.5 and it,s 32.5" on the inside rim of the cockpit front to back. I'm still trying to find out the actual dimensions on the 13.5 because that was the boat I really want, but since I'm 6' 200lb I went with the 12.5, how much smaller could the 13.5 really be? Why can't Native list the dimensions like they do on all there other boats and end this frustration?
John
Best Answer
Hi John,
Everywhere I checked has the cockpit listed as 33.5 inches so I assumed that Native sent out that information. I have pasted the link of amazon which also states that size.

http://www.amazon.com/Native-Watercraft-Inuit-13-5-Kayak/dp/B0036K446M
I also found this e-mail address to contact them.

info@nativewatercraft.com
John,

The 13.5 is too small for a 6 feet, 200 lbs paddler, even though the cockpit is longer than the 12, the boats shallower depth and overall narrower width make it a small paddlers kayak. The 13.5 is better for smaller paddlers and especially women.
John if you want more details on the Inuit check Liquid Logic's website as you have found Native does not display any information on the Inuit.
They say the Inuit 12.5 and 14.5 are for...
They say the Inuit 12.5 and 14.5 are for larger paddlers, I measured the cockpit length on the inside of a 12.5 today at 32.5" how much smaller could the 13.5 be? Native website does not list that nor do they have a pnone # or email for me to ask my questions.
Thanks John
John, the cockpit size is 33.5 inches for this model. It is listed in the specification area on the upper right hand of your screen.
Paddling the Inuit down Lava
Video and Photos of the Inuit in action on the Colorado River, Grand Canyon
I did not see weight capacity limit for...
I did not see weight capacity limit for Inuit 13.5? Does anyone have this recommended limit.
Gary, the Inuit 13.5 fits medium to small paddlers better than the Inuit 14.5 (much larger cockpit than the 13.5) or 12.5 (one size fits most)

If you are 5 foot 6 and under 160 lbs I think you would fit. But if you usually where large sizes in clothing than you would like the 12.5 or 14.5 that are made for larger paddlers anywhere above 5 foot 8 and about 175 lbs.
With a lot of performance kayaks available, there is somewhat a subjective fit to each. The Inuits have adjustable seats, thigh braces and foot pegs. The Inuit 13.5 generally fits a small to medium size paddler anywhere from 95 lbs to 165 and from 4'8" to 5'10 height. Larger than size 9 mens need not apply
I was wondering if thre are kayaks made...
I was wondering if thre are kayaks made for the larger (wider) paddlers? I would love to try this sport out but I'm 6' and a little overwight. :-) Any thoughts...
Jack,
They are out there. If you go to the manufacturer's websites you will find that most of their popular boats are frequently offered in standard sizes and then usually options for petite/women and larger/men. For instance:
http://www.wildernesssystems.com/product_subcategory/index/products/touring/touring_tsunami/
Note the Tsunami SP, 12.0, and 12.5
I'm sorry I don't have time to give you a more backcountry.com specific answer right now (they don't carry as many kayaks as I wish they would) but I'm afraid I must run! I hope this helps a little bit!
The Inuits are new for 2010. They come in three sizes for a custom fit. The 13.5 has a slightly smaller cockpit and lower deck to fit smaller to medium size paddlers. Inuits are the best choice for entry level touring paddlers that want a stable boat now and high performance as they develop their boating skills. Inuits combine stability, tracking, and performance in one boat. Compared to other entry level touring boats, the Inuits track like they are a foot longer and turn like a boat a foot shorter. Of all the entry level touring kayaks available, the Inuits combine primary stability and secondary stability. Inuits are an excellent choice for touring beginners and intermediates. Inuits are great for lakes, bays, and have the performance to go offshore for coastal exploring. Inuits have adjustable comfy seat, safety outfitting and two hatches and bulkheads and a small day hatch behind the cockpit.