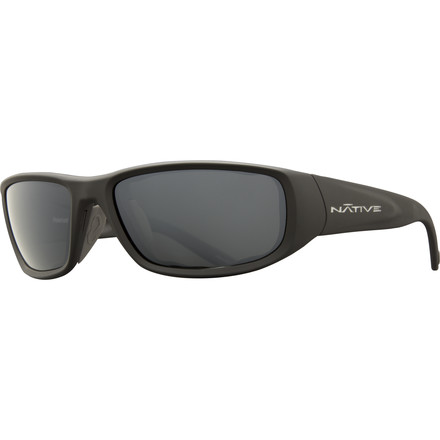 Detail Images
Native Eyewear's polarized Triumph Sunglasses won't dwarf your small-to medium-sized face, and the lenses won't fog up as soon as you start to sweat on a rafting or biking excursion. Vents in the top of the Triumph Sunglasses' frame increase airflow without letting light in, while an interchangeable lens system lets you switch lenses when the clouds roll in (additional lenses are not included). The Native Eyewear Triumph's lightweight frame takes a beating without biting the dust.
Additional lenses for interchangeable lens system are not included
these sunglasses are the best bang for your buck, i own wayy to many pairs of sunglasses and when i go out 9 times out of 10 i grab these ones, they stick anywhere on ur head so dont worry about them falling off, ive taken a pretty big lead climbing fall with them on the back of my head and theyv stayed put. they weigh nothing and fit great, cant beat that
These sunglasses are epic. They are very lightweight and perfect for being active as they stay put on your face. The price is great for polarized sunglasses, so you can't go wrong.

I have a fairly narrow face (got the oval head) and they fit great. If you have a wider face, I sugest the Native Bolt. They are very similar in design and looks, but much wider.

So while the zombies are devouring your foolish friend who paid the same price for non-polarized Oakley sunglasses, you will be happy knowing you equipped your zombie kit with some great sunglasses.
Bare bones, disappointed.
Package arrived with the glasses in the little baggie. No hard case and no 2nd pair of lenses with which to "interchange." I have purchased 4 pairs of interchangeable glasses in the past two years from REI, Smith and Tifosi brand names. This is the first time I've encountered interchangeable lenses sold separately. Removal process on other glasses is also superior.

I have a medium to small face and these definitely squeeze. Backcountry just gave me the final reason to stop impulse buying from Steep n cheap. Emphasis on cheap.
I've owned these shades for 2 years. I usually require larger framed sunglasses but these are just big enough to fall into that category. The upside is that they are made for the active person with a nice tight feel. However, with this snug fit comes some complications. If i wear them for long periods of time, the arms actually begin to put to much pressure back behind my ears, which is a nuisance. Also, i removed the nose pads because they made almost perfect Native eye wear indents on either side of my nose. Quit branding me!

All and all, i give them 3 outa 5.
There is nothing bad I can say about these glasses, they fit well, great optical quality, and well built. If I had to make one critique it would be that there seems to be some light that leaks in.
Unanswered Question
How would these fit compared to the...
How would these fit compared to the Ignitions? The description mentions small-medium and the Ignitions just say small. I have the Ignitions and they fit great, but I want something similar to the Triumph style. I really like the moss/silver reflex combo too.
I recently received my new Triumph sunglasses...
I recently received my new Triumph sunglasses by Native, but didnt receive both the lens kits. I believe it is supposed to come with both polarized lenses, and the additional lenses (ie clear, yellow, amber) are sold separately. Is this not the case?Sean
Write your answer here...Hi kth; That's the way I read it. You should be right. 1 pol. light-1 pol.dark in cluded-othr 3 non pol.extra. Native seems to have different lens combinations for each style. You're lucky to get 2 pol. lenses with these shades. Replacement lenses that I saw were 35-60 dollars each, with the pol. the most money. Set of 3- non pol. should be cheaper.Cool shades with good reviews.
These shades are great, just what i expected. The clarity from the polarized lenses is phenomenal and the contours fit snuggly, but comfy, so it feels like they are barley there. It's extremely light weight too, with the help of the killer nose pads, it doesn't slide down your face when you're active or feel like you have a brick on your face. I'd safely say it's a smart and great buy.