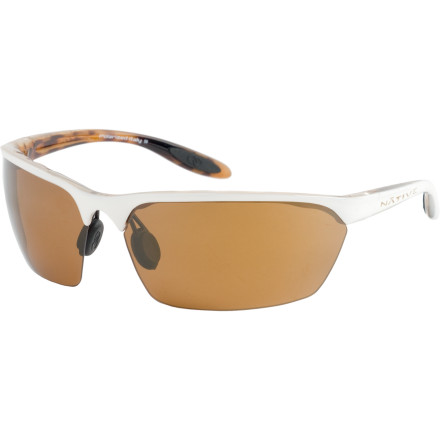 Detail Images
Description
All the way to the finish line.
Vents on the frame of the Native Eyewear Sprint Interchangeable Polarized Sunglasses help keep your lenses fog-free on uphill climbs and finish-line sprints.
Interchangeable lens technology means you can have one pair of sunglasses for many different lighting situations (extra lenses sold separately)
Lightweight, durable frame takes abuse
Self-adjusting nose pads and temple grips provide soft feel and custom, secure fit
Temple ends touch behind your ear (mastoid bone) for all-day comfort
Polarized lenses block 100% of harmful UV light and eliminate glare
Great for cycling
Familiarity:

I've put it through the wringer

Fit:

True to size
I decided to buy myself a "real" pair of cycling glasses and these have met every expectation I had. Wrap around lenses help keep the wind out of my eyes on fast descents. I have a fairly thin face and they are secure, don't move around. The Interchangeable lenses are nice to have for sunny or flat light conditions as well. I am a Native Eyewear fan after getting these.
I love them. And they love me too.
Familiarity:

I've put it through the wringer

Fit:

True to size
I wear these shades everyday. I bought the blue reflex lenses to go with them, which are the "brightest" lenses Native makes. The moldable nose rest is really great, because... well. It molds to your nose. So if you have broken your nose a few times than these will accommodate you! The plastic feels really cheap, but think that is just because they are so light weight. I have yet to scratch, crack, or break the frames and I wear them rigorously. The lenses are very scratch resistant too. I haven't scratched them yet, though I am very careful. I normally break sunglasses really quickly, but because of the price I have shown these extra care and I think they are going to last years. I am planning on wearing them on a PCT thru-hike in 2016, so we'll see how they hold up. I will be bringing the case since it probably weighs 2 maybe 3 ounces with extra lenses so that I don't screw them up. The case is great by the weigh. The only con really is that it took me a really long time to mold and get them to fit correctly, but that's not really a con... let's see. They stay on your face no matter what! Great all around athletic glasses. Great style and can be used hiking, fishing, running... you name it.
Good glasses
Familiarity:

I've used it several times

Fit:

True to size
I only buy polarized glasses, and have owned plenty of pairs of Native. The quality is always pretty good, and the optics are good as well. I needed a new pair for cycling, and these are working out great.
do theses come with case and strap
Case and a spare set of lenses, no strap
Saved me
Familiarity:

I've put it through the wringer

Fit:

True to size
Camping out in NV desert in my trailer, gust of wind came up and tore off one of the arms to my awning. I grabbed the other, came apart and a piece slammed into the bridge of my nose. Glasses were destroyed, but they save me from further injury. Ordering another set.
Great Fit
Familiarity:

I've put it through the wringer

Fit:

True to size
Long-time Oakley fan that switched to Native a few years back, never disappointed with the quality. These ones fit nice and have a perfect lens size so you aren't having to move your head to avoid the split view between the lens and open eye. I've always thought that Native's polarized lens have the best results. I use them for fishing, shooting and floating. Highly recommend these.
Great product
Familiarity:

I've put it through the wringer
I have a few Native sunglasses and they are my favorite because of how well made, reasonably priced and the warranty.I wear these anytime I am outside and the sun is shining,with cheaper sunglasses I would get headaches due to the lack of the quality of the lenses,not with these.They are light and fit my face well.
Great Sport Specs
Gender:

Male

Familiarity:

I've used it several times
I am all about versatility with products and these sunglasses are all about it. They are light, unobtrusive, flexible and the ability to change out the lenses to adapt to conditions is awesome. Only downside is the lenses are a little sensitive to scratches but I am very rough on sunglasses.
These are great for the cyclist. I can't believe how clear the lenses are. I sometimes forget I'm wearing them if I have the lighter lenses in (also a nice bonus that they come with both a darker polarized lens and a lighter/low-light lens). I have a fairly narrow face and it's sometimes hard to find sunglasses that fit, but these fit nicely because of the curvature and they are super comfortable. They rarely fog up, and when they do it's very minor. I can't speak to their durability as I haven't dropped them (knock on wood) or put them through any sort of stress yet. Unbeatable lens quality for the price, grab a pair if you find a good deal on these!
these are absolutely perfect cycling shades. The adjustable nose piece allows you to keep the lenses the right distance from your face, they fit/wrap great, and the lenses are super clear. Probably the best polarized sunglasses I've ever owned
These native polarized sunglasses are great for all forms of recreating. The lens is far enough from your face that it doesn't fog up easily. They wrap around a bit farther than the comparable smith sunglasses (ie less sun coming in around the sides). These sunglasses are light and they stay on your face well (like if you're skiing, playing tennis, whatever).
These fit my face great and the interchangeable lenses are easy to swap for different lighting situations with little to no hassle.
I've owned Polarized Sunglasses before, but never this nice. It was Windexing my eyes. I was able to see colors better and my vision actually improved. I live in Las Vegas where it's sunny 370 days a year (yes, I know how many days are in a year), and for the first time, I didn't mind dealing with the bright light....too bad these didn't have a built in A/C unit. I've also been very impressed with the frames. They sit farther back on your head (farther behind the ears) which reduces any headaches induced by many sunglasses. Actually, I wouldn't say reduces, but eliminates. Comfort is a plus with these. Lastly, the reason I chose them was the manipulative nose piece. My nose is all kinds of beat up and these adapted. I went through many different types of sunglasses before deciding on these and was surprised that I actually liked them as much as I did. Another plus was every feature they identified was legit!