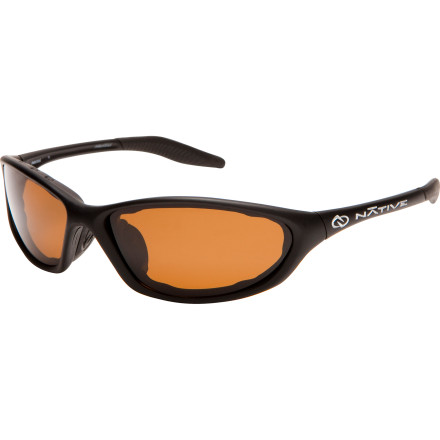 Detail Images
Description
Achieve infamy through evil, and look good doing it.
Nine out of ten villains prefer the Native Eyewear Silencer Polarized Sunglasses to regular bad guy glasses. Rhyno-Tuff Air Frames provide ultra structural integrity at a super light weight, because you can't be worrying about busting your shades while you're out plotting evil plans of takeover and destruction. Multiple Snap-Back interchangeable lenses let you quickly swap out your lenses to suit the occasion (dark lenses are for doing really rotten stuff, lighter lenses are for morally questionable activities). The Silencers don't give you X-ray vision, but the polarization does eliminate nasty glare.
Amazing!!
Familiarity:

I've put it through the wringer

Fit:

True to size
Wore smith glasses for years, tried these out and saw what I had been missing. These fit so well and are very comfortable. I wear them climbing, biking, hiking or any activity imaginable. they look damn good too!
What are the measurements?
Measurements:



Temple Length: 122 1⁄2 mm

Frame Width: 123 mm

Lens Height: 33 mm

Lens Width: 58 mm

Bridge: 5 1⁄2 mm


Third pair. And still awesome.
Familiarity:

I've put it through the wringer
These glasses are so great that I'm on my third pair. One was misplaced and one was stolen - have had the third pair for about three years and wear them every day. Only complaint is some of the covering on the frames are starting to fleck off.
Very comfortable and durable
Most comfortable pair of sunglasses I own. I went through my share of sunglasses "testing." The a friend of mine introduce me to Native. I haven't bought any other pair since. Plus they're so good looking! I have used their warranty twice with no conflicts whatsoever. Absolutely amazing customer service.

Definitely recommended!
This model was my first experience with Native Eyewear. I bought them locally before heading out on vacation. I tried other brands, but these fit my small head the best. They're comfortable, light weight, vented to prevent fog ups, and look sharp. They lasted about 8 years of almost daily use, and then I started having a problem with one of the rubber grip pads sliding off; a very minor problem considering how long I had them. I decided to buy a new pair of sunglasses, and chose Native's again. I now own a pair of Throttle's, and after about 2 years of use (and abuse) they're holding up just as I have come to expect from the Native Eyewear brand. I highly recommend this brand to everybody.
After having these for a year and doing some serious trekking along the way, I believe these are some of the best sunglasses for an active outdoor enthusiast. The design is very sleek and relaxed into your face. For me, it was fitting and comfortable from the moment I put them on. The rhyno tuff frame can take a beating and if the frame does happen to break the warranty is fantastic and LIFETIME. In comparison to other rival companies, Native, in my humble opinion, has one of the best track records and customer service provision you will find. Great investment, will buy more in the future
I bougth these sunglasses for my husband. He is really particular about shape and quality and I thought it would be impossible to get him right glasses. However they are perfect, fit is great, lenses too, I could not make better choice!!!
I own a pair of Native Silencers and couldn't be happier. They are great glasses, I use them for water sports, hiking, snow activities. This is the first pair of glasses I've ever paid over a hundred dollars on and I believe I will always buy Natives. Most glasses look too big on me( small head) and can be a bit looses, the Silencers fit me perfect.I would suggest these particular Natives if anyone has the same problem.
The lenses are super easy to swap out and they are all polarized. This model is for a smaller face. They are smaller than my oakley half jackets or my smith interlocks.
The lenses are super easy to swap out and they are all polarized. This model is for a smaller face. They are smaller than my oakley half jackets or my smith interlocks.
The lenses are super easy to swap out and they are all polarized. This model is for a smaller face. They are tighter than my oakley half jackets or my smith interlocks.
The best sunglasses yet! Great lenses and super light-weight! Wonderful warranty as long as you don't lose them! I have a pair and this is my boyfirend's fifth or sixth pair! It is fair to say that he is extremely rough on glasses and these last!!
nice looking glasses. i got these as warranty glasses to repair my damaged pair of native tare sunglasses. these glasses fit a small to medium profile well. the only gripe I have with these is when I run they bounce on my face. my old glasses didn't have this problem. I don't know if I'd pay full price for them, but they are a nice pair of glasses if you can get a good deal.

on a side note - if you have to have warranty work done on your native glasses, don't send in anything but what needs repairing because you won't get a replacement. i sent in my old glasses, lenses, and case and only got a replacement pair of glasses w/no new case or lenses :-(
my silercers have been great! i really like how their shape fits my face, without letting light in around the edges, while still setting far enough away from my eyes that my really long eyelashes don't hit the lenses when i blink. they are also very light weight. i have the moss frames with the reflective lenses, and I have 2 small complaints. first of all i scratched them the first day i had them and the scratches are more noticable with the reflexive lenses, and the second is that they came with 2 sets of lenses instead of 3.
what are the lens that come with the ...
what are the lens that come with the Native Eyewear Silencer Interchangeable Sunglasses Asphalt/silver reflex
Silver reflex and a light amber color for low light conditions. Both are polarized.
I got a killer deal on these glasses a while back on steep & cheap and have lived happily ever after. I know fit is all relative to face shape, but for what it is worth, these fit perfectly. They are super light weight and don't slide around at all. The best part about them is, unlike other glasses I have, Native Silencers have a little bridge at the top of the glasses that keep sweat from pouring off my head onto the lenses. Perfect. Loved them so much, I even hunted down a second pair.
The only reason I don't give 5 stars is because the rubber ear pieces do come loose. This is my second pair, I took the first pair back to rei because of a loose ear piece. My new ones went about 6 months until one became loosened. You could probably super glue it back, I actually might try that. That's my only complaint, the vision is awesome. The fit on my face is awesome. They don't fall off regardless of activity.
I have a small head and have bought a small...
I have a small head and have bought a small frame pair of Natives before that fit well..which are the small framed-Natives?
Judy Holland
Native Eyewear Streak Sunglasses - Polarized, Native Eyewear Ambush Interchangeable Sunglasses - Polarized, Native Eyewear Ignition Interchangeable Sunglasses - Polarized...check all 3 of those out
Im not exactly sure what you're asking but these glasses fit a small to medium frame pretty well. It would be hard for these glasses to appear large on anyone's head.
I have the NE Ripp and love them on my small head. Ordered the Silencers because I thought they were described as medium. I like the slim design and the plastic lens does a good job (though nothing compares to glass) and I consider these an awesome purchase. However, too big for me and they went back.
From the Native site it looks like Apex, Clara, Endura, Dash SS, and Throttle are for small frame faces!
I'm on my third pair! I lost the first pair, broke the 2nd & got this 3rd pair thanks to the easy warranty! The user friendly lense interchange hasn't led to a pop-out problem if they are dropped; the lenses stay in place unless I take them out.

The only issue I have had (& I had it on all 3 pairs) is that the rubber ear pieces will come unglued and come off. This is fine with me though, actually makes them lighter and they still stick on my head with no problem when skiing, hiking or mtn. biking. I will only ever use these glasses!
The best feature is the interchangeable lenses. Typically, I wouldn't use the lightest lenses except in low-light conditions or where visual acuity is required. Aside from the lenses the rubberized frame seems like a step above regular plastic frames. Nice shades overall.