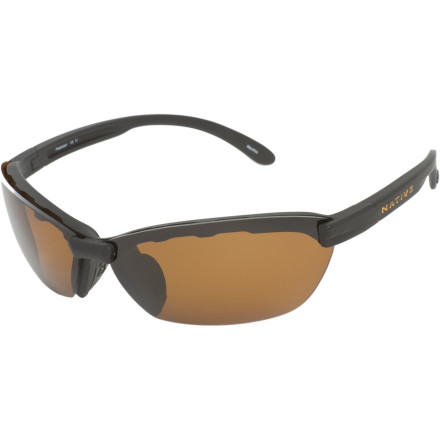 Detail Images
Share your thoughts
What do you think of the
Native Eyewear
Nano3 Sunglasses - Polarized
? Share a...
Unanswered Question
I love my new sunglasses. They look and...
I love my new sunglasses. They look and fit great but I was lead to believe that they also come with a soft case which is also used for a cleaning cloth.
I have looked everywhere in the box and in the hard case even in the top velcro tap area where my spare lenses are stored but I can't find a soft case/ cleaning cloth. How do I receive one if I didn't get one?
Will the nano 2 lenses fit the nano 3...
Will the nano 2 lenses fit the nano 3 frames?
(slight time-delay on this answer)

I have used my Nano 2 lenses in my Nano 3 frames. Had lots of lenses available as the Nano 2 frames were very weak at the joints.
Where can I buy only the frames of Mojave...
Where can I buy only the frames of Mojave convertible eyewear? I´ve bougth the whole set a couple of years ago, but the original frames got broken after a while of using them.
Yeah I'd like to know too I bought my Mojave Convertible Eyewear back in 2000 or 2001. My frames cracked also have been trying to find them online since dont have a 800 number to call or website anymore.
Unanswered Question
can I just buy alternative lens, i currently...
can I just buy alternative lens, i currently have asphalt and would like to have a brighter lens for biking. Originals are lost
Great, large-head-sized sunnies
If you have a big melon, like me, then you'll love these sunglasses. They are lightweight and suitable for an active lifestyle. Polarized lenses are a bonus.
The arms on these sunglasses weren't even so I sent them back. Who wants crooked shades? The look is great for someone with a large face, but I expected much more for 100+ dollars. The arms angle in towards the back of your ears aggressively to help keep the glasses on your face. This may be good for some people, but they pressed so hard on my head that I was getting headaches wearing them. I also found out the Nano2 and Nano3 frames are exactly the same, the only difference is the lenses. So if you go for these, don't get suckered into buying the other frames, just get replacement lenses. All in all, these are okay sunglasses and I'm hoping the uneven frames I received were a fluke. If you're a big dude, try them out.
I've been using these for about a week of mixed use - walking about, driving, running - only with the polarized lens. They are great! The polarization is a bit more subtle, than say Hobie's, but very effective. Fit is as advertised. I tried the Oakley Monster Dogs and found them a bit tight and they created a hot spot just above and little behind the ear. I also tried other, large Oakley models and the largest Arnettes and they were all too tight at the temple.

Lens interchange system is the only one I've found that doesn't require putting your fingers on the lens - a great but under-valued benefit.

Ventilation is great. They never fogged while running and, due to the frameless side/lower edges, sweat just ran around the lens as opposed to pooling on the frame.

Nose piece rather weirdly sticks in place. Odd at first but for Mtn. bike/running/skiing/ it's great not to have to constantly adjust the glasses.

Overall Excellent and definitely one of the very few big-head sunglasses that don't make you look like a dork. Also, maybe the only big-head sport glasses that you can wear as your only sunglasses, which nicely mitigates the expense by not having to purchase a second pair of "street" sunglasses.