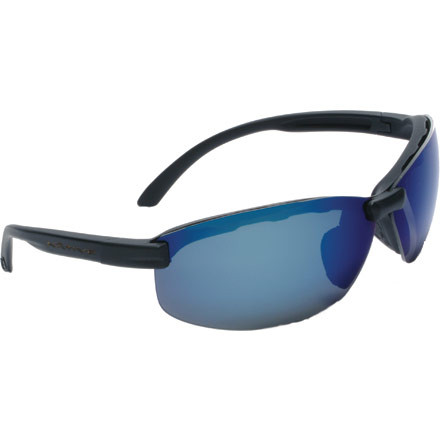 Not only did Native give the Nano2 Sunglasses high-quality interchangeable lenses, it built them with a large frame, so you don't feel like you're wearing shades made for a doll. The Nano2 Sunglasses provide all the coverage you need for hiking, biking, or chilling at the lake. Native includes two different lens tints to give you the freedom needed for any lighting conditions from thick forest to an open meadow on a bright blue day.
I just bought my first pair of Native glasses (Nano2) about a month ago. I am a distance runner and researched what the best pair of glasses would be for my needs. I have been used to my thicker sunglasses that I have always been conscious were sitting on the bridge of my nose as I ran. Then I saw a write-up on the 'Runner's World' website (http://www.runnersworld.com/photo/holiday_gifts_for_him/) and decided I had to try these lightweight, polarized, self-ventilating, interchangeable lens glasses. Man, they were not kidding in this article review. From the second I put them on I was hooked. I am not a fan of the over-the-top 'sport' design style of some other sport glasses and these have a more classic look but but still remain sporty. I can also wear them when not running and not look out of place. True they are very stylish but that is only the icing. They perform fantastic. That is the cake. I never even know they are on my face and I have yet to experience any fogging at all. Finally, they never bounce as I run. I recommend this product for those looking for an excellent balance of form and function.
My frames broke and I sent them into Native,...
My frames broke and I sent them into Native, they were lifetime warranty, out of production now.. The replacement glasses state a 1 yr warranty in the ads, Will my lifetime warranty be honored in the future?
I have broken my frames twice while skiing. Most recently a month ago (previously in March 2010). Native has been absolutely terrific on my Lifetime Warranty claims. The warranty process is all electronic from their website including the $30.00 handling fee. My lenses were no longer in production so they upgraded mine and sent an extra set with a different tint. They also sent a soft cloth bag and a hardcase. I checked on the web and retail for this package is $139.00. Native has really impressed me with their no hassle warranty claim process.
Description says "polarized" but chart has...
Description says "polarized" but chart has "no". What is it?
The lenses are polarized, I'm pretty sure that all of Native's eyewear have polarized lenses:

http://www.nativeyewear.com/style/view/8
Only 1 set that is sent are noticably polarized. The orange or yellow and clear lenses are not polarized as good (these were in the old nano packages). The new ones come with sport flex and clear lenses. They said its because these are used in low light levels when there is no less for polarization so they only filter 2-40% UV as opposed to 86-90% uv blockage.

http://www.backcountry.com/store/sizingchart.html?sizing_id=1294&sku=NTV0025&pg_id=234&subcat_id=9&cat_id=3
NOTE: only the main set is polarized heavily

Also I recently had to send a pair in for warranty exchange it cost $30 and went great. My frame broke in bitter cold weather. It was an older discontinued pair so so when I filled out the online exchange form I was able to choose one from a list to upgrade to, I was even able to select a new reflex one. It also covered my lenses too since they had scratches in them, so I just sent the entire set in. It took about 2 weeks to get the new ones back (new frame model and new upgraded reflex lenses). Very pleased with this process.
Native Nano - a different opinion?
I don't hunt or shoot, I run, and Nano sunglasses are perfect - don't mist up when I am sweating, ensuring I have a clear view when I am up in the hills and hence minimising chances of falling and breaking something. Not that I haven't - I fell off a mountain and broke a collarbone, but not the Nanos. I did break a pair once, by dropping a washing machine on them, and they were replaced under their "unbreakable" clause, so I am confused by the posting that expressed dissatisfaction. I am now on my 4th pair, but the others were lost or stolen, not broken.
I love these glasses, plain and simple. I bought a pair a couple of years back and have never had an issue with them. The interchangeable lenses are amazing, allowing me to adjust to any light situation. The low light lenses are perfect for the late afternoon early evening bike ride when it starts to get dark. The Yellow and Orange lenses are perfect for a day of skeet shooting, while the clear lens provides protection, they are the perfect work glasses .The Frames seem to be invincible. They have made the trek out to my duck blind after being shoved into my blind bag while being banged around and sat on. Perfect utilitarian sunglasses. Fishing,Hunting,Outdoor work,Biking. Want to make an investment into some great glasses? look no further.
I bought my first pair of Nano sunglasses back in 1998. Although I don't have the original pair, I have been very satisfied with the service that I receive when I call in with a problem. I wear these glasses hunting, fishing, playing softball, mowing the yard, driving and on and on. I would say that they have been More than worth the money I invested way back when.
Native Customer No Service
Frames are junk. Customer no service will not help. Forget it if you have a problem. Sent a pair of broken frames back over a month ago (for the third time) they charged my card and still no frames. No one will respond to my email. Finally got a phone number the person said oh well there is nothing I can do. Well there is something I can do take my buisness elsewhere take my advise stay away from NATIVE.