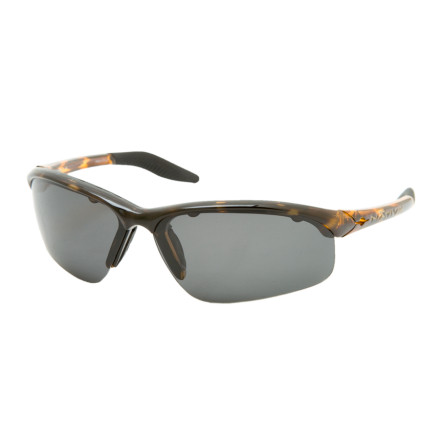 Colors

Detail Images

Community Images
Description
Native Eyewear Hardtop XP Polarized Sunglasses stay put no matter how hard you play in the outdoors.
Interchangeable lenses and temples make the Native Eyewear Hardtop XP Polarized Sunglasses ideal for any outdoor activity in any lighting conditions. Hardtop XP sunglasses come with polarized lenses to reduce glare and provide eye protection in low-light conditions like trail runs at dusk. Extra-wide protective lenses make the Hardtop XP Polarized Sunglasses an excellent choice for high-impact outdoor sports.
nice sport shades
Familiarity:

I've used it several times

Fit:

True to size
This is the first pair of Native sunglasses I have owned. They are comfortable and fit my odd shaped face nicely. They are also durable. I have dropped them twice with no scratches on the lenses to worry about. The included case works well with not too much extra bulk. Great sport sunglasses(climbing, biking, flying, traveling).
For going light when it is bright
Familiarity:

I've put it through the wringer

Fit:

True to size
The frames are so light, and the optics so clear, that you barely notice the glasses are on your face. The interchangeable lenses are great for all light conditions - from bright light above treeline, to low light in the trees, to using the clear lenses for running at night on trails.



I use these glasses for biking, driving, hiking, ultrarunning - in short, everything except glacier travel and alpine climbing.



The polarization of the lenses even helps spot the fish when stalking trouty waters...



I highly recommend these glasses and am personally on my third or fourth pair.
do the interchangeable lenses come with...
do the interchangeable lenses come with the glasses or do you have to order separately?
According to the description, they 'can be changed', but as it reads, an extra set doesn't seem to come with them; very vague. One reviewer says that they do come with a second set of lenses. Better to call/chat with B.C. for clarification on this particular frame.
They do come with two extra pairs of lenses, clear and yellow.
when I got these glasses I was not sure how well they would hold up. I can now say they have weathered one summer at boy scout camp(no easy task), many mountain bike rides through the woods featuring more than one face first dismount, several days of sailing including a hobbie 16 boom to the glasses, and last but not least they are great for driving including air bag deployment. Needless to say, my face has had a rough summer, but my sun glasses are no worse for the wear.
I had the Hardtop XP 2006 version, which...
I had the Hardtop XP 2006 version, which I adored, but unfortunately they have gotten away from me. Two questions:
1. The 2006 version shipped with two or three sets of lenses: a polarized brown, a clear, and a grey reflex (I think). Is that true with this new product, or does each frame ship with only one set of lenses?
2. Do these have an extra set of arms that have the attached wrap around elastic. The 2006 version did, and I LOVED that feature. If there is a Gear God, please please let that feature still exist on these.
Also, my details about the 2006 are a little hazy, and may be incorrect. Its been some time.
No interchangeable arms. I loved that feature as well. This item could use an update for what you actually get.
Can't believe how high quality and durable both the lenses and frames are considering their (feather) weight. Never fog because of vented top. Easy to switch lenses but they never pop out on their own, nomatter what. I wear them for all sorts of sports and they've survived all sorts of collisions, crashes, even a snatch and run by our 90-pound Labrador. I've broken my nose a few times (baseball to the face once, other times, don't ask) so I can't tolerate heavy frames or lenses. The Natives, I barely notice they're on. As somebody said below, Native is a great company to deal with too if anything does go wrong. For my money, these are light years better than the more expensive boutique brands--give 'em a try, you won't regret it. They are unbeatable.
These indicate that they are interchangeable...
These indicate that they are interchangeable but does the base model/price include additional lenses or is it just one pair of glasses with one set of lenses? If there are additional lenses included, what are the specs on those? If not, where can I find details on a lens kit/pack?
Best Answer
Yes the lenses are included. The sportflex lens is 60% vlt with a yellow/orange tint and slight mirror coating. Very nice!
I use these sunglasses as my everyday. The lenses have excellent clarity and minimal distortion. I switched to these from years of only wearing Maui Jim and have to say that the lens quality is comparable. I have used them for biking and running and they stay put. Can't wait to try them for spring skiing.
Best Sunglasses I've Owned
I use interchangeable lenses so I can put in clear lenses at night for motorcycling. Previous to my first Native purchase, I wore a similar model from a competitor. On a visit to a retailer after my last pair of competitor shades broke, the salesman suggested that I try Natives. I still own the original pair of Natives. One thing I noticed right off is that the Natives provide considerably more coverage. Additionally, they were a far better deal, coming with a spare set of temples, nosepiece, etc. In addition, they come with a full suite of lenses, while their competitor's come only with one set. Finally, they are priced much lower than their competitor.
In use, I have been very impressed with the Natives. As previously stated, I wear them on my motorcycle so they get pretty extreme abuse. I've found them easy to clean, even when bugs have been obliterated on their surface. They are very difficult to scratch, and stay put even when at highway speeds. When I'm pursuing human-powered enjoyments, they stay fog free even on extremely humid or cold days. In freezing weather, I've found them to be the best I've worn at resisting frost as well.
The final thing I've found (it takes longer) is in the Native durability. While I was replacing the competitor glasses every other year or so, I still own my original Natives. They are now five years old.
I can't say I'd recommend many products as strongly as I recommend Native eyewear.
Go Native. These shades rock. They are hands down the best and most comfortable sunglasses I have ever worn.

Lenses:
Lens quality is stellar, as I expected from a legit brand like Native. I've used them road biking, running, mountain biking, and just lounging around and the scratch factor is naught. Super easy to clean if they get smudged, dirty, or sweaty.

Fit:
The wraparound fit on the hardtop xp's is simply amazing. Clichés aside, I truly do not notice that they're there on my face, they are so comfortable.

Construction:
Native did well to make all the moving parts (hinges and interchangeable lenses) work smoothly. Lenses pop right into place once you've figured it out (trust me I was rather cautious at first go, but don't worry). I've cleaned my pair out with water several times and never has the water caused any rusting or squeaking in the hinges. The soft blue temple pieces are a nice touch as well.

Last words:
I am a huge fan of the platinum frame/blue reflex lens combo, the style points that tag along with them are unbeatable.
Hardtop XP Sunglasses-Polarized
The best sunglasses I have ever owned. Super light and great for running. Love the vented top that keeps them from fogging up even in cold weather.
These sunglasses are suntastic! Used them in snow and sun they performed to expectations in both conditions. I dropped them and stepped on them before my first use and did not incur one single scratch. Just ran the Disney Marathon and when the sun came up they blocked the sun while highlighting the course. I did a lot of in-store research before purchasing these glasses and I highly recommend them.
I have owned natives for about 3 years now. When the first pair broke they replaced them for $30, no problem. Well, they broke again in October and I sent them in using their new on-line warranty system. They still have not replaced them. They sent me an email acknowledging that they got them. But when I sent an email (3 so far) to inquire on the status, I get noting. I really like the sunglasses but if they won't stand behind, I will be moving on to something else
Are these lenses ballistic? i.e. Do they...
Are these lenses ballistic? i.e. Do they pass the military qualifications for ballistic lenses?
Best Answer
Native's lenses are not ballistic. I was told by the retailer (not Backcountry) that they were....I lost my right eye in an explosion in Iraq....should have checked myself. IMO stick to Oakley for eyewear in dangerous situations. I left mine back at the camp that day :( Happy with the Natives other than that, great polarized lenses and fit on my pair, model discontinued.Barrett...sorry man, new to this feature, I accidentally deleted your response. I apologize.
Wow, that's a horrible story - I'm sorry to hear that. They may not be ballistic and rated for military use and defense from explosions - I have found that their anti-ocular intrusion system has prevented many a bad situation. I have not found another company to offer this revolutionary design that prevents lenses from shooting in toward the eye in the case of any direct impact; i.e. snowboarding, skiing, watersports, hiking, dirtbiking, snowmobiling etc.
Lifetime warranty on the lens sold me
Low light lenses are great for trail running and PM skiing, I like the wrap-around strap temples for road races. I've found that the lenses scratch easily, but for 30 bucks I can send in scratched lenses and get new ones under the warranty. That's better than a new pair of 30 dollar shades any day! minus the initial investment of course...
Bought these sunglasses last August and have used them HARD ever since. They have held up unbelievably well. Have used them for sea kayaking, sailing, hiking, driving, motorcycling...basically everything. They've been stepped on, dropped, bumped, etc, and the frames have remained 100% intact; the lens has one barely noticeable scratch. They are so light that I barely notice that I'm wearing them, yet they won't fall off. The polarized lenses improve vision, especially for driving and/or motorcycling.

The only thing I will warn of is that the reflex lenses will lose their shine in salt water. This is really no big deal, since they still work perfectly as lenses, but I would advise you to save those lenses for less intense occasions.
Bought these for my fiance for his birthday, after coworker spoke so highly of them and his Oakley's broke. He absolutely loves them, says they are way better fit and lens than his old glasses, and all the accessories really impressed him. Scored me major points for such a sw-eet gift for his birthday-bonus! ;)
I have a pair of Oakley half-jackets. However, they've gotten very well worn and wanted to try something new. The polarized lens is something you'll never do without again. These glasses are not that dark, for bright sunny conditions make sure to get the reflex lenses.
These glasses are light and breath more than the Oakley half jackets. If they last as long as my Oakley's, I will have to give the nod to these with all the features included (extra straps, lens, earpiece frames). Whatever you're doing hiking, mtn biking, kayaking, fishing, and even golfing I'm very happy with them never fogging and light comfortable fit that you can wear for hours.
Hardtop XP Sunglasses - Polarized
I went trough 3 pairs that Native always replaced,no question asked.
They were breaking where the stem attaches the eyeframe. Finally they changed that part from plastic to metal and they don't break anymore. Great sunglasses, lot of choice with the 3 interchangeable lenses, very light, I keep forgetting I have them on, very clear and relaxing for the eyes. Very happy customer.