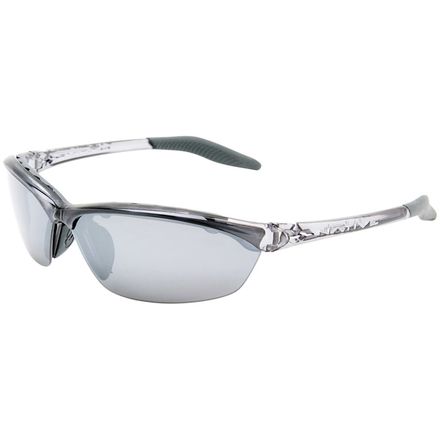 Detail Images

Community Images
Description
It's hard to top the Hardtop.
Native Eyewear Hardtop Polarized Sunglasses come with interchangeable lenses (the lenses that are in the sunglasses and one other pair) that allow you to adjust your outlook to fit any light condition. Polarized lenses reduce glare for improved visibility on bright days. If you need better contrast in low-light conditions throw in the Sportflex. For a nighttime trail run, snap the clear lenses into the wrap-around frame and protect your peepers.
Nice..
Familiarity:

I've put it through the wringer

Fit:

True to size
In the short term. But had problems getting spare lens to fit.
These are the shades I use for exercising, biking, skiing, running, ect. Love the brwon lense and find that I don't really need to swap out the lenses that often.. But it is easy to change the lense. Can't imapge a pair of glasses being better.
Howdy. I got a pair of these bad boys,...
Howdy. I got a pair of these bad boys, and I read somewhere that it's super easy to change out the lenses without getting fingerprints all over them. I'm able to switch them out, but it's not as easy as it sounded--am I missing some key technique here?

Thanks much!
Hope this helps ...

http://www.nativeyewear.com/technology/sunglasses/lens-interchange.html
Under-build and overpriced
I am on my third replacement set of sunglasses, each pair has lasted less than 6 month. I purchased these sunglasses several years ago, and at first I really loved them. After about 2 months the plastic pin that held the temple in place broke, and I sent them in for replacement and was charged $20. The next pair had metal pins (this tells me that Native knew that there was a problem and charged me a replacement fee for defective sunglasses). This pair lasted a little under 6 months before the frame cracked lengthwise across the right brow. I sent these in for replacement and was this time charged $30 for for replacement, despite the fact that my warranty details stated that it would cost $20. At this point I wrote Native stating just how upset I was, and requesting that they at least refund me for the replacement, they never responded. The next pair of sunglasses were non-symmetrical and didn't fit right, the right ear piece popped off when the glasses were flexed in the slightest and, in addition to that, the reflex coating scratches with even the most careful use. So far these cheap crap glasses have cost me nearly $190, I am tempted to throw in the towel and buy a pair of smith sunglasses, they have a better warranty and seem to be more durable. Do not buy these sunglasses unless you like to give away your money!
Natives are the Ultimate cycle or run, do it all pair of sunglasses. I really like my hardtops and if you want something that really glues to your head, Natives are yours.
I've been using them for more than 6 months in different situations - mostly around town, for running, watersports and driving and they work great. It's very hard to fog them up, they are light and they show almost no signs of being used.
Can't go wrong with these!!!
This is my second pair of native glasses. I have nothing bad to say about them. Native's customer service is great. They work great for all sports. I wouldn't buy any other brand.
low quality, warranty scam
Don't buy Native Eyewear. They break easily, the lenses scratch easily, and their "lifetime" warranty is a scam (replacing high end glasses with an incompatible low end model).
like advertised, they are a great fit for medium/large faces. finally you can go rimless without looking like a cyclist wannabe. polarization eliminates glare, sharpens view, and gives you a very nuanced vision.