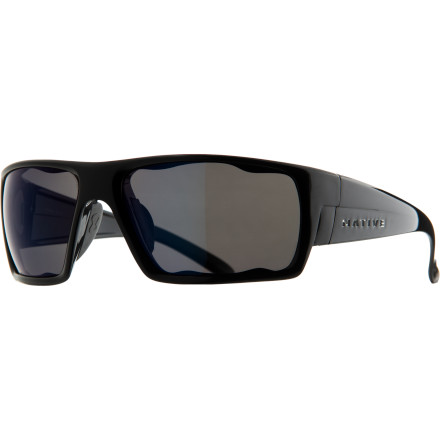 Colors

Detail Images

Community Images
Description
Safety first.
Freaked out by your next move because the glare might be screwing up your judgment? Go nuts with Native Eyewear Gonzo Sunglasses. Optional interchangeable lenses make sure that you have the perfect lens for the light conditions, and the polarizing filter takes glare out of the picture. If you go blank and smack your face hard on a rock (not your eyewear's fault, by the way), the Rhyno-Tuff frames hold up to major impact and the Anti-Ocular Intrusion System keeps the polycarbonate out of your eye-sockets.
I bought these sunglasses to walk my dogs twice a day. They work great to block out the blinding early morning and late afternoon sun. Frames also block side angles. I have a large face size and they fit perfect. Clarity seems pretty good, about what I expected for the price. All in all a great value, 5 stars!
Good alpine eye protection
Familiarity:

I've put it through the wringer
These fit me pretty well, and the thick sides and large lenses make them good for sunny weather ski touring or "glacier glasses" in moderately snowy/sunny conditions.

Mine have taken some hits without breaking, so I'd say they're durable as well.
Hey look boss!
Familiarity:

I've put it through the wringer

Fit:

Runs large
So there I was, working at Native when I noticed we had some new abilities with the production machines. So I went to the prototyper and mocked up some new nose pieces. I was so excited, I ran to my boss. "Guess what boss! I figured out a way to put our logo into the nose rests! I'm just not sure how comfortable they will be. A smooth nose rest doesn't create pressure points when you wear them all day after all. Maybe we should make one and test it out."



"Nonsense Jenkins! We should put these new nose rests on everything we make because branding! "



"But I don't think anyone will ever see the logo other than the person who already owns them. Besides we already have a huge "NATIVE" stamped on the sides. Maybe we shouldn't do it afterall. I just thought it was cool."



"Sorry Jenkins, already shipped"



TLDR: don't buy these if you plan to wear them for more than an hour doing anything active at all.
Sunglasses Are Incredibly Hard To Find
Familiarity:

I've put it through the wringer
So I've busted my nose once of twice before, and it points every which-way-direction. Since it does this, and the bridge of my nose hates me, finding sunglasses with a wide enough bridge is next to impossible. So I'm limited in the brands I can purchase.





Customer Service From Native:

I'd like to start by saying, I have owned previous Native Eyewear sunglasses and have received customer service from them that I would rate as a 2/5. The first rep I spoke with was very rude while the second was nice. My previous pair were defective (a different sunglass model) and we had problems getting the repair parts. So ultimately I vowed to never own another pair of Native's.



My busted nose decided to not like anything by a whole bunch of other brands, so Native by default enters back into the picture.



Quality:

Meh... these feel like a cheaper plastic than my previous pair of Endo's. We'll see how well they hold up. Let's pray for no calls to Native's Warranty line.



Price:

The price is good and I guess with this price point comes a slightly lower quality / feel for the material. The hinges don't feel as strong.



Lens:

I've enjoy the protection I get from the polarized lens'. No complaints here.



Nose Pads:

I'm praying these nose pads don't fall off like on my Endo's. They fell off super easily one day while on trail. My Endo nose pads became gonzo....



But let's hope the adhesive on these Gonzo nose pads actually stick.



I've down graded the rating due to Native's subpar warranty service I've received. 2/5



Sunglasses would get a 4/5



Jared D.

Gearhead

800.409.4502 ext 4055


They fit... Even with my messed up nose
I thought all sunglasses were the same but the clarity on these blew me away... everything is incredibly crisp.... Also, I have a very large head and they fit me well....
Nice Glasses, just didn't fit my massive head.
The fit and clarity of these sunglasses are excellent. I got them in the mail just the other day from SAC. I have a pretty normal sized face, and they fit great. 5 stars without question.
I received my new Native Gonzos yesterday. My first pair of Natives were the Bolts. I fell in love with them, and saw these Gonzos on S&C so I snatched them up. I gotta say, these are also some sick shades. They are a bit larger than the Bolts, but fit me perfectly. They wrap around nicely and hold snug to my face. Lightweight and awesome.
Native gonzos are a great deal for the money... polarized is great for fishing and anything outdoors..
if you have a small face they aint for you.. I've had two pairs of oakleys before these and they don't compare..
overall their sick and i would recommend them to anyone..