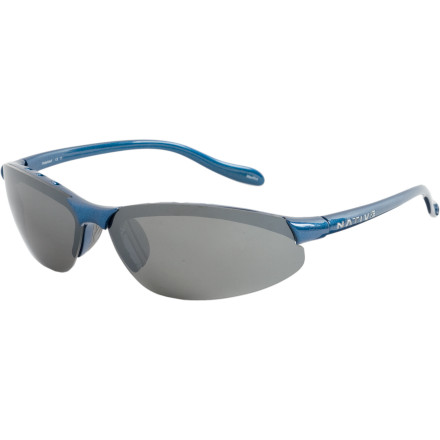 Community Images
Unanswered Question
Does this come with additional lenses
Does this come with additional lenses
Unanswered Question
Write your question here...Does the Native...
Write your question here...Does the Native Dash xr come with additional lenses?
love these glasses!!! own 3 pair and beat the crap out of them...the best part is you just send them back to NATIVE and everything gets fixed (lenses too!) so, if you want a strong set of shades that will protect your eyes from the sun, snow, ice, branches, whatever-- these come highly recommended!
Being an avid mountain biker, I've tried many different kinds of eye protection. These are almost impossible to fog. They are super light and easy to exchange lenses. I highly recommend them.
Best sport shades ever had. Light and comfortable, don't use all lens except the orange ones that really help when sun starts setting and you are still on the trail mtbiking.
I love these shades. They let some light in from the top but I am more concerned about them setting on my cheeks and trapping sweat. They DON'T. I wear a hat so light from the top does not matter. 4 lens WOW. I don't use most of them but having them while I rode my bike is nice as weather changes. Nice addition to my collection of shades I wear them a lot.
This was my first pair of "high dollar" sunglasses so I was skeptical. I would buy another pair in a heartbeat. I have played softball, hiked, biked, ran, etc. with these and they never slip. Once you get them on, you never notice them. The polarized lens are great. I do not ever change the lenses out though. I have a small to medium sized face and they fit great.
Personally I liked the old design of the lenses: they curved more sharply to stay off my cheekbones. These sunglasses are light, changable and easy to love. I'll keep buying them as long as I keep losing them:)
Poor quality frames and lenses
Prior to purchasing my Native sunglasses I have always worn Oakley sunglasses. After reading several favorable Native Eyewear reviews I thought I would give them a try. I have had them just over a month and am very disappointed. The frames are very flimsy and the seems to be some sort of protective coating on the lens that is coming off. I am on the way to the sunglass hut to get my Oakleys once again.
Best pair of shades money can buy
First off, how many glasses do you get that you can change lenses? Thats what I thought. These glasses are my second pair, I lost my first ones and immediately ordered another pair from your website. I recommend buying the optional silver lenses for those bluebird days for chillin slope side.
Native Eyewear Dash XR Sunglasses - Polarized
These are some sweet shades. Not only are they super light weight but they stay put on your face. I use them everyday from driving in the car to flying down trails on the moutain bike and they never let me down. Then polarized lenses are the icing on the cake.