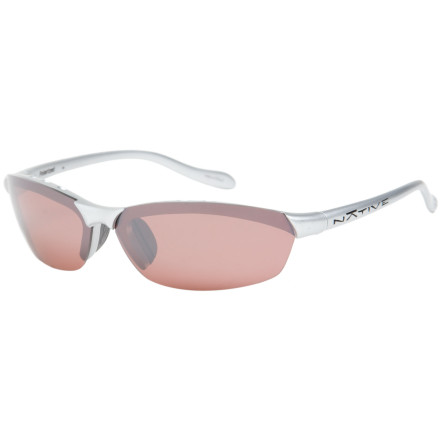 Detail Images

Community Images
Interchangeable lenses help you see clearly in any light conditions when you're wearing Native Eyewear Dash SS Polarized Sunglasses. With Square Shaped (SS) lenses, you also get more protective coverage than standard lenses plus increased peripheral vision. Hikers, runners, paddlers, and other outdoor athletes will be blown away by how easily the polarized lenses cut through the harsh glare of midday sun. Dash SS Sunglasses come with interchangeable lenses for versatility in different light conditions. Whether you're boating on a bluebird summer day or ski touring at night, the Dash SS has your back.
Love them But not made for the HEAT
I bought these before i deployed they are great but the eye piece that sits on your nose the rubber parts melted off could be better just need to fix this problem
Just spent 2 weeks with these in western Australia and they were great. I took a massive faceshot while sandboarding and these guys stayed in place no sweat. Even better the lenses weren't scratched by the sand that got on them. The lenses do a great job of muting the sun and cutting glare with out weird color shifts, distortions, or image blur. The frames do a great job balancing comfort with security. You can wear these for hours on end without discomfort while being confident they will stay put during activity. The included case is very sturdy, except for the metal zipper tab that broke off at some point in my backpack. That's annoying because it makes it much harder to open the case.
How does the Dash SS compare in size with...
How does the Dash SS compare in size with the Dash. My Dashes got stepped on and I would like to get something as close as possible to them.
They're the same. Dash SS has slightly larger lenses (in a squarer shape, hence SS)
I find a good pair of shades essential. I can forgo most other accessories but shades have to be there. These are them. On just about all excursions these make the cut. Super Light and fit well enough to forget they are even there. REALLY!The dark lens are great in general but for big mountain days or true exposure these aren't enough, but that's where another set comes into play. The lighter lens work well in low light and just as well for just keeping stuff out of your eyes.My only gripe is that the top bar comes directly into my line of sight while cycling. I gave it a few weeks to really see what was what, but when bent over the bars it really gets in your vision. It may just be a personal fit issue but worth noting.
Great glasses again by native. This is me 3rd pair of natives I keep one pair in each of my cars and a 3rd pair for when I have to send them in for exchanges. Was disappointed that native stopped having 4 sets on lenses, but the new sport flexes are good. Hope this helps somebody.
Is there anywhere I don't wear these?
I've had these sunglasses for about a year and they are great performers. I bought primarily for running, which they excel at. No budging or slipping when I sweat and I forget they are there. Venting at the top is adequate as well, although I have experienced days where they fog up under high humidity conditions (i.e. trail running through a cloud). Lenses are a breeze to snap in and out, although I only really use the polarized and the yellow lenses. Usually will swap in the yellows on rainy days to keep the rain out of my eyes.

Apart from running these are my everyday sunglasses. Biking, driving, you name it they go with me everywhere. Good durability, no scratches to speak of. If anything ever does happen to them I will likely replace them with Native's outstanding warranty program. No reason to switch.

Should mention that the case that I got with mine is not the one pictured in the Detail Views. It's a pretty low end soft case, but I actually prefer that as it does not take up as much room as a harder case would.
Super glasses. These are extremely light but have the durability I was looking for. There is no sliding due to sweat or rain and at the top of a lense there is almost a "ceiling" on the glasses to keep out sun. There is no problem with the ear pieces coming loose. Lenses are easily changed but don't snap out when you don't want them to. I wear a 7 3/8 to a 7 1/2 size ball cap and these fit wonderfully. I found mine on sale and with two extra pair of lenses. Well worth the money.
Do the dash xr and ss lenses work on either...
Do the dash xr and ss lenses work on either the xr or ss frames, ie I want to know if the dash ss lenses will fit in my dash xr frames.
Yes. Tried it in store at REI. The XR frame fitted the SS lenses better than the other way around though. There was a slight curvature that create a space between the lense and the frame of about 1-2mm when putting XR lens on the SS frame.
Are the extra lenses that are included the...
Are the extra lenses that are included the same polarized lenses? If they are different, what are they? I am interested in the platinum frame with copper reflex lenses.
Write your answer here...Hi; From what I could find,you get 1-3 extra lenses with some Native glasses. Clear,yellow, or orange are not polarized- cost savings you know. Tare can come with 3 lenses. The Dash's I looked at didn't have an extra lens. Call Backcountry orNative's web site to be sure. Good luck. If you want extra polarized lenses, they may sell them to you.
Sunglasses for Big Headed People
Ok, I'll be honest I've got a big head (7 3/4 hat size) and many sunglasses make me look cross-eyed when I put them on! The width of these are great and the cut of the lenses I like a lot more than the Hardtops (basically the bottom edge is rounded off instead of "swooshed back" like the Hardtops). I do agree with STW that they let a bit too much light in from the top. Also I wish Native added all polarized lenses with the Dash SS. Only the main lens is the polarized (already installed in the frame), so you could switch them out but your not getting the same performance. I hate to be so critical because I really love these shades and honestly those two things are very minor!! So if you've got a big head like me, fear not! You've found your shades!
very good, a few minor complaints...
I love this style of sunglasses - with replaceable lenses and no frame on the lower section. And these Dash SS are extremely nice glasses. Excellent optical quality. Extremely comfortable. Very light weight. A few minor quibbles: vertically speaking, these glasses offer very little coverage. From top to bottom, they are very narrow. On my face, light comes in from the top and bottom. Horizontally, they are fine. Second complaint: they come with 4 lens options: Brown (polarized), Orange, Yellow, Clear. Brown is good all purpose, but not dark enough for really bright conditions. Orange and Yellow are too close to each other to really be helpful. Clear are pretty useless for me. I'd rather have had a really dark lens for snow, on-water in the tropics, etc; a normal brown for normal sunny conditions; and yellow for fog/low light.