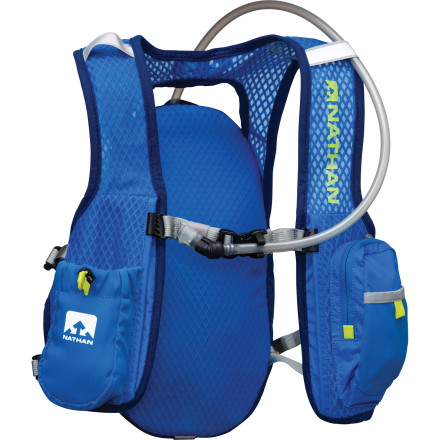 Detail Images
Nathan updated the HPL #20 Hydration Vest since last year, shaving a few ounces off the weight by using lighter materials and a lighter-weight fabrication process throughout. The mesh harness on this ultra-style running vest breathes and dries quickly to control sweat and heat, and features two-way side adjustments that allow you to perfect the fit on the fly. Simple and secure, these side adjustments and the quick-clip chest strap mean that you can get this pack on and off in a flash when you hit an aid station. A hand-held or waist belt will keep you supplied with water, but when speed is of the essence and you're covering massive distances, there's nothing like a race vest with a little extra storage.

But don't take our word for it; consider that the Nathan HPL #20 Hydration Vest is a favorite of Dana Miller, four-time winner of the Wasatch 100 endurance race—there aren't many people on Earth capable of such a feat. For those new to the Nathan line, this is its lightest bladder-compatible racing vest.

Three-way Propulsion Harness moves in harmony with your shoulders and upper back for long-distance comfort
Lightweight harness and pack materials and fabrication technique
Bladder-compatible design for hands-free hydration; 2-liter bladder included
Repositioned hydration tube exists from the top of the pack instead of the side
Easy-adjust system uses dual buckle-adjustments at the side and one across the chest
Front stretch-mesh pockets and two rear zippered compartments hold essentials
Works for me!
Familiarity:

I've used it once or twice and have initial impressions
Comfortable/adjustable straps, very light weight. However, doesn't seem to carry a ton of water once you have to squeeze it tight around your shoulders. No real room in backpack to take off layers, but that's why it's a vest I guess.
No complaints
Familiarity:

I've put it through the wringer
I've used this hydration vest for the last year and its worked perfectly. I've used it for runs as long as 26 miles and never had any problems. No leaking, no chafing, and carries all I need for a long run.


Love this vest
Familiarity:

I've put it through the wringer
I'm a huge fan of Nathan hyrdation vests overall, and this one is no exception. I use it frequently for long trail runs, hikes, and mountain biking. It performs well in all cases. I find that the vest rides very well both running and biking, with very minimal sloshing (I hated the old camelbacks for due to sloshing). In fact, I am almost as comfortable running with this pack as I am running with nothing at all, and I prefer it to carrying a bottle (except for very short runs).
great for longer runs
Familiarity:

I've put it through the wringer
great vest. i only use it for runs over 10 miles, although i have taken it on a few hikes. it is very comfortable with several adjustable straps and it has excellent weight distribution. the pockets are convenient for carrying energy bars, gu, keys, wallet, phone, sun glasses, but there is not a lot of room for storing an extra layer.
Can I use other bladders for this pack? I...
Can I use other bladders for this pack? I have a 2L Osprey bladder.
The hydration sleeve is just one big open pocket the size of the pack so there is no reason other bladders can't be used, as long as they are not too big. The dimensions of the Nathan bladder are about 6" x 15" when laid out flat. Is your 2L Osprey the 70 oz model? That might work, but pay attention to the dimensions (see picture below). When the 2 L Nathan bladder is full it's a pretty tight fit. I use this vest with a couple of bladders: the 2L bladder it comes with and a 50 Oz camebak. I must say, though, I really like the bladder that comes with this pack: it is quick and easy to fill and never leaks. The rigid back plate that comes with some of the Osprey models is really not needed in something this small and close fitting to the body. The bite valve is not that great, but easy to replace. The picture shows the hydration bladder that comes with the pack.
Comfortable fit, excellent running vest
I tried on several different vests and finally settled on this. One front pocket holds a 20 oz water bottle easily, the other a number of jells There is a small pocket great for electrolyte tabs or something else of that size. There is a separate back pocket that is perfect for a light jacket, phone, wallet, and extra jells (assuming you have a light, compactable shell). The hydration bladder is easy and quick to fill. It is very stable and even with a full bladder and water bottle (i.e., 80 oz. of fluid!) it rides really well. With a single chest strap it is pretty light and doesn't have useless extras. The only issue (minor) is that you have to take a little care putting it on as you may get the front pockets twisted. But knowing that can happen is enough to avoid the problem.
i ran with the vest two, two hour run's, it's really nice, sits good on the back.

the blader inside the vest jumps a bit, but if you will carry something ealse in the vest it wont jump.

overall realy nice. i love it.
The Nathan vest is great distributes the weight well and is just what I was looking for on long trail runs