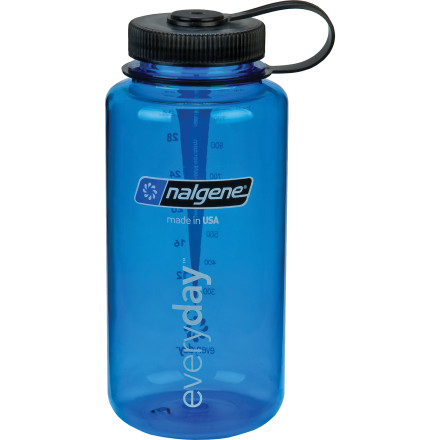 Colors

Community Images
When it comes to water, running on an empty tank can leave you feeling groggy, grumpy, and unfocused. The BPA-free Nalgene Wide Mouth Tritan Bottle gives you 32 ounces of drinking pleasure so you can quench your thirst and stay hydrated and happy.
BPA-free Tritan plastic is crazy strong, and it helps keep your body healthy
Large opening accommodates ice cubes and most water filters, and it makes it easy to get in there when it's time for a good cleaning
Gradation marks let you keep track of how much fluid you're taking in
A Backpacking Staple
Familiarity:

I've put it through the wringer
I have used these bottles for years, and I will continue to do so. They are solid, they don't leak, and they they fit perfectly in my pack. I do recommend buying a narrow mouth bottle for drinking. I use the wide mouth bottles for packing cooking water and refills for my drinking bottle.
Don't leave home with out one.
Familiarity:

I've put it through the wringer
Love these bottles. Started using one 15 years ago in the military, when my canteens would freeze during a cold weather training. The large mouth tops on the nalg would keep it from freezing. I was sold after that. And have had one on me me ever since.
Tried. True.
Familiarity:

I've put it through the wringer
A greedy friend stole my 7 year old Nalg, so I was forced to replace. What more can be said about the steadfast Nalgene that hasn't already been pontificated to the masses? What trustier piece of gear IS there...besides perhaps the voile strap...?
I realize that I'm just asking questions and not actually reviewing the product. I hope you find that helpful.

Nalgenes work. They last. They are your best friend.
You can see mine here keeping me hydrated under the searing Mexican sun in an open panga boat.
The beauty of this situation is that you'll never know if my Nalgene contains beer (as its label would suggest) or a more hydrating concoction such as H20.

For this purpose I highly recommend buying a colored nalgene versus one that is clear. No need to be an amateur here...
Classic
Familiarity:

I've put it through the wringer
Its a classic Nalgene, what more is there to say? Oh yea, its wide mouth makes it super easy to clean and dry. And these things are so bomber you couldn't break one if you tried.... All while being BPA free! 4 Stars!
Amazing Water Bottle
Familiarity:

I've put it through the wringer
This is a water bottle that gets the job done throughout the day. If you need a water bottle to help you stay hydrated through out the day this is it!
Nothing to complain about
Familiarity:

I've put it through the wringer
I have had a number of these....they never wear out.

My cap broke once (on 1 of 4 I own) but you cna buy replacements of those. They are great!
My new favorite to go bottle
Familiarity:

I've put it through the wringer
My boyfriend introduced me to these bottles and I am now a fan forever. We took 3 of them camping with us and they were easy to use for everything. They don't make your water taste weird and theyre super easy to attach to a back pack when youre on the go. Looking forward to using it more in the future
How do you not have one already?
Familiarity:

I've put it through the wringer
Been using this bottle for years, it goes everywhere with me. And yet I've only ever owned two (first one was lost).



Sure I have a hydration bladder, but these bottles are so versatile and easy to carry they are great to hold a little extra water, plus to use as a cup at camp, or to hold your booze/soup/salsa.
Unanswered Question
why doesnt Backcountry carry the kids Nalgenes?
classic
Familiarity:

I've put it through the wringer
you'll lose it before you break it.
Love this bottle!
Familiarity:

I've put it through the wringer
Fantastic product! Love the wide mouth as it allows for smooth drinking. Very sturdy and stands up over time!
oh me oh my
Familiarity:

I've used it several times
I just had to buy another one. I had low expectations when I got my first one but was sold on the awesome price. Since then, this little guy has really proved his worth to me. I love the size, it definitely cuts down on my trips to refill and the lip is wide enough to easily fill it with ice. Must have for camping and just every day bad-assery!
Can't leave home without one!
Familiarity:

I've put it through the wringer
The one piece of equipment that goes on every trip is one of my Nalgene water bottles. The main two I use daily, I have had for years. They have been thrown, dropped, forgot, crushed, and abused just about any way you can think of. And they still hold water just like they did when you were new. The wide mouth bottles are great for getting big swigs when your mouth is parched on hot days of adventure. They also allow for easy scrubbing when you have left it full of water in the car for a few days.



They also work great for your own equipment billboards. I mean everyone know you have to cover your Nalgene with stickers!



One other great feature not many people think of is using them as a lantern. If your Nalgene is not completely covered in stickers, take a headlamp and place it over your bottle full of water with the light shining into the bottle. The water will reflect the light and provide just enough light to get around camp in the dark!



But the best feature of a Nalgene is the hundreds of plastic throw away bottles you are not buying! No matter what water bottle you are using, as long as its a reusable one, you made a 5 star choice!