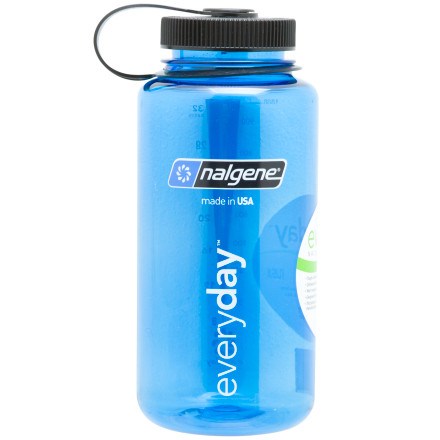 Detail Images
Share your thoughts
What do you think of the
Nalgene
Tritan Wide Mouth BPA-Free Bottle - 32oz
? Share a...
There isn't much to be said about this bottle that hasn't already been said. It is a great size, BPA free, and can easily be filled with ice cubes no matter what shape and size. This doesn't really absorb flavors from sports drinks and works well overall.
how do I know if my recent purchase of a...
how do I know if my recent purchase of a Nalgene is BPA free. Does Tritan (non BPA) have a different mark on the bottle bottom?
Mine says BPA Free under the recycle 7 symbol on the bottom of the bottle.
Not the lightest, but can you put a weight limit on your most important survival necessity? Mountaineers, steer clear of aluminum bottles since they are delicate and not supposed to freeze. Also, these wide mouth versions are the least likeliest to freeze shut on you, and I have seen bottles that 'chubbed up' from freezing too many times and are still unbreakable.

If you are simply jumping on the 'Go Green' bandwagon and need an everyday bottle, pick up a 27oz steel Klean Kanteen--Backcountry.com has a cool logo one. But if you're mean and green, well, this is the Hulk of water bottles.
Used for the first time on a VERY COLD 3-night camping trip and this water bottle was great as: a) I could attach my friend's water filter to it when filtering water from the lake and b) it doubled nicely as a hot water bottle in below freezing temperatures!
These things are great for whatever you want to carry and want it to still be there when you get to where you are going! The wide mouth bottles are great for in the winter, no freezing to your lip like some metal bottles and the wide opening makes sure you can still get something to drink on those really cold days. You can't go wrong with the Nalgene bottles!
What you expect from Nalgene
This bottle is exactly what you'd expect from Nalgene. It's a basic, wide mouth bottle with no frills. It is exactly what I like! It mates perfectly with my MSR water filters and it is lightweight and can take a real beating. I wouldn't change a thing!
Holds boiling water very well
Great bottle, I've used it to hold boiling water while melting snow and it didn't even get soft. These work well for medical kits too, just throw everything in and strap it to your pack.
It does that which you need it to do. Cheaper than some of the more expensive models, but gets it done for me at the gym.
ive used nalgene bottles for years then i switched to a metal bottle because of the bpa. im glad they switched to a bpa free plastic. my metal bottle got so many dents and scratches in it, and ive dropped my bottle out of a three story window onto concrete and it just bounced and i also hit it with a sledgehammer just to see what it would do, but it didnt fair as well haha. so i dont advise doing this.
This is a another of multiple reviews prasiing the Nalgene. It is simply essential gear for any outdoorsman, and a great every day water bottle. It also stays smelling nice and fresh for months. This may sound gross, but I got this new upgraded BPA-free Nalgene in September, it is now the end of April, I use it every day...and I have never washed it! Ladies I am sorry that is gross, but as an unintentional science experiment I have proven the odor fighting ability of Nalgene. It still smells great and has no stains or buildup, like every other review a great choice in the water bottle department.
Its a bottle, but a damn good one.
Yup, whoohoo ... its another water bottle ... I normally just grab a gatorade bottle cleaned out but i picked a pair of these up for the widemouth and loop lid ... The lid screws on just fine, doesn't leak ... i tried ... I was curious how impact resistant it really was and drop'd it from standing height to simulate a trip and drop of the bottle ... about 5-6 times and even angled the bottle's bottom to the tile ... Good as new, no cracks or chips ... The best feature ... it holds water! Go figure.
I am pretty much in love with my Nalgene. It's a great bottle for a long hike, holding plenty of water and maybe some ice cubes on the scorcher days. It holds together a lot better than my Sigg bottle (which is also a good bottle) because it won't dent at all, and there isn't any paint to scratch. I carry mine everywhere, to class, to work, in the ski lodge, and at the climbing gym or the rock face. You can throw in those flavour packets for water, and have no fear of it holding the taste or smell. I highly recommend this bottle.
Got two of these for camping and put them in the front of the car. Like them so much that we now keep them filled for use all the time. They have completely replaced bottled water for us. We use splashguards (original size) by guyotdesigns from another site to avoid spills while driving.
This is a great way to stay hydrated. I used this bottle at work, home and out playing. It goes where ever I go so I know I'll be sipping down the H2O. I'll soon be using it snow camping and will see how it fares with hot water in it. Love it anyways!
Honestly who doesn't love theirs?
I love every nalgene bottle I own. They make nothing but amazing products. Great for every day use & adventuring of all sorts.
What can you say It's vintage Nalgene quality and is extremely dependable. Was used along the Appalachian Trail.
love love love these bottles!!!
Another great product from Nalgene. I use it for work, home, hiking, backpacking, traveling, working out, you name it. One doesn't have to worry about the BPA issue either. Even though there are mixed reports on the levels of BPA that are safe/unsafe, I figured it was better safe then sorry. Got ride of my 3 year old bottles for these and recommend them. Same durability as their previous lineup.
BPA in small levels is not harmfull for christ sake come on people your old bottles are fine. SCAM Read a little will ya. I am sure this bottle is great but so are the old ones.
This thing is great. Can't say much about it except that its tougher than the aluminum bottles and I guess I can't complain when it stinks since I hardly ever wash it.