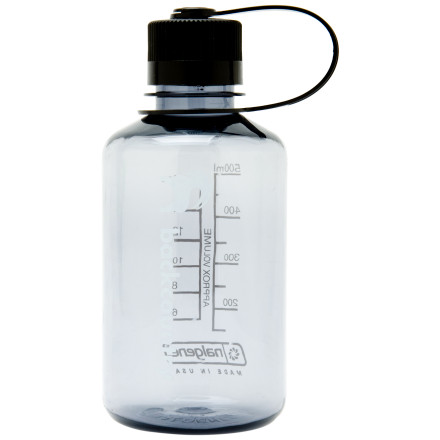 Detail Images

Community Images
Nalgene made the 16oz Narrow Mouth Tritan Bottle for people who are sick of spilling beverages all over their face when taking a drink. This extremely durable BPA-free bottle features printed gradations to help you measure liquids. The loop-top cap won't get lost, and the bottle resists stains and odors.
Meh
Familiarity:

I've used it several times
Good bottle for many purposes. I use it at the gym and when I hike. Nalgene makes a 32oz bottle which they don't sell on this website. I would probably get that. It holds more water for a few more bucks.
I bought this for my destructive brother and it's still holding water!! Nalgene is an amazing brand.
Great bottles, I have several of these and bought this one for my mom so she would stop using disposable bottles. These narrow mouth bottles are great for in the car so you do not spill water all over yourself when you hit a bump or have to break suddenly. Some of mine I have had for 6 years without them cracking, breaking or being destroyed. My only problem is about once a decade I lose one of them. great product!!!!!!
The small mouth is much easier to drink from but it is very difficult to clean and depending on your ice maker the cubes might not fit through it.

The smaller bottle makes it simple to carry if you can get by with only 16 ounces.
Nalgene makes awesome water bottles. My favorite is the SILO it double the size of your regular one 48oz. The narrow mouth is great as well not as much spillage.
its durable and its easy to drink out of
Good Choice of Water Bottle
These are good for carrying water when you have the luxury of pre-freezing water, but if you need to be able to put ice cubes in, go with the wide mouth. These are easy to drink out of and tend to stay in pouches better because of the small top(ie The North Face packs)
Small Mouth, Small Bottle
Good size for a small bag, or for kicking it around campus. The smaller mouth opening is not really something I like, but the size is good so I put up with it.
Can you freeze water in these bottles?.
Can you freeze water in these bottles?.
Best Answer
Yea just leave the cap off and dont fill it up all the way.
You could even have it more than half way, just wipe off any water from the threads so you can close it up after frozen.
Great Size for the Office
Our office recently banned plastic water bottles and after trying several hydration bottles in different sizes and materials, I think I've hit upon the perfect one. 16oz. is a great size for your desk, no one wants a litre and a half of water staring them in the face daring them to drink it. The narrow mouth is comfortable to drink from and the diameter is perfect to grip. As a matter of fact, I'm drinking from it as I write this. Get your own and you won't be disappointed. Cheers.
P.S. As an added bonus the bc.com logo is on the side of the bottle!
Great little bottle when you are doing errands
My wife uses it to throw in her purse. I like it because it is easier to fill up than the tall nalgene bottles when it comes to drinking fountains or sinks. I do wish that ice cubes were able to fit, but that is my only gripe.
This bottle looks exactly like what I'm...
This bottle looks exactly like what I'm looking for except it looks too fat. I like to take a water bottle with me during my daily errands and the thinner bottles (although NOT BPA free) fit easily into my small purse. What are the dimensions of this bottle?Thank you. Kelly
The width of a Nalgene (all of them, regardless of volume) is 3.5 inches. This one is around 6 inches high.
Best Answer
I have a wide variety of Nalgene bottle. the standard tritan wide mouth 32oz is 3.5 inches, this tritan narrow mouth 160z is 3 inches and my tritan wide mouth 16oz is 2.5 inches. So judging on your requirements, I would go with the tritan wide mouth 16oz, which is also has a more narrow body than this bottle.
Do other colors arrive?Pink and blue,...
Do other colors arrive?Pink and blue, etc.
There are pink and blue available now.
is the opening big enough to put ice cubes...
is the opening big enough to put ice cubes in?
Not unless you have skinny half crescent shaped ice cubes...then they fit with some force.