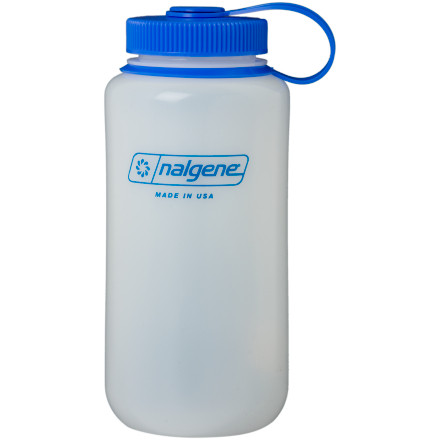 surprise! its a water bottle! gets the job done, and thats about it. good bottle, sturdy like all nalgenes.

get this if you don't want a hard plastic nalgene. i prefer it over hard plastic, nothing else really to say...
I honestly didn't see the point in buying another hard plastic nalgene. I didn't like that I had to recycle all my other bottles, so I figured I would go with the one that has stuck around for a while. It's lighter, has a softer feel and I found that the printing (measurements) sticks better vs the hard plastic
I have an old square HDPE Nalgene (which I don't think they have made in quite awhile) and it has help up and to answer someone's question about yellowing, mine has never yellowed. As far as tuff I would never throw it to the ground like I do with the old lexan bottles from 50 ft or more, but the HDPE has stood the test of time.
it's a nalgene, let's be frank.
if you aren't already familiar with these bottles, it's just an all around rugged water bottle. Use it for anything.

I like this material over the regular hard plastic, have a bit of a squish to them, not so rigid. So if you like this characteristic, pick one of these up over the regular. I also have a 16 oz of the same material which I like. It has a narrow mouth which is easier on drinking, but harder to clean and fill. Wide mouth = easier to clean and fill, less easy to not spill on yourself if you're a little over-enthused about liquid intake at the time.
You need to buy this bottle.... not only will it hydrate you with 32 oz. of fresh and clean BPA-free goodness through a wide mouth opening, but it'll also make you stronger, faster and way cooler than anyone else. Buy this bottle NOW!!!!! and rid the world of lesser, uncool and unpure bottles. You won't be sorry that you did. 5 stars for total radness!!!
All Bottles Aren't Created Equal
Typical Nalgene high quality bottle. Noticeably less plastic smell. I'm curious if the "BPA-Free" bottle turns yellow over a period of time like some of the older ones do.
Lite and doesn't change color or the flavor of whatever is in it.
What's the difference between this bottle...
What's the difference between this bottle and the nalgene tritan wide mouth?
Tritan is the new, yet unproven substitute for BPA containing polycarbonate (Lexan). Tritan is definitely softer than polycarbonate, and in my experience, the lids don't screw on as easily as the old polycabonate bottles. I'm going back to the HDPE bottles, which I have always used for backpacking because they are lighter and you can see the buggies when you collect stream or spring water. HDPE does stain more easily and sometimes give off a plasticky taste, though.Nalgene only introduced the Tritan product to replace Lexan bottles.
Not standard nalgene 32oz. size
It's my own fault for not reading the full description, but from the picture they look like the standard nalgene bottle. Upon receiving I was suprised and disappointed to receive these minnie water bottles. They are half the size and made from non-carcenigenic plastic.