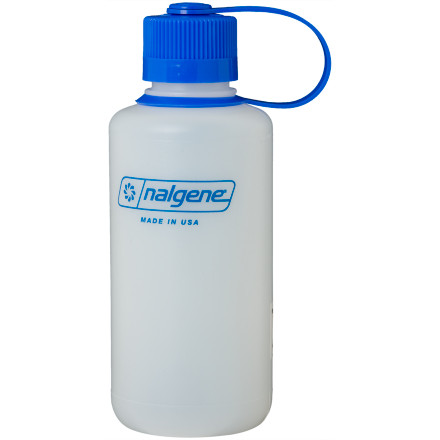 Community Images
Seems these HDPE bottles might be a good...
Seems these HDPE bottles might be a good answer to backflushing a gravity filter like the MSR autoflow (due to SQUeezabiLITY). Anyone have direct input? Thanks.
Like it states, gravity filters work on the gravity principle & by forcing water back through, as you stated by squeezing this bottle to backflush, could result in damaging the cartridge. I have the Platypus Cleanstream & perform backflushing by pouring clean water through a small funnel back through the cartridge until it is clean & running true. The reason I use a funnel is because I removed the clean water bag to reduce weight. (See my review.)
Gravity is a force, and a gallon of water weighs in around 7lbs through an orifice builds up a little bit of pressure. But I should have used the word "gently" before. It really doesn't matter, it doesn't work well. I went ahead and got one of these bottles (the wide mouth version) and the fact of the matter is that you simply cannot squeeze the bottle enough to make it worthwhile for back flushing. Inevitably vacuum builds up inside the bottle and you have to loosen the cap ever 100 mL or so. A minor setback. I still like the bottle, but It seems I will need to trade out my camelbak for a platy or msr bladder that the bottle adapter will fit in order to properly maintain my filter in the field.
This is a simple product, it works wonderfully though. I like the narrow width bottles in general because you can freeze them about halfway with water and then when you go hiking the ice will stay in the bottle longer and you wont spill all over yourself.
Does what its supposed to do
It's a water bottle, what else. I only use two of these for winter camping when I need to put hot liquid in it for the bottom of my sleeping bag. Otherwise I dont really see the point in spending more than the cost of a 1L Aquafina bottle which has the main advantage of being a tad lighter and you are recycling. But for winter use it is your pretty standard bottle that wont melt and does not leave any taste in your water. Good buy and its the cheapest.
I actually have the 32oz. wide mouth so I can vouch neither for the quantity size or the mouth shape, I can say, however, that this plastic rocks! It is the toughest sh*t I have come across. The ultimate test: I accidentally backed over mine at work with my truck. It was about 1/2 full with water and it survived with little more battle scar than a warping. It didn't lose one drop of water as far as I could tell. It had some dents but I left it in my truck and by the time I got back to it the next day the summer heat had vaporized and expanded the water that was left and it automatically popped out dents. Scratched, but good as new. I've been carrying it around with a biner attached to the lid retainer and have never feared that it may come off. Well made! Here's a pic strung from the ridge line of my Hennessy hammock.
Used it on a mountaineering trip on Mt. Shasta, actually like the narrow mouth....easier to drink out of :) especiall when on a steep slope!
Really nice bottle. I like the fact that it has the ounce and mil measurements imprinted on the side so you can measure the liquid you place into it. This is a good looking not too flashy item that will fit into any recreational or sporting occasion.
A $5, 32 oz BPA free bottle that will never leak. Why would you not buy this?
It might not be all that attractive, but it's a water bottle, so who cares?
This bottle is great for the price. They can not be beat. I use mine everyday. Love it!
I'm embarrassed to say how many Nalgene bottles I own but purchased this one in the 16oz size for my mom who has arthritic hands and it's the perfect size for her when hiking.
These are great, and the price was right. BUT After a day or so, the water tastes kinda like plastic. Not sure I feel so good about that, even if it is "safe plastic." Why would I want any plastic at all in my system? Thinking about making a return...
We purchased these bottles because they were less expensive than the clear/colored bottles. They work just as well as the others, although the others are more attractive. If you just want function, these will do.
Great, durable, bought a few to use and works well in the dishwasher!
The narrow mouth makes the bottle harder to clean than the normal size opening. It's still a great bottle and I use it frequently.
a solid nalgene is a solid nalgene. this one just happens to be cheaper than the rest -- therefor i deem it the best :)
Great for camping, hiking/backpacking. 32 oz. holds plenty of water. Pretty much bombproof.
it holds 16 oz of water and doesn't leak - what more could you want