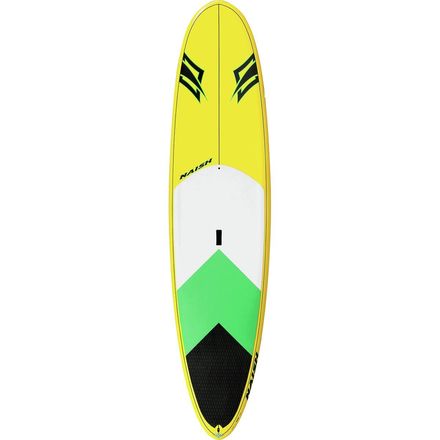 Description
All-around, versatile, and easy-to-ride boards.
Naish's dedication and commitment to stand-up paddleboarding is reflected in the versatile Nalu Series GS Stand-Up Paddleboards. Designed to balance accessibility and performance, the Nalu Series is composed of easy-to-paddle flatwater crafts and wave-ripping sticks that will put smiles on the faces of beginners and experts alike. This series comes in five sizes, each uniquely designed to favor different rider sizes, styles, and levels.
The 11ft 6in size offers the most volume and thickest rails for paddlers looking for a stable flatwater, fitness, and touring board, or a mellow wave rider. The increased volume makes this size the ideal all-around board for 225+ pound riders or families looking for a do-all board.
The 11ft 4in size is thinner with more outline curve and rocker, giving it a high-performance feel. Edge transitions are snappier for responsive rail-to-rail carving on waves. Given its volume-to-width ratio, this is an ideal beginner board for lighter riders and an excellent longboard style surfer for intermediate to advanced riders.
The 11ft size is new to the Nalu Series for longboard surfing as well as touring and flatwater cruising. Naish fine-tuned it with decreased volumes in the nose and tail for easier maneuverability than the bigger SUPs in the Nalu family. A wide outline and concave deck give the highest performance as far as longboard surfing goes.
The 10ft 10in size is noticeably different in shape. A five-concave bottom channels water from nose to tail, allowing ten or more strokes per side while maintaining fast, straight tracking. The toned-down rocker, squash tail, recessed deck, and 32in width provide incredible stability. This is the board for fun and fast touring, learning how to SUP, or those days when the ocean is a mix of flat-water cruising and small-wave slashing.
The 10ft 6in size is the most versatile board of the series. Flared-out rails, progressive rocker, and single-concave in the nose with V-concave in the tail give this board the best on-wave performance, while the recessed deck, wider outline, and double-concave midsection increase drive, power, and stability. This SUP paddles well, turns easily, and can surf just about anything.
Glass matrix deck and bottom
Reinforced wooden stance area
Molded EPS closed cell core
Share your thoughts
What do you think of the
Naish
Nalu Series GS Stand-Up Paddleboard
? Share a...
A great board for everyone
Familiarity:

I've used it several times
I had the great opportunity to attend the Open Air Demo Day for the Outdoor Retailer convention at Pineview Reservoir. It was amazing to see the vast array of Stand Up Paddle Board companies and Kayak manufacturers and get a chance to try out more boards and kayaks than imaginable.

When I think of Naish, I think of the highest end board company. Naish has a deep history in board sports and a lasting image of the utmost quality.

I was able to try out every size in the Nalu series - 10'6" to 11'6". The Nalu is the perfect all around board made to do everything and be a very comfortable ride. For me(5'6" 165 lbs.) I really enjoyed the shorter 10'6" for maneuverability and it handled my weight perfectly. One the other end, the 11'6" was a very voluminous board and was very comfortable for cruising for distances. The 10'10" is also a very voluminous board at 201L and with a very wide profile of 32" it is quite stable.

I spent a large portion of my day with the amazing crew at Naish and got real nerdy about these boards. If you want to discuss any of the Naish products or the differences in the Nalu series give me a shout.

Eric Watford
Expert Gearhead
801-736-6397
ewatford@backcountry.com
Instagram: @ericwatford
Unanswered Question
Windsurf able?